That's why we created the Vision Blueprint, a process that allows us to customize your website strategy to give you maximum exposure, functionality, and value.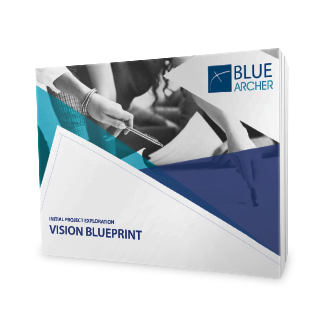 As Pittsburgh's leading web design agency, our team of professionals will give you the edge on your competition.
With hundreds of satisfied clients since 1999 and a diverse staff that can provide a range of websites from basic to complex, our process produces websites that generate results.
A website is not "just" a website…it's a business tool that either grows your business and increases your return‐on‐investment or NOT!
With Blue Archer:
Your site is always built on a stable, secure platform.

You can easily make changes to your site (including navigation) by using your own Content Management System (CMS) at no additional cost to you.

We can integrate with your back office systems, including CRM's or legacy systems.

Our support staff is always ready to assist you, from free training to our friendly helpdesk.

There are never any unwanted or unneeded monthly fees.

We are always up-to-date on the latest technology and best‐practices, including mobile optimization, that helps support your goals.
Your website is built with a foundational structure that allows for future expansion as you grow. Additionally, our full‐service marketing support services allow us to be the one place you go to meet ALL your marketing needs, including:
Digital Marketing Strategy & Execution
Search Engine Optimization (SEO)
Social Media and Blog Management
Marketing Automation (Inbound Marketing, including email marketing)
Custom Software (including Portals, Workflow Systems, Advanced Ecommerce, Systems Integration, Custom Product Catalogs and more)
All this at reasonable and affordable pricing. Contact us today.