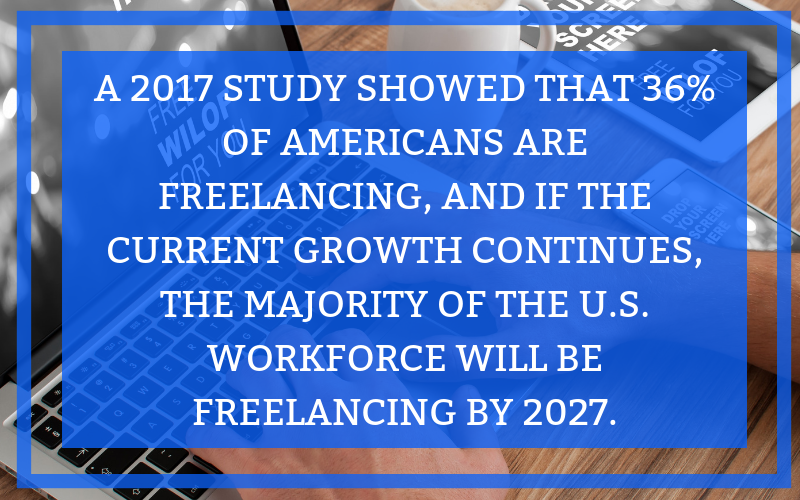 Working remotely can have its perks. However, when the job market is dry, it can be a lot of sitting around. These tools will guide you to your next project and work-family.
A 2017 study showed that 36% of Americans are freelancing, and if the current growth continues, the majority of the U.S. workforce will be freelancing by 2027.

Where to work
ShareDesk – Find a coworking space or business center and rent it by the hour, day, or month.

WeWork – Find a desk, a flexible office space, or a custom workspace in a growing number of cities.

Copass – Get access to more than 1,000 different coworking spaces around the world (great for digital nomads) with a Copass membership.

Share Your Office – Find a meeting room, office, or desk that you can rent.

LiquidSpace – Find a desk or office and rent by the day or by the month.

Finding Jobs
Remotive – Active job board with hundreds of listings for jobs in design, development, customer service, marketing, and more.

Jobspresso – Job listings from categories like design, development, marketing, sales, customer service, project management, writing, and more. This site also allows you to post your resume for others to find you.
Working Nomads – Job board with opportunities in categories like design, development, sales, marketing, management, writing, consulting, legal, and more.

Freelancer Map – Find companies who are looking for freelancers, as well as job openings. You can also create your own profile to allow hiring managers to find you.

Workaline – Remote jobs in categories like design, technical, marketing, content, support, and more.

The U.S. freelance workforce is growing faster than the overall U.S. workforce, outpacing overall U.S. workforce growth at a rate 3x faster since 2014. It numbered 53 million in 2014 and grew to 57.3 million this year (8.1 percent growth since 2014) while the U.S. workforce grew from 156 million to 160 million in the same timeframe.
Communication Tools
Asana – Team and project management for better organization.

Trello – Organization for teams with boards, lists, and cards.
Basecamp – Project management and team communication software.

Fleep – Easy team communication through file sharing, tasks, and conversations.

Flowdock – Organization for remote teams with collaboration tools, messaging, and more.

Communities
Remotive – A community of more than 1,000 remote workers with exclusive content and priority access to job listings (one-time $99 fee).

Nomad Pass – Find the best places to work remotely and connect with other nomads and remote workers.

Nomad Together – Includes a podcast, Facebook Group, and more.

Slack – Efficient teamwork, communication, and collaboration through customizable groups and chat functionality.

Remoters – Resources for digital nomads and remote workers, including interviews, job listings, and more.

If you're looking for a portfolio redesign, contact Blue Archer.