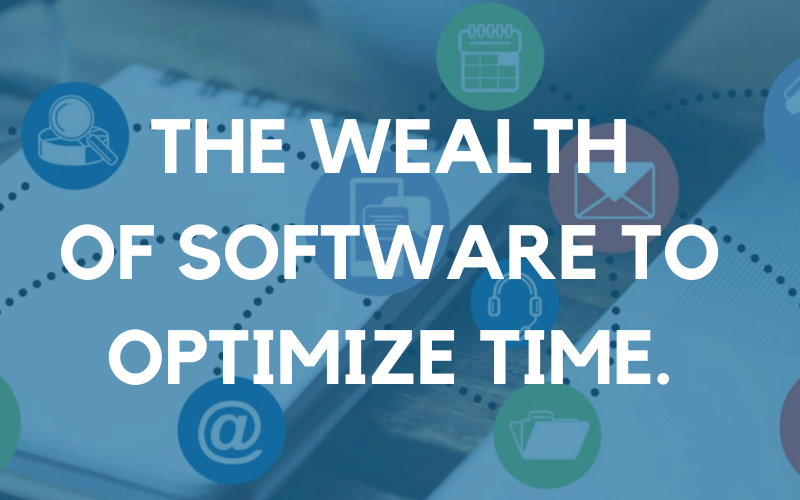 Being productive in an active environment, especially in today's landscape can be burdensome. The internet is full of tools and extensions that can speed up processes, enhance performance, and organize task lists. We have done the digging for you and found 3 tools to help optimize your time.
With the wealth of software available and new apps popping up, keeping up with the latest products can quickly become a futile quest in itself.‍
In 2020, some of us started new hobbies, joined new workout classes, and some jobs were lost.
Friendships faltered under new pressures of isolation, resulting in relationships ending, sometimes abruptly.
However, days are still blending together. The hours and minutes seem long, but Monday through Thursday have become one in time.
2021, the year to be in charge of life again. Start by making day-to-day easier to conquer and understand. From work to play, these tools and pieces of advice can be universal in any activity.
Productivity Tools and Tips
Productivity software makes your work and personal tasks easier and more efficient to complete. Sometimes it does so directly and sometimes indirectly.
Plugins/Apps
Motion - Motion is a Google Chrome plugin that comes with a Google Calendar that speeds up how you book and join meetings and a better-organized version of your Google Drive.

There is a one-page option to view and organize all your windows and tabs, a distraction removal feature for social media and reminders to focus, as well as a scheduler that optimizes your time to do deep work. Motion promises to cut 70% of your distractions and get you back 2 hours each day that you can spend on anything to get you ahead.
"Motion does a really good job at keeping me focused. It probably squeezes an extra hour into my workday every day." -Mathew Pregasen CEO of QuickCard
IFTTT - IFTTT (rhymes with gift) stands for "if this, then that." It's similar to Apple Shortcuts but works for way more apps than just what's on your iPhone.

For example, you could create this sequence: "If the forecast has changed, then text me an update by 8 am" Or, "If someone tags a photo of me on Facebook, then save a copy of that photo to Google Drive." When you let IFTTT do small tasks like these for you, then you have more time and energy to be productive in other ways.
Not everything on the internet plays nice, so we're on a mission to build a more connected world that works for you. - IFTTT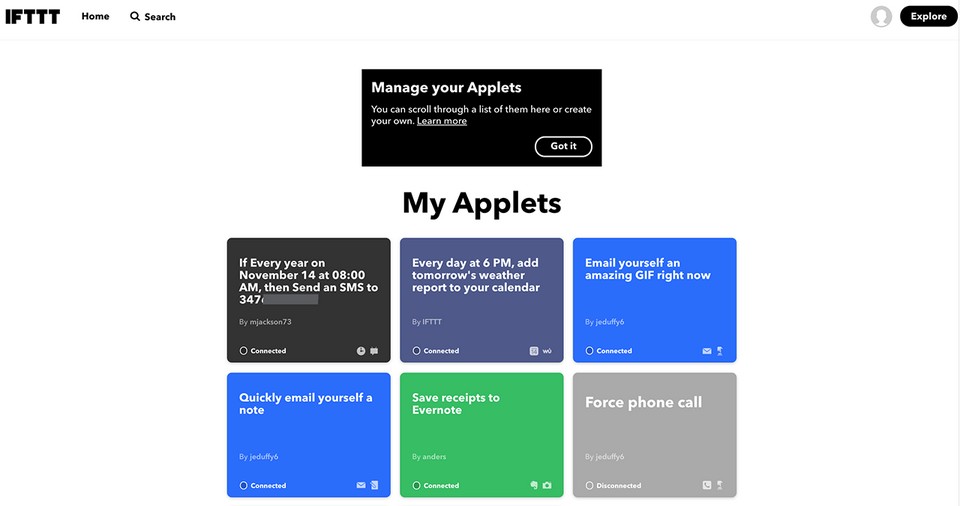 RescueTime - RescueTime brings attention and insight to your actual habits. This app exposes your productivity, just like what calorie-counting does for weight loss.

RescueTime also classifies each app and website you use into five productivity ratings, which you can change: 1) very productive, 2) productive, 3) neutral, 4) distracting, and 5) very distracting. It also categorizes them by type, such as communication and scheduling, social networking, entertainment, design and composition, and so forth.
[RescueTime] has helped me discover distracting habits, change them, achieve more in less time spent at work and implicitly regain time to rejuvenate and have a life outside of work"
- Mihai Chiorean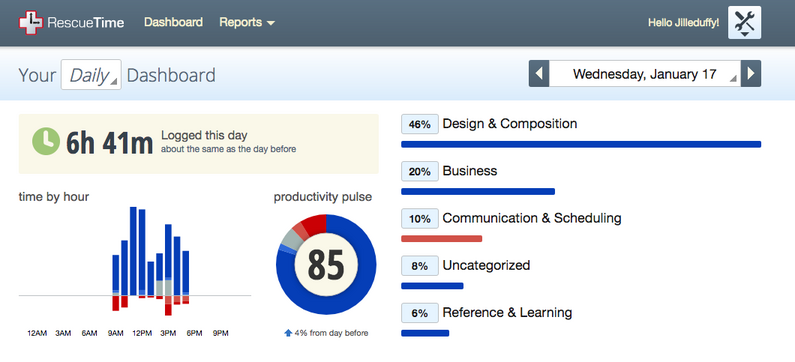 ---
Productivity Tips
Standing desk
At Texas A&M - Most people have heard the argument that standing desks are good for the body. They can help burn more calories and fight obesity.
The researchers examined the productivity differences between two groups of call center employees over the course of six months and found that those with stand-capable workstations—those in which the worker could raise or lower the desk to stand or sit as they wished throughout the day—were about 46 percent more productive than those with traditional, seated desk configurations. Productivity was measured by how many successful calls workers completed per hour at work. Based on work related to this study in a previous publication, workers in the stand-capable desks sat for about 1.6 hours less per day than the seated desk workers. - Click here to view the full case study
Reshaping your career
As more jobs become remote, there's a good chance that the future of work might be more flexible and expansive. Studies have shown productivity increases in employees that exercise their strengths in and outside of work environments.
The study of character strengths at work has rapidly increased in the last several years.
In a study of 1,031 working adults, signature strengths had the highest unique contribution to performance, organizational citizenship behavior, and lower counterproductive work behavior, while "happiness strengths" (zest, hope, etc.) had the highest unique contribution to work meaningfulness, engagement, and job satisfaction (Littman-Ovadia, Lavy, & Boiman-Meshita, 2016a). - Click here to view findings
Growing Relationships
The pandemic put a damper on face-to-face communication this last year and it is time to socialize again. This could be online or in person, safely, but it is a necessity! We need other people more than ever, especially when it comes to collaborating and finding value in our work.
Sometimes we need to put work into things that will ultimately make us feel better in the end, like a Zoom call/game night with friends. It is important to note that if friends feel distant or we feel too exhausted ourselves, we should cut each other (and ourselves) some slack. Days are long and we all understand how work hasn't slowed down.
"A positive work climate also leads to a positive workplace culture which, again, boosts commitment, engagement, and performance. Happier employees make for not only a more congenial workplace but for improved customer service. As a consequence, a happy and caring culture at work not only improves employee well-being and productivity but also improved client health outcomes and satisfaction." - Harvard Business Review details Dr. Emma Seppala
There are many ways for our community to feel better and be more productive. We invite you to share what process works best for you in the comments below.
Looking for a website redesign? Contact our team to start a conversation today.