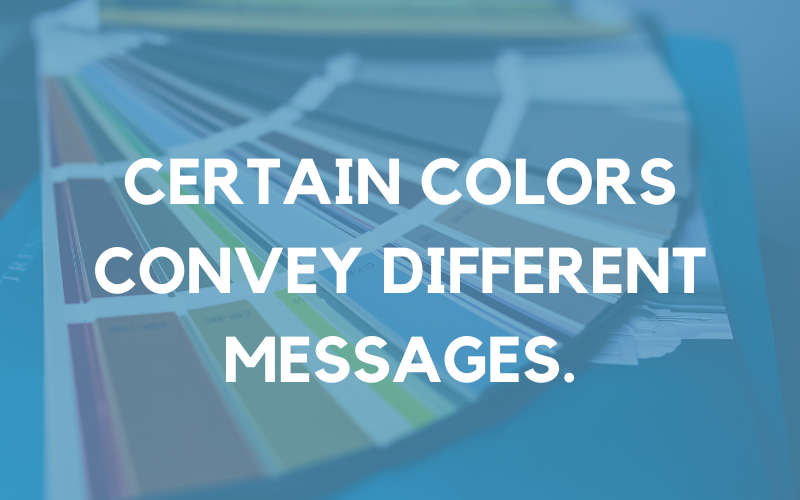 Website color schemes have more of an effect on the persuasiveness of your website than most businesses would like to admit. Given consumers have about 15 minutes to consume content, two-thirds of people would rather read something beautifully designed than something plain. Bright colors, stark palettes, and even some mismatching schemes are elements of color that are trending. Come check out more!
In this article, we will go over trending color schemes as well as color scheme generators. Everything you need all in one palette... or place.
Picking colors that match your brand can affect what you want your consumers to think about your company and product perception. This can be a powerful branding and marketing tool.
So, prudent use of colors can contribute not only to differentiating products from competitors, but also to influencing moods and feelings – positively or negatively – and therefore, to attitude towards certain products. Given that our moods and feelings are unstable and that colors play roles in forming attitude, it is important that managers understand the importance of colors in marketing. - Emerald
Deciding brand colors
First, you should start by honing in on your brand colors. You can follow the guide below but if you already have these colors established, skip to the next section.
We have a whole blog dedicated to deciding brand colors here: https://www.bluearcher.com/blog-item-how-to-decide-on-your-brand-colors
Focus - having a clear idea about what your brand's goals are and how you want your target audience to feel will help you hone in on the most impressive colors to choose for your brand.
Psychology - Certain colors convey different messages. Understanding color psychology can help you reflect on the feelings you want to evoke from your customers.
Experiment - Colors evoke different emotions, therefore you are going to want to experiment with multiple colors. Start with three and do a user test as well as an internal AB test to determine how each consumer feels.
Competition - Researching the logos, websites and color schemes of other brands in your industry can help you decide if you want to compete, or stand out. Check out this list that lays out the color schemes of popular, well-known brands: http://brandcolors.net/
Mood Board - A mode board compliments the idea of an experiment by placing multiple colors together to give you an idea about the mood or emotions that your brand will evoke.

Website Color Schemes 2021

In 2021, the color trends you'll see will largely feel calming and soothing. We're not going to see a surge of neons or crazy contrasts. Instead, the upcoming color trends are softer and feel like they were picked for humans, not for computers. The past year pushed us to reconnect with our humanity, and in 2021, we'll see that connection play out visually.
Need a quick rundown of what each color represents? Check this out: https://www.bluearcher.com/blog-item-color-scheme-facilitators--3-radiant-color-tools
Brown: Warmth, coziness
Black: Power, sophistication
Grey: Somberness, stability
Blue: Trust, confidence
Red: Excitement, passion
Pink: Youthfulness, romance

Purple: Luxury, wisdom
Orange: Energetic, vibrant
Green: Natural, growth
White: Purity, simplicity
Yellow: Happiness, joy
Earthtone Green and Red - This color scheme attracts natural elements with a fierce appetite for information.

Classic Double Blue Color Scheme - The classic tech-focused design that's mature but innovative.

Green and Mellow Yellow - Earthly and vibrant, these two colors radiate positive vibes.

High Contrast Pinks and Blues - Keep it seasoned with a pop of passion by offering a true focus on design.

Natural Yet Impulsive Accent Colors - Any two colors can be cohesive if adapted correctly. Design based on your brand's story by being confident!
Color Scheme Generators
First and foremost you should be aware of the four main types of color palettes out there.
Monochromatic: Monochromatic color palettes are the ones you create using different shades of the same color.
Analogous: Analogous palettes consist of colors that are close to each other on the color wheel. If you pick the main color then the colors right next to it can be picked as secondary colors for this type of palette.
Complementary: Similar to Analogous, Complementary palettes are comprised of colors that are opposite to each other in the color wheel.
Triadic: Triadic palettes are made of three main colors. These color palettes are best for creating clearly visible contrast in designs.
Get ready to see lots of single-color designs, muted colors, colors found in nature, and palettes that easily blend together.
Looking to upgrade your website and brand? Contact our team at Blue Archer today to start a conversation.