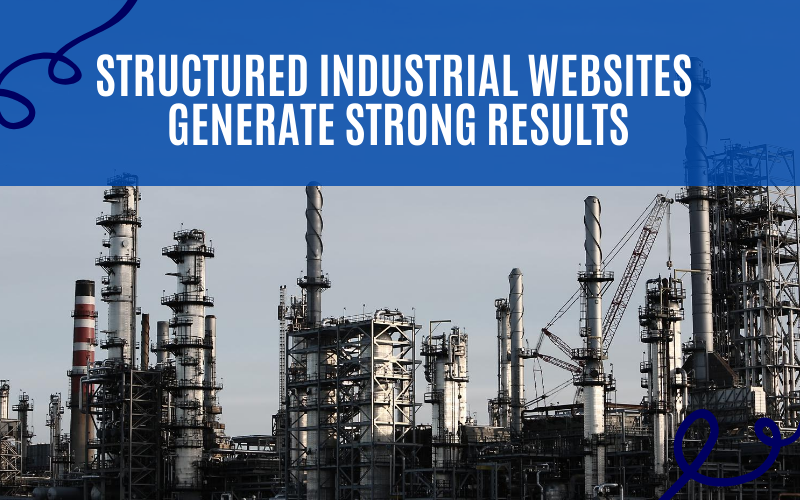 It's not enough to just be visually strong when showcasing a manufacturing website. Manufacturing websites have to convey technical information while showcasing strong brand values. The best of the best incorporates 5 key aspects, which helps to convert and make your site memorable.
Traditionally, manufacturing websites have functioned like online brochures. They've been a tool for listing products and services and giving customers something to browse when they're interested in your company.
As marketing has evolved, the need for websites to generate strong results has increased.
5 best manufacturing website trends...
1. Clear Navigation
For manufacturing websites, having a clear structured navigation is a must. Check out Cisco's website which utilizes a three-level navigation structure located in the menu bar.
The sub-menu bar also is utilized when users want to jump to specific content. This option doesn't leave the page but rather skips to the most important information in the user's eye.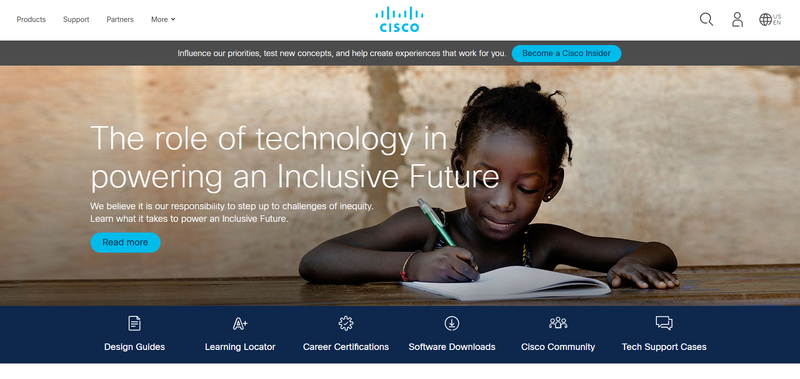 2. High-Quality Images
Many manufacturing websites are still relatively outdated, and their imagery can be even more so. A high-quality graphic that tells your viewer exactly what you do is critical.
For many manufacturing companies, quality product imagery clarifies what device, piece, or material that you manufacture.
Take Mitsubishi's website for example - as soon as you arrive on the landing page, it screams tech. Large, sharp, and bold pictures to immediately allow the user to grasp the concept of the design while instilling professionalism and high-class work.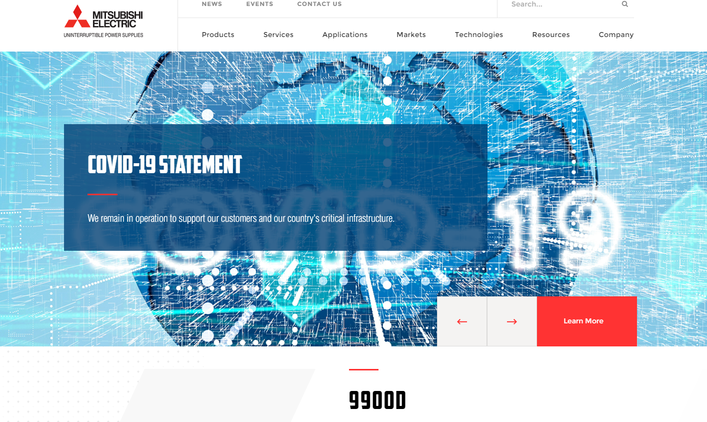 3. Well-spaced Call-to-Action
Even for manufacturing companies, your website should be a place that helps you grow your business.
The best way to do this is to include clear next-steps on your website for visitors. For many manufacturing companies, the main call-to-action involves a lead generation form. "Start a Project," "Request a Quote," or "Contact Us" can all be effective messaging for buttons that drive to a contact form.
Utilizing this technique will help users to feel like they are making progress as they move through your site.
IBM's website drives visitors to different content on the site using different calls-to-action that are based on intent. Notice each CTA begins with action-oriented verbs, such as Explore, Build, Start, See, and Learn.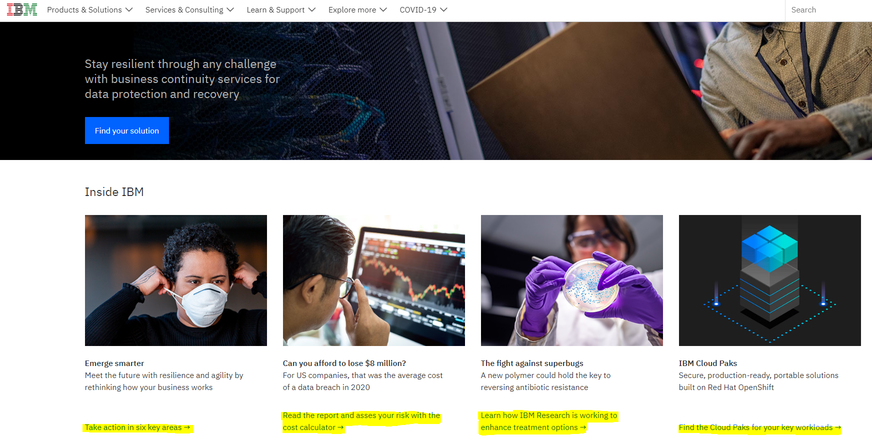 4. Value Statements
The visitor's first few seconds will determine if they will convert into a lead or not. Your home page hero message/value statement generally represents the most-seen area of your entire website, so it's critical that your text quickly and clearly informs the viewer exactly what it is your company does, and the value it provides.
Sypris Electronics does a great job of presenting their value statement in minimal words with three rotation options. The message instantly clarifies what they are a dependable manufacturer for mission-focused projects.
5. Exceptional Content Marketing
While content marketing pieces often support inbound marketing strategies as entrance points for website visitors, they can also be value-adds that your website can offer visitors who enter the site through other channels, like social media or referral links. By putting your most effective content pieces on your main landing pages, your website helps all visitors become more informed and engaged.
As a specialized company, APC International highlights their custom products and high level of customer service.
Their site accomplishes both of these goals by providing in-depth information about their capabilities, as well as a "knowledge center" with a blog, white papers, and other industry resources. These resources not only help potential customers become more informed about their options but also establish APC as a leader in their industry.
In this case, the design is more simple but the resources and marketing elude top notch.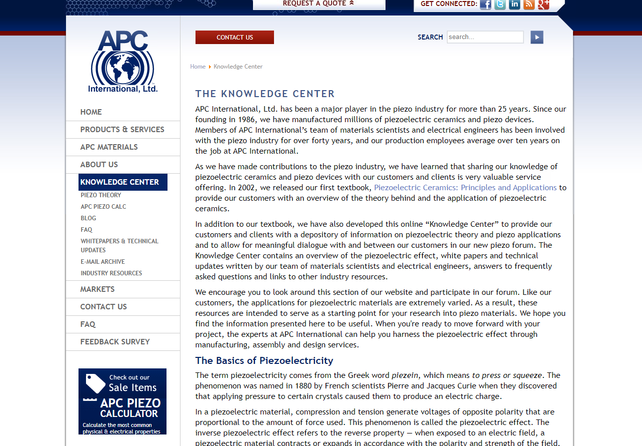 Check out this article that puts these aspects in a clear checklist to see who is doing what: https://satellitesix.com/17-awesome-manufacturing-websites/
Other things to consider when analyzing industrial business websites:
Mobile-friendly design

A massive number of B2B customers are browsing from the field or after hours.

Clear navigation

Extreme simplicity is key. Attention spans are shorter than ever so your page must be insanely easy to navigate.

Catchy messaging

Your opening line on the home page above-the-fold should be audience-centered and inspire them to want to get to know you and your products better.

Compelling Calls-To-Action

Don't waste your website visitors. Make strong CTA's that invite users to take their next step with your business.

Active and high performing blog

55% of marketers globally say that blogging is there #1 priority for inbound marketing. Strategically written content drives free longterm organic traffic from Google.

Your website needs as much attention as your commitment to LEAN, your safety standards, and your HR and training practices. Check out our case studies to see how we transform industry websites: https://www.bluearcher.com/project-category-manufacturing-industrial
Looking to receive a consultation about your future website? Contact Blue Archer today.