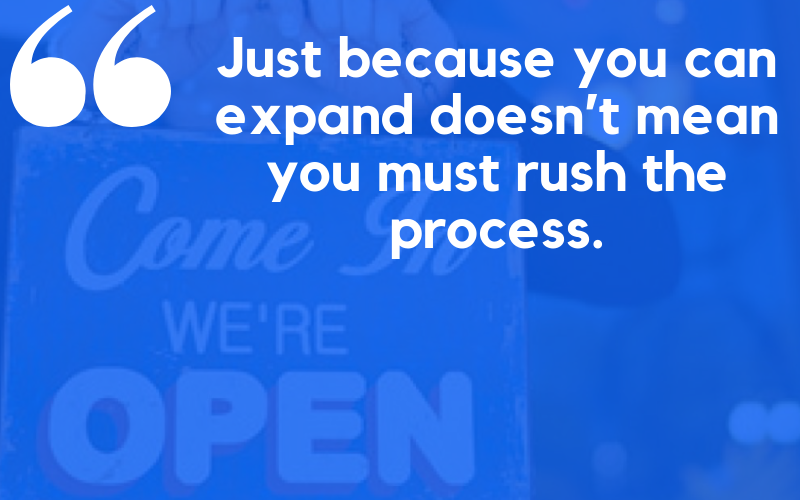 As a small business owner, if you're looking to expand then you're doing something right! It can be exciting knowing that you have the potential to improve your profit margins. However, the expansion brings challenges and you need to avoid these mistakes to successfully grow.
Here are 5 common mistakes made by small business owners:
Lack of Money
You may have a stable cash flow, obviously if you're wanting to expand, but with expansion come additional expenses.
Especially if:
You're opening a new location
Have a new vendor
New advertising
New manufacturer
Different materials
These factors can create stress and according to Preferred CFO, 82% of small businesses fail because of poor cash flow management and 79% fail because of starting out with too little money.
Losing Sight of Customer Needs
A big mistake small business face is neglecting the customers that have brought them success. When planning an expansion, reach out to your customer to thoroughly understand what they want and why. Understanding their need it's vital to the growth process.
Communication is key, and so is loyalty.
Don't be afraid to give updates or behind the scenes sneak peeks of what you're doing with your business. This way they can give you proper feedback before you potentially make a brutal mistake.
Failure to Follow Trends
Just because you can expand doesn't mean you must rush the process. Understand where the market currently is and the trends that are happening. If you don't fit then you will get pushed out and back into a hole.
External factors like:
Taxes
Business Incentives
Economy
Buying trends
The market moves fast but if these factors above are at all affected in negative ways then your business can suffer.

Neglecting Your Employees
Your core employees have been a huge driving factor for your businesses current success. Obviously, you're going to need to bring in new employees with expansion but don't forget the OG's (Original Gang).
It takes a strong, loyal group to run a business. Some tips to avoid this is to create an organization chart that establishes the command and responsibility of your employees. As well as giving the employees a stake in the business by allowing them to manage a location or become inventory lead.
Lacking Proper Action
All in all, when you start a business you need a business plan. However, you should constantly update your plan to fit the growth of your business. Your team needs guidance and this will be a tremendous help for you. It should outline day-to-day activities, hiring process, transaction processes, crisis management, and the game plan for entering a new market.
If your team is ready to expand, don't forget about your website! Blue Archer specializes in redesign and can help you stay up-to-date with market trends.