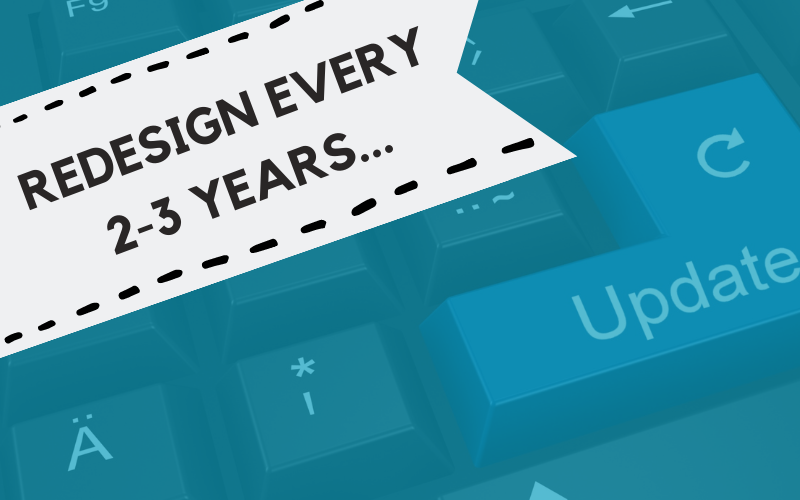 Over the past 5 years, the internet has evolved which means websites need to be updated regularly to ensure they deliver what customers expect. Users have set a high standard when it comes to web design and a website is one of the most significant marketing aspects of a digital storefront. There are a few notable signs to signify a website needs updating or better yet, a makeover!
A functional website sets a good foundation for all marketing campaigns and KPI goals. Without a solid foundation, users will make assumptions that will ultimately not convert any further than a once-over glance.
Blue Fountain Media UX Trends Survey Finds 81% Think Less of a Brand if a Website is Not Up to Date
Large media moguls have enormous teams keeping up with their vision and brand appearance. It's important for small businesses to keep up with these tech giants in any way possible.
Show them that your team can hang with the top tier, top-ranked, and top converters just as well as they can.
Top 5 Signs You Need a New Website
These 5 signs are just the start when it comes to outdated information and algorithms.
Always remember there's no one-size-fits-all approach here. As a general rule of thumb, you should redesign your website once every two to three years. Think about 3-5 years in the digital world, that's a lifetime of updated software and algorithms. Say it with us - Old is outdated!
1. Site is not safe (According to Google)
When it comes to building out a strong SEO, security will be the main focus in 2022.
As changes are made to domains and algorithms, making sure your site has an SSL certificate is an important symbol of safety standards.
Payment problems on e-commerce sites present risks that could be avoided if your website was secure.
If your site is unreliable, then there are possibilities of cyber attacks resulting in a loss of trust and reliability with your customers.
Quick tip! If unwanted links or random pop-ups appear when a user tries to browse the site, do not wait and quickly make a complete redesign of your site.
For example, make sure any third-party scripts or plugins running on your website are up-to-date and ensure that pages have an SSL certificate installed. This confirms the data is encrypted while being transmitted.
Together these will make for a more secure webpage with fewer spammy links ranking higher than yours.
2. Website looks outdated
They say never judge a book by its cover.... Let's make an exception for websites.
A website needs to look fresh and updated, especially if you want to compete with competitors and bigger brands.
A website's main goal is to function seamlessly and without a hitch. Along with functioning properly, it needs to look modern.
Imagine approaching a webpage for information but the site looks dated. Should they trust the site? Users need to know that the information they are seeking is not only accurately sourced but visually accepted. Not everyone looks at the blog's posted date or when a product was released. Visual trust is just as important as accurate data.
This goes hand in hand with company branding. If you have upgraded branding over the past 5 years then changes need to be made.
Whether big or small, a website is a direct reflection of brand care. It's like a domino effect!
One change to a logo, color scheme, or even brand statement means all marketing outlets deserve an update.
Here's a checklist of things you should consider updating:
New contact details
Update your project portfolio and add any news
New services or products
New team members
New photos of your building, team, products, etc.
New awards and certifications
3. Site is not visually compatible with mobile devices compared to a desktop.
Mobile searches account for over half of website traffic. As you can see in the Statista chart, worldwide audiences are browsing more on their phone than on a desktop.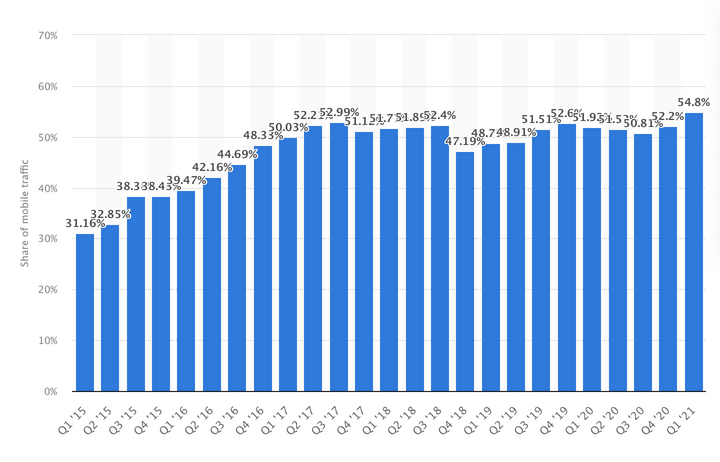 Having a responsive mobile design is crucial but can be difficult if your desktop design acted as the footing. If this is the case, you may want to consider a whole website redesign with a mobile-first approach.
Now, there is a large difference between having a mobile-friendly design and a quality design. Users have set expectations when it comes to mobile browsing and Google is now taking this into account. Rankings will continue to be affected by the user's expectations and quality preferences.
Imagine knowing a company that provides emerging and certified information but lacks the ability to present it. If the presentation of the information seems rather amateur, then the audience will likely question their trust in the source.
Designs need to be organized, trendy, and radiate confidence.
4. Lacking Conversions and has a high bounce rate.
If your website has high traffic but zero conversions, then something is wrong. If your website has minimal traffic in general, something is seriously wrong.
If there are high volumes of traffic then your SEO strategy is working because you are making it easy for people to find you. However, if this volume is accompanied by a high bounce rate, then the website is not delivering what was promised.
Therefore, information is missing. Typically a landing page has a goal for the user. If the goal is not met, an aspect needs to be changed.
Do an analysis of when the chain of conversion is being broken and determine whether it's the landing page, lack of information, misinformation, or even a slow-loading page.
Close to one-third of those surveyed say no search box is the biggest website turn-off.
Webpage speed has a strong pull when users decided whether to stay or exit a page. An outdated website will most likely cause a page to load very slowly.
If the customer is not engaged within 3 seconds of arrival, the chances of the user leaving are very high.
Engagement is key! Click through every page to investigate how fast images and graphs are loading.
5. Small changes are difficult to make / Competitors have new websites.
Even the smallest changes make a considerable impact on site performance and acceptability.
As teams grow, more and more employees will contribute towards assets. If not everyone can easily make changes to your website, such as adding a blog post, then trouble will arise.
Half (50%) of respondents say user content, like reviews and photos, help them most while shopping.
Adding in reviews consistently will attract users to make a purchase or inquire about a service. If your team has to go through a third party to make any updates, even small ones, this will delay the buying process.
For 2022, consider taking more ownership when it comes to changes to your website.
Choose a content management system (CMS) that allows you to take control of where and when changes are made. From blog posts to product descriptions, these small changes will have a large impact on your audience
Having a website that requires a third-party team to make these updates is a strong sign that it's time for a new website.
At Blue Archer, we believe a secure and high quality CMS is the key to a flexible website that grows with your company. Our years of experience ensure we're equipped to select and implement the CMS platform that best meets your needs so you can edit and modify your site without the help of your web team.
Our rapid development framework is quick to install, and code is freely available for you to host, modify, and build on as you see fit.
Want to learn more about CMS platforms? Start a conversation with our team today!