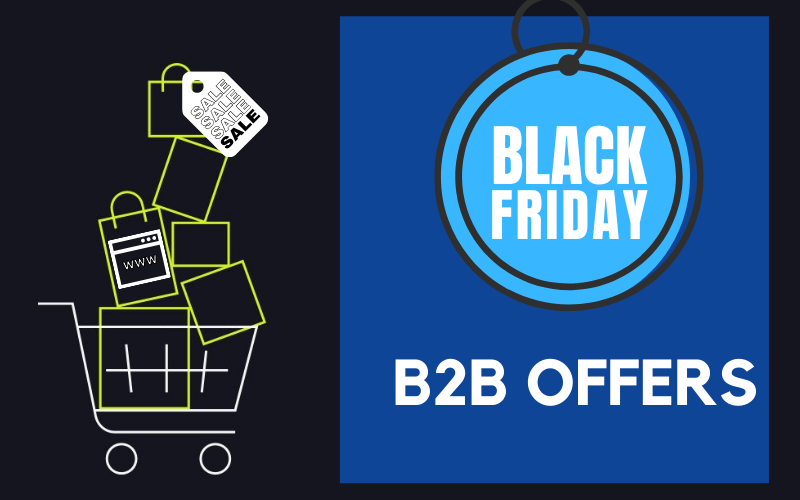 Think there's no room in the Black Friday sales space for your service offering? Think again! Here are 5 Black Friday Sale ideas for B2B organization!
Advertisements for Black Friday, Small Business Saturday, and Cyber Monday are about to spam your inbox. Are you ready?
Deals like these also develop FOMO in buyers. Yes, you read that right - Fear of Missing Out. Humans love a deal to make them feel special.
Sales trigger our brains to release dopamine with hints of exclusivity on Black Friday. When we see deals, we believe we are given an exclusive insight into a product or service. When a user makes a purchase, therefore converts, sometimes the best outcome is the word of mouth excitement about the deal.
What happens next? More conversions. Take advantage of tapping into the human psyche and play with the money strings.... in a gentle way.
The difference between B2B and B2C Black Friday deals
A typically B2C road map is a given for 2021 but that doesn't mean B2B's can't take part.
B2B companies still need to judge their company's position in the market during the sales holiday. Mainly to assess recent B2B customer behavior where many long for a shopping experience that more closely resembles B2C.
According to Gartner, it takes 6-10 decision-makers to approve a complex B2B solution. Therefore, a B2B with a large team that needs to give the sign-off may not see fast paced success.
They also identified 6 buying "jobs"...
Problem identification. "We need to do something."
Solution exploration. "What's out there to solve our problem?"
Requirements building. "What exactly do we need the purchase to do?"
Supplier selection. "Does this do what we want it to do?"
Validation. "We think we know the right answer, but we need to be sure."
Consensus creation. "We need to get everyone on board."
People often don't expect a B2B marketing company to participate in Black Friday sales: doing so will set you apart from others in your niche.
4 Black Friday Offers for B2B organizations
One of the best ways to go about Black Friday marketing is through social media marketing.
Check out this example from an accounting Firm...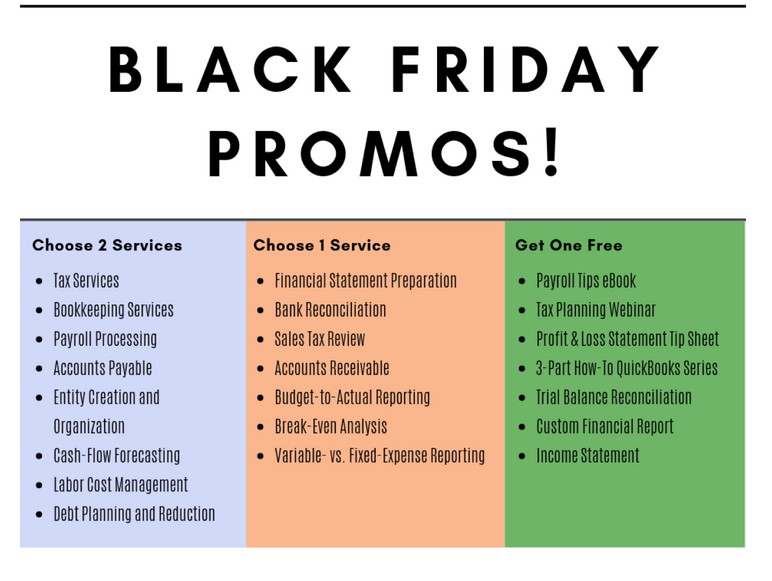 https://penheel.com/5-b2b-black-friday-and-cyber-monday-promo-ideas?pdf=7080
1. Create a ""bundle"" offering
First, you have to think about everything you can offer as a business. Start small, and then combine if it feels right.
Do you have any standalone services (i.e. expert support, strategy sessions, data bundles, etc.) that better suit the Black Friday model?
This way you can determine what offering stands out. If the specific offering requires double the support, create a bundle as an exclusive perk for securing in a timely manner.
If your main and most successful offering is a website redesign, you can pair this service with a marketing analysis. On the other hand, if a brand is interested in digital strategy, make a limited-time offer to include a look into custom software developed specifically for the brand.
2. Limited Time Offering
B2Bs can also take part in limited-time offers. Tapping into the whole idea of Black Friday sales is the sense of Urgency In the buying process.
Hourly promos also increase the sense of urgency and excitement around products. Running a limited-time offer will increase buyer awareness and FOMO, especially if you add a cutoff time.
To showcase the product you are offering, you can incorporate customer feedback and reviews right on the landing page. This will indicate right away something is working!
One thing to note, if it truly is a limited-time offering then it must be your best deal. Customers are very savvy and can sense a fake or sleazy offer. They have to trust you are being honest and forthcoming when giving them an inside deal on a service or product offering.
B2B is already competing with B2C, therefore you will need to stand out.
Lastly, make sure your design team has something big planned for the landing page!
3. Free Gift (""gift"" would be an additional small service offering - ie: free logo redesign for every website project sold in December)
Free is a part of everyone's love language during Black Friday, Small Business Saturday, and Cyber Monday.
You may be thinking that not many users will be thinking about work during these times and therefore will be spending more time on Twitter and Instagram. Although this may be true, LinkedIn still proves the most successful platform for B2B marketing and is the best place to promo your sales.
If you already have offers or ongoing campaigns, you can simply adjust for the event the messages these are delivered by. IIt will bring in a fresh set of eyes and even new consumers. Same with freebies you may have on deck - simply adjust them in a way that would make them seem as if created intentionally for Black Friday.
Consider giving away a free consultation with a member of your team, promoting a free workshop, or offering a free eBook that relates to your niche. You can add this offering as a response to another sale.
For example, if you sign up for a website consultation you will get a free logo redesign or if you purchase an ebook you can receive a free consultation. Be creative and remember to make it better than your current offers.
4. Offer Your Time
Your team can offer a FREE consultation (it has to be more compelling than your typical offer).
If you always offer a free consultation, what else can you add to it? Maybe a competitor analysis, SEO optimization, or even a discounted quote.
What if you decided that you wouldn't sell a thing. Instead, you could give something away. Something like your time!
This unique selling proposition (USP) would definitely set your business apart and stand out in the season's raging swarm of advertisements.
Having a campaign like this will allow people to experience the brand in a way typically not available to prospects. Special times call for special offerings.
Black Friday is a time of heightened activity, with many brands sending multiple messages every day. Pull out all the stops to stand out and create an opportunity for your users to engage and convert!
Looking for a website redesign? Contact Blue Archer.