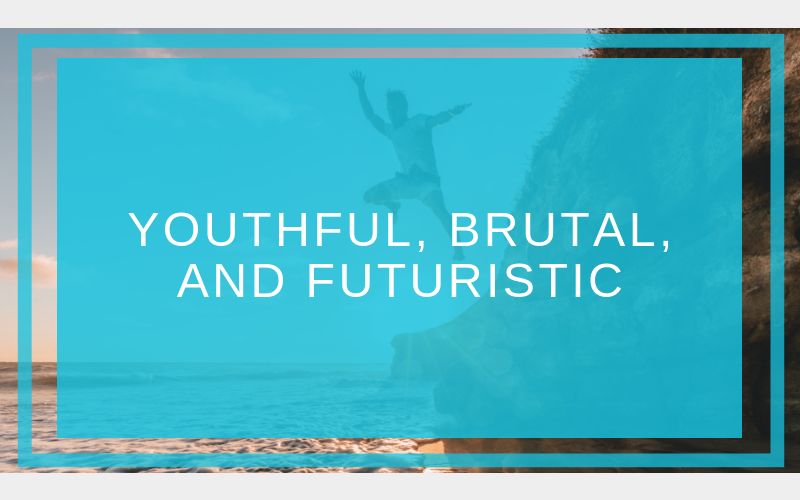 Finish out the year with compelling, trendy designs to capture as much consumers as possible. From millennials to Gen Z, these digital savvy target markets need constant arousal from impactful designs because they are the most digital savvy.
Generation Z: Those Born between 1997 – 2012
Pew Research Center decided a year ago to use 1996 as the last birth year for Millennials for our future work. Anyone born between 1981 and 1996 (ages 23 to 38 in 2019) is considered a Millennial, and anyone born from 1997 onward is part of a new generation.
1. Youthful appeal
It might be hard to visualize the full effect of this trend without understanding that it's more than childlike images. This trend involves bold colors, loud images, and compelling voices to attract the user's attention.
For example, light blue used to be huge in youthful design.
Reminding designers that color palettes are meant for people to feel something. Plenty of action and movement are involved in a typical youthful landscape.
Not many users of this generation will take the time to see and read long paragraphs. Therefore, video and dynamics are a necessity.
Example: YouTube – This might seem cliché, but the platform uses mainly videos and little text to attract attention. Dive even deeper into the content and see which channels catch your eye and some of the more youthful channels. Bright colors exaggerated titles, and faster images make up the playful landscape of the streaming platform.
2. Brutalism
These projects are somewhat disruptive to regular perception. Risky, unprofessional, and bold describe this trend, which is why many think these designs were quick thoughts. Many of these projects showcase the reality of their purpose.
For example, let's look at 100 Everyday
This website is a static display with a brutalist theme. Just to get their message across! Some would say they did this really quick but in an awesome way.
Each project like this draws attention, which is the goal for most web designs. Now, you know why it works.
Many technology companies follow this trend because it gives off a revolutionary vibe. New advancements, new gear, new everything can be exciting to the common user. Put a trendy, disruptive theme behind it and you now have an eager, attention-grabbing platform.
3. Futuristic
Everyone always looks towards the future, whether they want to or not. Being one step ahead is a goal and many searches for that note every day. Give it to them with this common but often overlooked theme.
Nothing says next generation like a futuristic design – now focusing on AI and virtual reality. The best part about these designs is that everyone's view of the future is completely different. Some reference movies, some organically do research, and others go with the flow.
Themes in this category are usually light or dark. No in-between.
Check out some examples below:
Apple - bright, clean, and fresh.
Volkfi - robotic, technical, and imaginary.
Looking for a website redesign? Contact Blue Archer for a consultation.
Check out our latest design here.