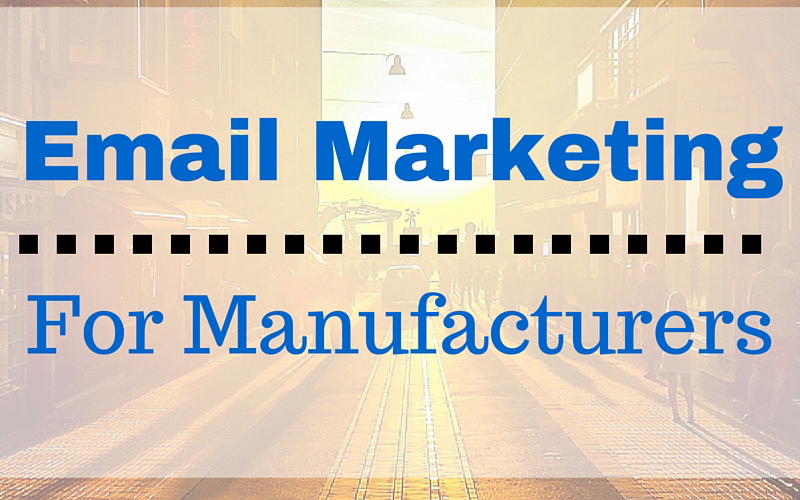 Email marketing is a form of inbound which can describe anything from social media to SEO. Ultimately, it is a useful medium for content marketing. More importantly, it is a crucial tool for manufacturers.
Why Does It Matter?
Reaching customers in their inbox with content is effective. Why would manufacturers specifically want to do this?
"While all B2B marketers say brand awareness is their top goal, manufacturing marketers place more emphasis on customer retention and loyalty (68 percent vs. 57 percent) and less on lead generation (67 percent vs. 74 percent). The biggest difference, however, is that manufacturing marketers seem far less concerned with thought leadership (44 percent vs. 68 percent)" Content Marketing Institute

Client retention involves solidified relationships with those that are being targeted. In modern advertising, a geniune relationship fueled by content surprases the faux relationship fueled by glamorous ads of the past. Retaining a customer means having a conversation with them.
Email marketing can do just that, especially for B2B clients that are interested in what you have to say.
What Do I Send?
First and foremost, as a B2B manufacturer, you must provide value for your customers in their inbox. Email marketing is just another medium of correspondence, but it is one that can build a personalized relationship.
Items Of Value
"Sounds simple in theory but it is not. That's because most companies want to start with what they want to sell and not what their customers need or solved. First build trust with your audience with helpful content before you can sell to them. Follow the golden rule of 80/20 – 80% helping and 20% selling." Industrial Marketing Today

While you should always include something that can keep the email subscriber moving forward (such as links to the website or products), you want to also offer them something in return.
This may include:
Discounts, rewards, or exclusive offers
Educational information
Event notices or trade show reminders
Content
Different audiences respond well to varying types of content. For B2B manufacturers, engineers may be the ones receiving your emails.

The study above shows how engineers react with different styles of content. In this study, contact information was exchanged in return for something of value offered.
Best Responses
Webcasts, webinars
Product information
White papers, best practices
Trade publications
After understanding what resonates best with the target audience, an email campaign can be tweaked to provide quality information that will be viewed and engaged with.
Getting Started
Even if you may be on board with email marketing, you must still take the first steps to get started.
Subscribers
You will need someone to send the emails to once the campaign starts. This may be made up of your existing customers.
Tools