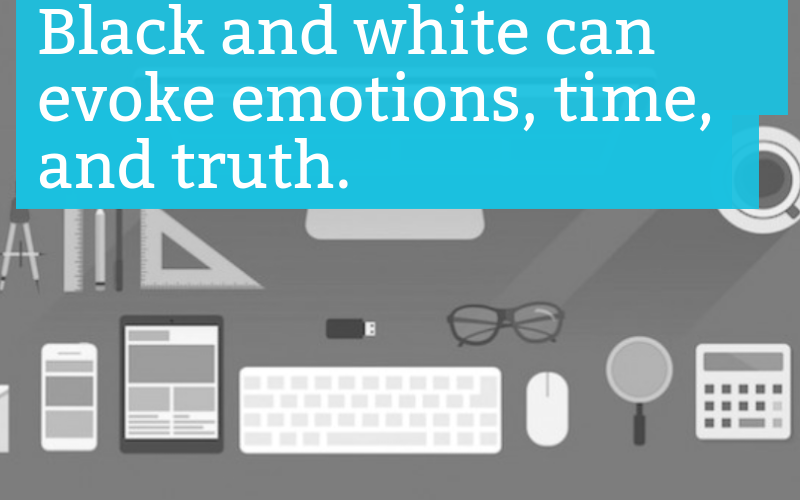 Some trends are made for user experience, while others are purely aesthetic. This month, many designs and photos are on trend. By analyzing colors to shapes, and even types of photography, you can see why people are changing their formats.
Black and White
The key characteristic of black and white designs is that they are timeless. When you see historic photos in black and white, they give off a sense of sophistication and memorabilia. Black and white aren't restricted to just portraits or photos. Switching navigation and even text can illuminate these features.
We see color every day in our lives; however, for some the colors are different. We normally catch onto the things that lack color and ponder why. The rich contrast of black and white emphasizes important values within the photo, video, or even landscape.

Black and white can evoke emotions, time, and truth.
Circles
Circles are nothing new in the design world. Look at the top tier branding giant, Google. Circles are essential to their design because they essentially the perfect shape.
People resort to circles as an extra layer of content. They elude harmony and energy as the focal point to the design.
In some cases, brands will use circles or any shape to emphasize interaction. These brands want you to interact with their design, and if they need to initiate that with circles then they will do it.
Faceless Photos
When it comes to purchasing products or service, as consumers, we tend to compare ourselves to the models in the advertising images or videos. We think to ourselves,
Is this something I need?
I have similar qualities like the character, so should I be using that product too?
Ultimately, using faces helps users to connect to designs.
Therefore, use faceless photos when you aren't looking for a strong emotional appeal.
Faceless images are perfect for more general interactions. Besides simply just photoshopping the head off, you can simply just rearrange your shot to only include the physique of your subject. It stays a mystery until the consumer chooses to consume the product.
If your site is in need of a redesign, contact Blue Archer.