Ubersuggest is an innovative free approach to new long-tail keywords in a few minutes. It not only aggregates data from Google Suggest, which provides keyword ideas similar and related to your searches on Google, but Neil Patel has united many more features to make this tool one of a kind. Check out the latest progressions of Ubbersuggest right here.
Over the last year, Neil Patel has generated a tool that goes beyond one single task. Ubbersuggest 2.0 started with your basic SEO keyword feature and now at 6.0, has transformed into your next ideal medium to generate an audience to your site.
Below, we break down the different functionalities of the best free keyword research tool as well as updates that have occurred over time.
Ubbersugest 2.0
The first section is a graph that breaks down the search volume over time. You can see the search volume for any keyword in any country and language over the course of the last 12 months.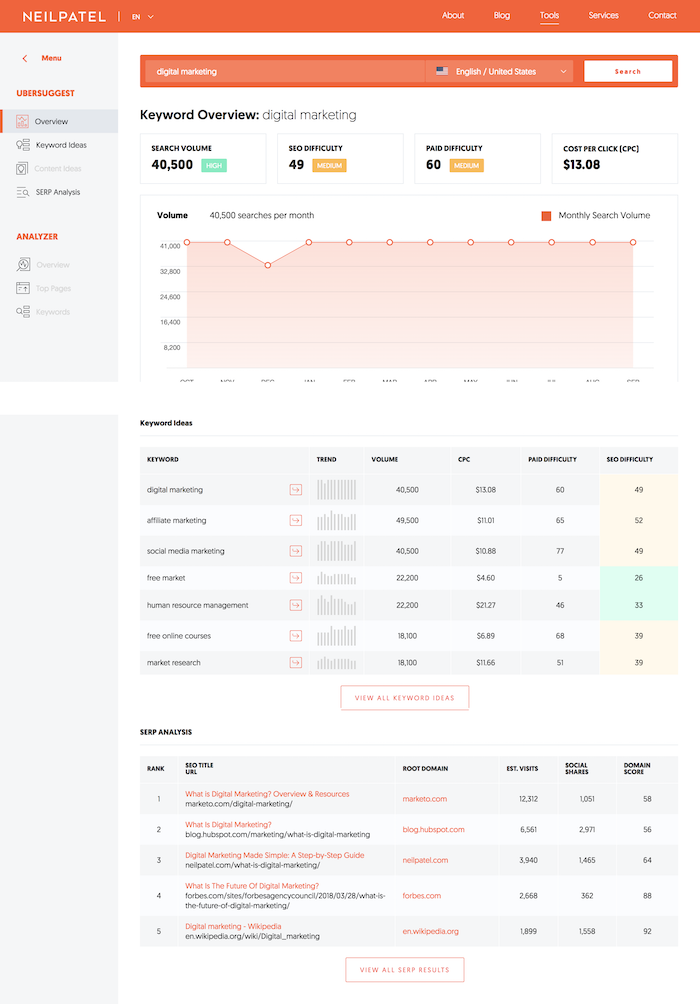 The graph will show you if the keyword is gaining or declining in popularity or if it has seasonality. In addition, it breaks down the cost per click, the SEO difficulty, and the paid difficulty. The difficulty scores are from 1 to 100. The higher the number the harder it will be to compete for that keyword. And the lower the number the easier it is to compete.
This is one of the best parts of the keyword ideas report because you can easily see the estimated visit count based on rankings. This metric looks at whether a keyword has seasonality and if there are any rich snippets or paid listings for the term. In addition to showing you the estimated visits based on rank, you'll also see how many social shares each URL has and its domain score.
Domain score is a metric between 1 and 100. The higher the number, the more authoritative a domain is and the harder it will be to beat that site.
Ubersuggest 3.0
Now, this tool goes beyond a free keyword search volume and now lets you analyze traffick by breaking it down into 3 different sections: overview, top pages, and keywords.
When you see how many keywords a domain ranks for, you will also encounter the total estimated search traffic from that region, the number of paid keywords a site is bidding on, and how much they are spending on Google Ads. Following that, you'll see a graph that indicates the traffic the site received over time.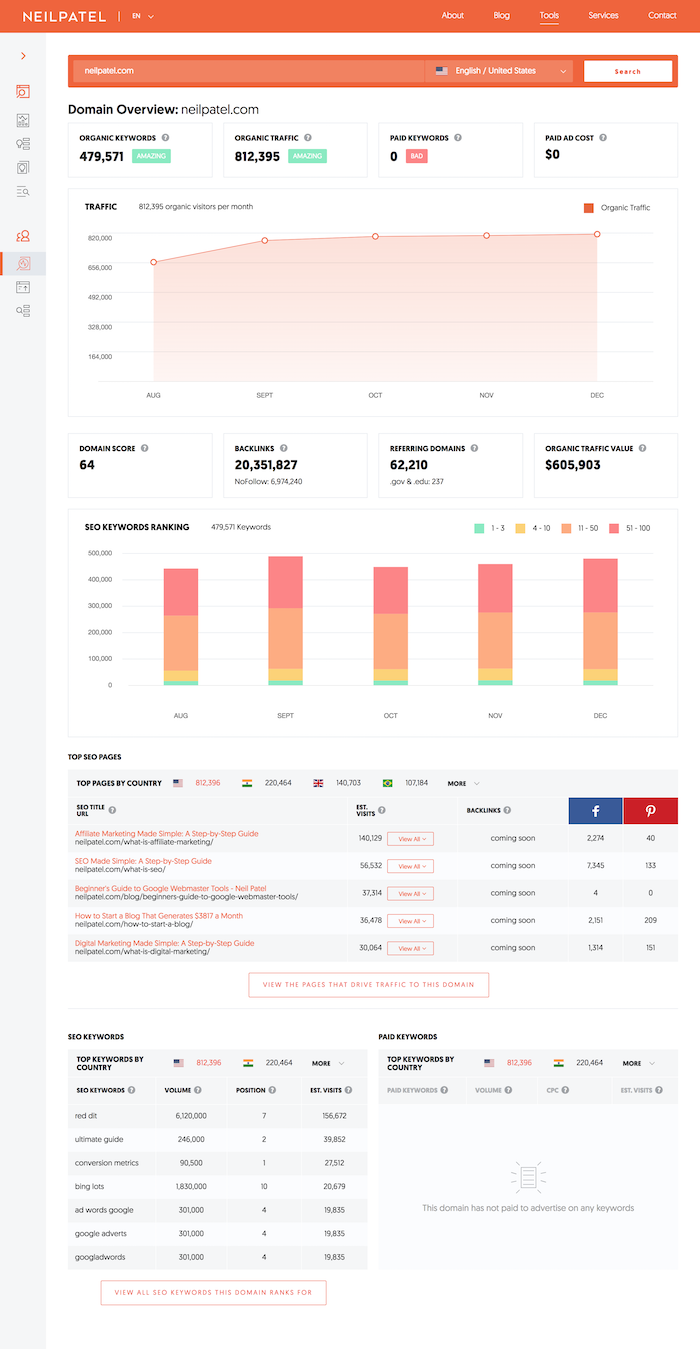 Now Neil would never forget about the other vital aspects to analyzing proper data. You can find these key attributes below such as backlinks, extracting domains, and how much the organic traffic is worth if you had to pay for it.
There is one thing you must keep in mind... Ubersuggest treats subdomains as a separate site. So if you enter in store.nike.com you will get different results than if you typed in nike.com. By typing in nike.com, you would NOT see any of the data from their store unless you typed in store.nike.com. This example is found here.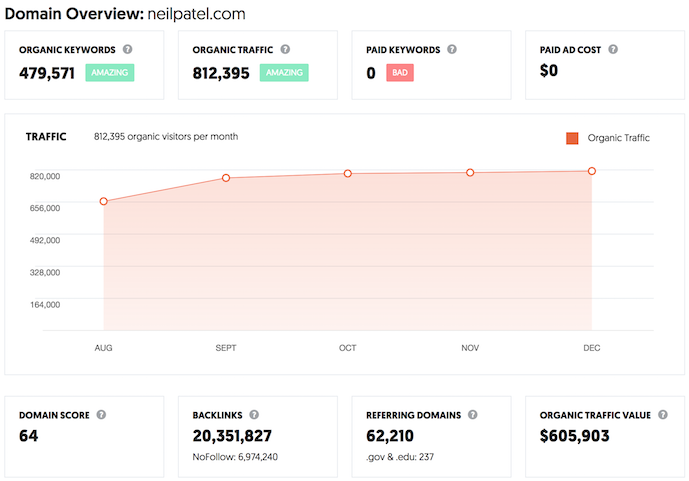 The second part of the traffic analyzer is a list of the most popular pages for a given domain. For each page, you are given the title, URL, the number of visits a page receives from Google on a monthly basis. In addition to the number of times the URL has been shared on the social web, which will be an increasingly popular feature among efforts to incorporate brand awareness.
Ubersuggest 4.0: The Ultimate Content Marketing Tool
Finding keywords is a phenomenal step in building your website's SEO. Once you find these keywords, you still have to figure out how to rank them.
The way you rank for a keyword is by creating content around it.
There are over 600 million blogs in the world today, out of over 1.7 billion websites.
That means Google can be really picky about what they decide to rank. Therefore, not only do you need to write amazing content, but you also have to find a way to promote it if you want to do well.
To help you with this, Ubbersuggest includes a Content Ideas report in Ubersuggest. So whenever you do keyword research, you'll see an overview that looks like this: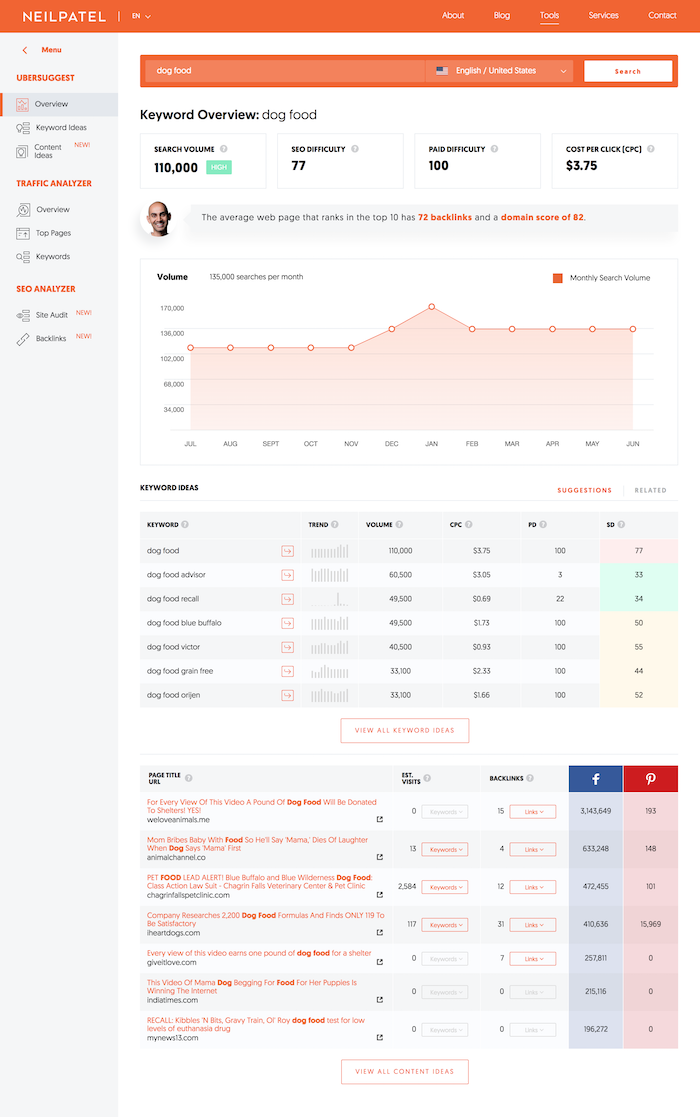 To reduce the time in combing through the thousands of search results, they also created an easy to use filtering system so you can fine-tune your search by including certain keywords or excluding other ones and even putting minimum and maximum thresholds on social shares.
Neil explains the design process here. (See below)
By creating content similar to posts that have a lot of social shares, it increases the chances that the content you are writing is going to do well as people have already shown interest in that topic and even shared it on the social web.
By showing you the keywords a blog post ranks for, you'll know what keywords to focus on when writing the content. This way your post can rank as well.
By showing you who links to your competition, you can now hit up everyone who links to competing articles and ask them to link to your piece of content.
Ubersuggest 5.0: Generate 1 Million Keyword Suggestions in 7 Seconds
This free keyword tool for SEO allows you to access more keywords results than Google suggestions. Now when you perform a search on Ubersuggest for any keyword, you'll see a "related" tab with even more suggestions.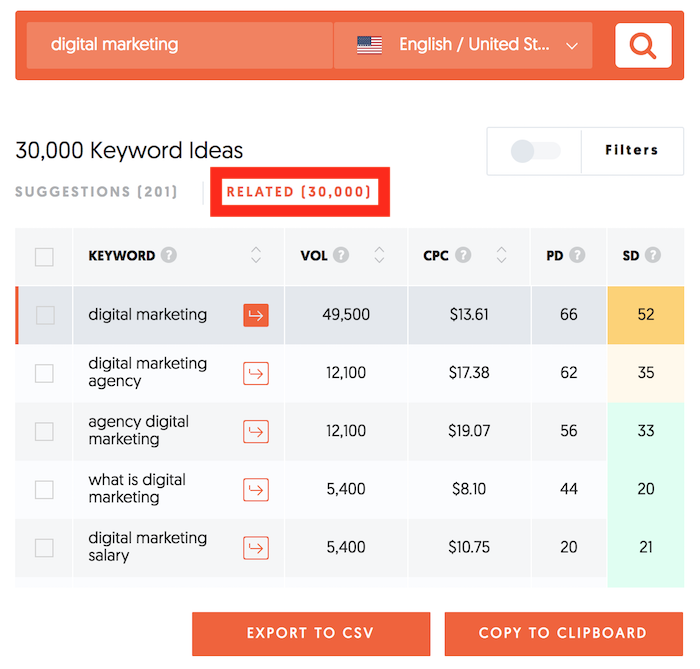 You can see in the picture, the results when searching "digital marketing". He used the filters setting to find keywords with a minimum search volume of 400 searches a month and a maximum SEO difficulty of 50. Ubersuggest then fine-tuned the results to 489 keywords related to "digital marketing" that he should consider targeting instead of the user having to manually go through 30,000 plus recommendations.
Ubersuggest 6.0: Track and Improve Your Rankings Without Learning SEO
The final piece to the puzzle. All you need in one and now is your time to try it out.
You can begin to track your website along with others. Within each site you add to the dashboard, you'll be able to automatically track your rankings for any specific keyword.
What's also cool is that you have the ability to track your rankings in any country, city, or region. That means if you do local SEO or international SEO, you can see your rankings anywhere.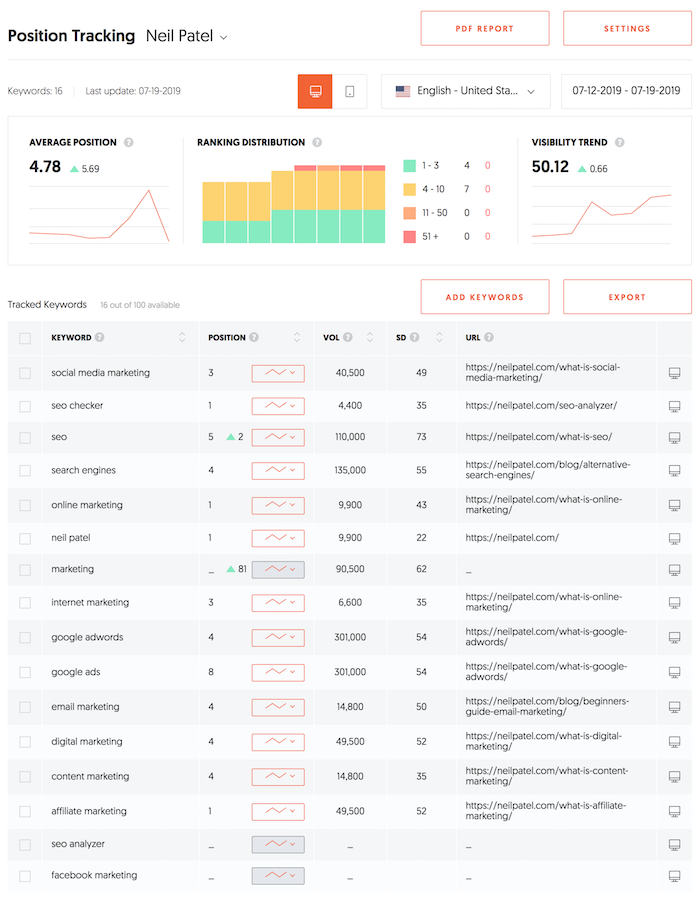 All images are from neilpatel.com and are associated with the Ubbersuggest tool.
Comment below if you have tried out this tool!
Once you implement this free SEO keyword search tool, you want user visits to be blown away by your website.
Contact us today for a consultation.