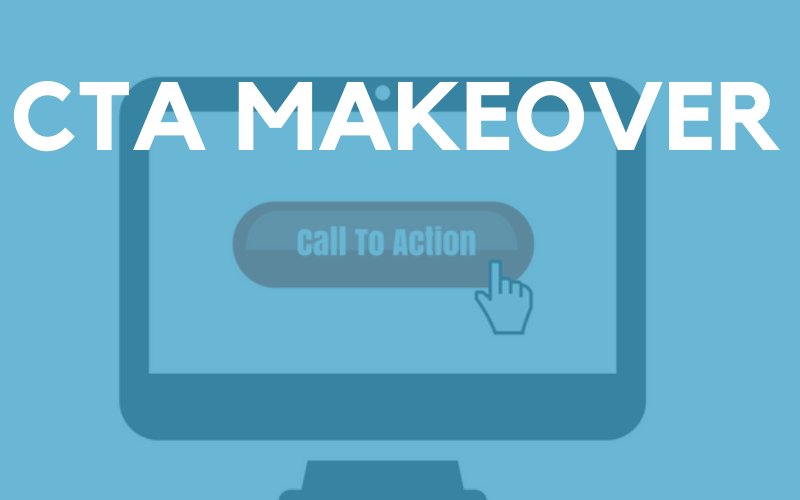 The need to catch the eyes of users and increase conversions at all costs has never been more apparent. However, one component of your site that could be hurting you is your CTA. Following along through these call-to-action checkpoints and see if your CTA needs a makeover.
What is a CTA?
The Call-to-action is the point where users are guided in order to create a conversion. It's a phrase that's used to tell the user exactly what action to take and how to take it.
No matter what you'd like to accomplish with advertising and marketing, you won't do it without a compelling CTA.
A lot of people remember to tell people what they should do, but they forget the why part of that equation. Therefore, having a powerful CTA that convinces people how to act is the best way to go.
How long do CTA's need to be? CTA can definitely be longer than just a few words, maybe even a sentence. The optimal practice is to keep it concise, which doesn't always mean only a few words. The goal Is to create a conversion, so get to thinking about creative and compelling words to do the job.
CTA Characteristics
Clickable button

First and foremost, your CTA button should look clickable, and visitors should be able to identify it as a button immediately. To enhance this action, you can try adding a drop shadow or coding it to change color or animate when a visitor hovers over it with the mouse. This way, they will feel accomplished when clicking an actionable link.

Make it stand out

Your CTA button should stand out from its surroundings. It needs a healthy amount of white space around it so it isn't lost in the content of your page. Your CTA should adhere to the qualities of being large and bold, while still consistent with your branding so it can't be mistaken for an unrelated ad.

Siphon your message

​What are you selling again? If users are asking this question, then you're doing something wrong. There are times when it's difficult to show what your product is from a homepage. Think of any software. But other times? The product should sell itself.

Shape matters

Odds are you are used to seeing rectangular CTA shapes. There's no reason to try something new here, as it will confuse the common eye. A rectangular button can have sharp or rounded corners, but try not to overcomplicate the shape. Add in a few unique specs, but there are other aspects of the CTA that can be altered to stand out.

Placing your button

Placing the CTA button at the top of the page proves effective. For others, placing it at the bottom after all the rest of your content makes more sense. You can experiment with this and look at which position gets the best results. Some key findings to determine this placement is whether or not users need action as soon as they approach your site or if they need to gather information from the site and then take action.
Website CTA Examples
Netflix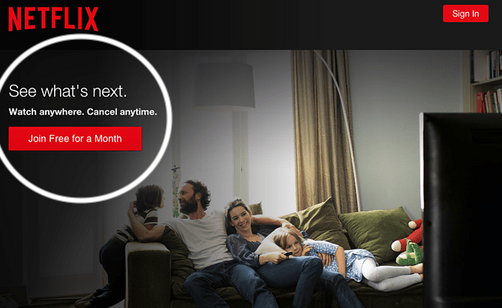 Having the "Cancel Anytime" immediately lets users know that there's no risk associated with the free trial
Many consumers today are more skeptical about the fine print that businesses have gotten better at sneaking past them, so showing users that there's no commitment and zero risks for them in the situation (besides binge-watching) will be sure to increase conversions.
Dollar Shave Club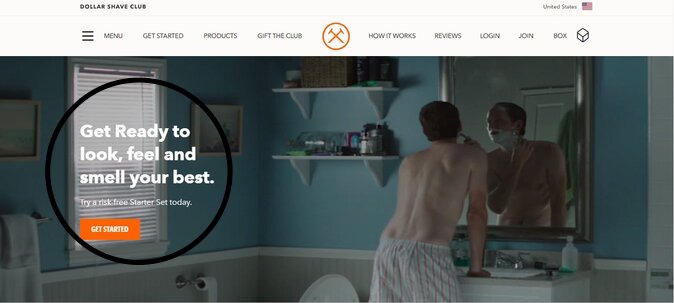 Their message is clear: men can look, feel and smell their best.
Instead of using the "Try Us" or "Join Now" formula, the company promotes its free trial with an inviting "Get Started" button.
It doesn't seem like you'll have to immediately enter in your credit card or be sucked into a subscription, but the benefits as to why you'd want to try it are clear.
---
Nielson Norman Group Case Study
According to a study done by Nielson Norman Group, people's eyes move in a pattern that looks like the letter F when they are scanning websites. They read horizontally on the top part of the content, then move to the left side and scan down the page a bit before reading horizontally again, then they look back to the left side and scan vertically. Take advantage of this predictable behavior by placing your CTA button somewhere in that F-shape.
However, over the years this patterns has been a bit misunderstood. This article denotes the following:
Scanning on the web does not always take the shape of an F. There are other common scanning patterns too.

The F-pattern is negative for users and businesses.
Good design can prevent F-shape scanning.
This is one of the first examples of the F-pattern from their studies in the early 2000s. This heatmap aggregate gazes from more than 45 people trying to learn what happened in Galveston Texas in 1900. The top, most read section of the heatmap (represented with the color red) resembles the capital letter "F". (https://www.nngroup.com/articles/f-shaped-pattern-reading-web-content/)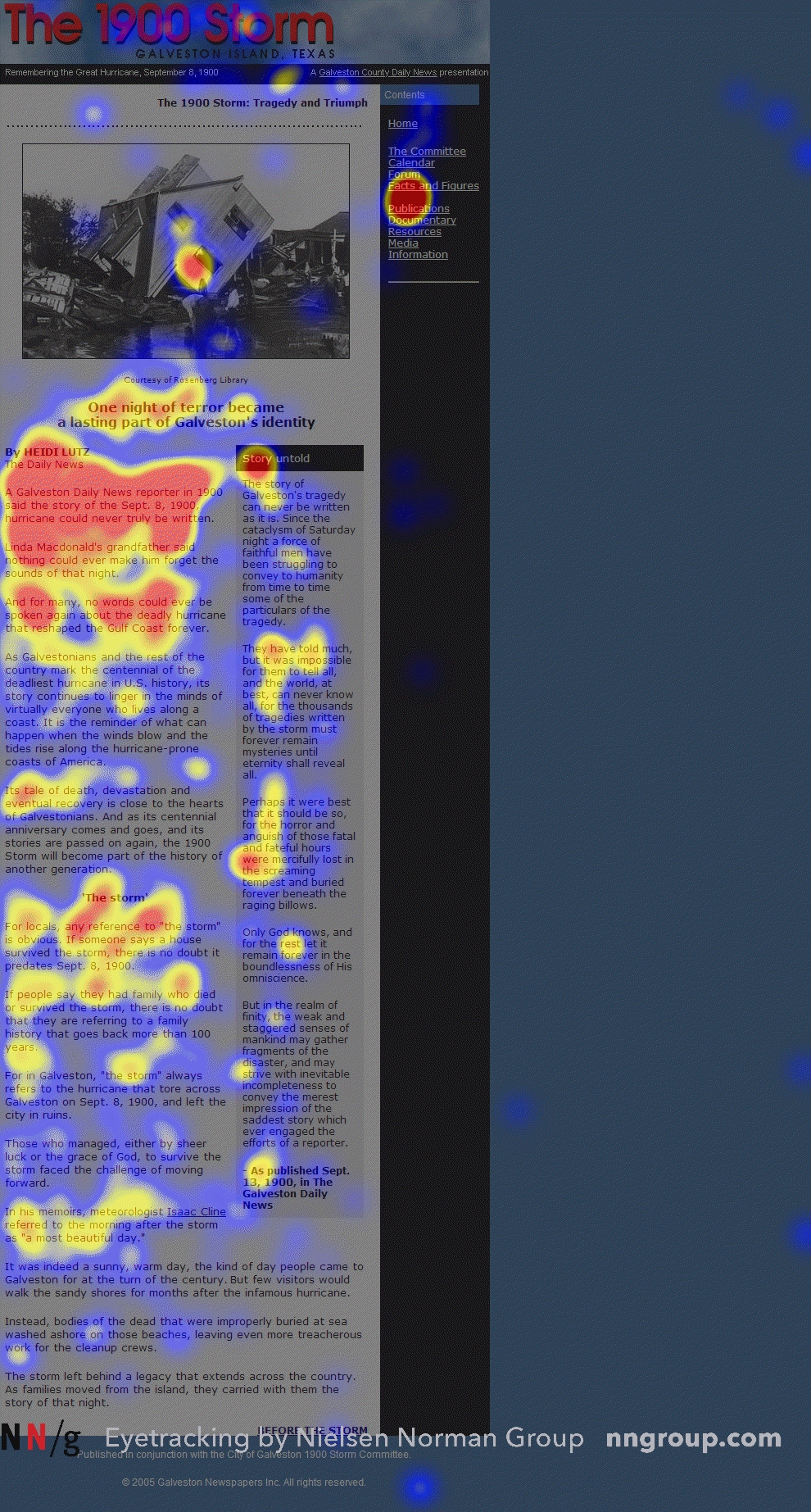 Quick Facts
How long should a CTA be?
CTA's can be longer than a sentence but do not need to be. The best answer is to keep it concise!
What color should the CTA be?
Choosing a color that contrasts with the design of your page will help it stand out better. Certain colors carry a different meaning, so do your research.
​Where should I put my CTA?
As soon as a user drops onto your website, there should be a CTA ready to go. Having the button at the top of the page has proved effective, but some UX designs have the button on the bottom of the landing page for it to make more sense.
Looking for a website redesign to match your CTA makeover? Click here to start a conversation with our team.