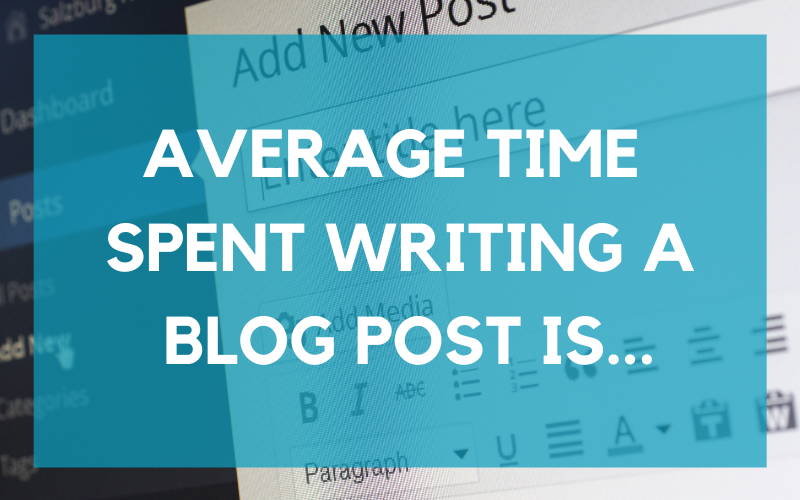 6 minute read...
A profitable marketer spends the amount of time needed to fulfill the topic's demand. These writing times may vary depending on the topic, but it is all about serving the purpose set out by the writer. Luckily, the average length has been identified by agency leads. Check it out!
The amount of time spent writing a blog post is highly correlated with how long you wish your blog post to be.
Not sure what length is right for your brand? Check out: How Often Should You Blog?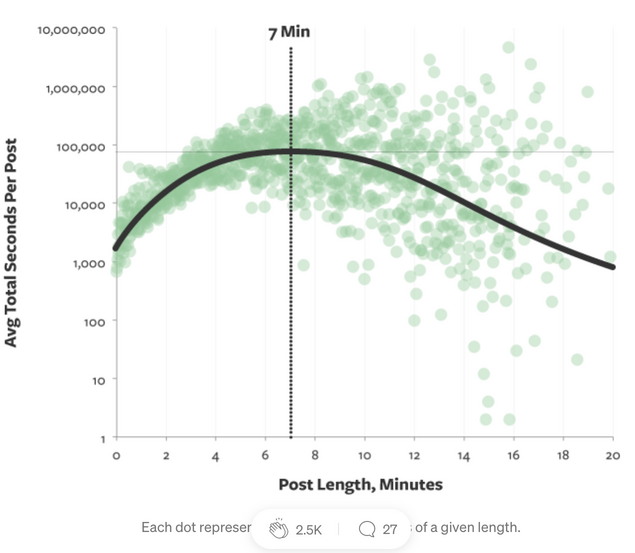 In a Medium article, the writer says that posts with an average read time of 7 minutes captured the most attention. This will help determine the length of your article and how many words are needed to fulfill the post.
Length Correlates with Topic
A topic has a defined purpose and can be pulled in many different directions. Once you establish an outline of the article, this will help determine the length of the blog and the amount of research that is required to fulfill the topic.
Web Design topics can take anywhere from 1 to 4 hours (maybe longer) to write depending on the scope.
1-2 Hours: If you are focusing on web design news, new features of an already existing software, or a quick correlation to a hot topic.
3-4 Hours: If you are blogging about a new development not yet known to the public, a new feature/product from your company, software explanation, event illustration, or even a big change that could affect another industry.
Most importantly, if you are blogging about your own feature, project, or service then more time should be spent on the detail provided to new and existing audience members. Let them know you are dedicated to your content creation just as you are dedicated to your offerings.
The largest number of marketers (38%) spend 1-2 hours writing a typical blog post. In the same region, 29% of marketers spend 2-3 hours writing a blog post, 29% spend 4+ hours per post, and only 8% spend less than an hour per post. Hubspot
Bloggers are publishing longer posts these days, around 1000 words or more depending on the topic, and spending more time writing them. Bloggers are also publishing less frequently and focusing more on distribution.
So does this mean 1-2 hours is the perfect time to spend on a blog post?
Let's take a look at what other countries are doing compared to North America (NORTHAM).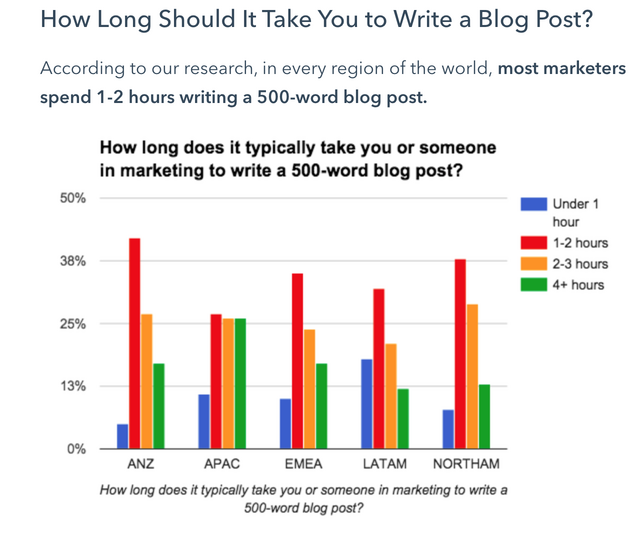 https://blog.hubspot.com/marketing/blogging-time-benchmark#:~:text=Some%20quick%20posts%20could%20take,1%2D2%20hours%20per%20post.
According to the graph above, each territory varies in time spent on a blog post. One variable that is not noted here is the topic of each post. Some topics are easier to research and gather information for a quick read while others require in-depth research and analysis to determine the right facts for your audience.
More research was done by Ragan and they determined through the Orbit Survey that...
"People take about three hours and sixteen minutes to write a blog post. That's a 26 percent increase over the same survey last year. However, the study also found that "twice as many bloggers are now spending 6+ hours on their average post."
In addition to the time spent on each blog, according to the Orbit study, the average length of a blog post is about 1,050 words.
Can you effectively communicate an idea in 1,050 words?
In today's social-driven market, short posts can go viral for all the right and wrong reasons. Obtaining this attention, to some, is a blessing.
This doesn't take away the nostalgic element of a well-written, factual, long-form blog post.
These articles can and will be just as successful when facts strike a nerve.
Research
These notable bloggers learned to transform their research tactics and build a sustainable blogging platform.
Zenpost found that time spent writing a blog post gets better over time...
Prolific blogger Neil Patel has noted that he used to spend four to five hours to write a blog post, but after seven years of blogging, he cut that time down to under two hours to write a 1,000-2,000 word post.
Kevin Lee of Buffer used to spend 8-12 hours per post but has cut that time down significantly. He told John McDougall that it took him an average of 2 hours and 58 minutes to write a blog post.
Research on a topic is one thing but keyword research can also play a role in the time spent structuring a blog. Keyword research will lead the writer to focus more on substructures in order to add the required terms organically.
From here, determining the complexity of the information can lead to diving into a single aspect or pulling at many different strings. At this point, the writer decides how challenging the article will or will not become.
Always factor in the experience level of the writer in terms of the post topic because both experience in the topic and writing can affect how long it takes to write a blog post.
Lastly, keep SEO in mind. The idea of the blog might be there but time is needed to research and select keywords, links, image Alt-Tags, and formatting tactics to ensure Google includes the post in relevant search engine results.
ContentPowered acknowledges that the orbit survey may not include the below aspects in the average time spent writing a blog:
The keyword research that goes into determining the post subject.
The iteration and testing of headlines for a post.
The creation and optimization of meta information like titles, alt text, and descriptions for the post.
The creation of images or videos that you produce to go along with the post.
The hunt for social media posts you can embed into your post.
Conclusion
Blogging comes in many forms. Whether your blog is new or old, data will be your friend in determining what works for your audience.
Like any skill, the more you blog the easier it gets. The more keyword search you do, the easier it is to incorporate them naturally into your writing.
Finally, the more you stay up to date on current trends within web design or other interesting topics, the easier it is to make the conversation flow.
If you believe your blog could use a revamp, contact Blue Archer today.