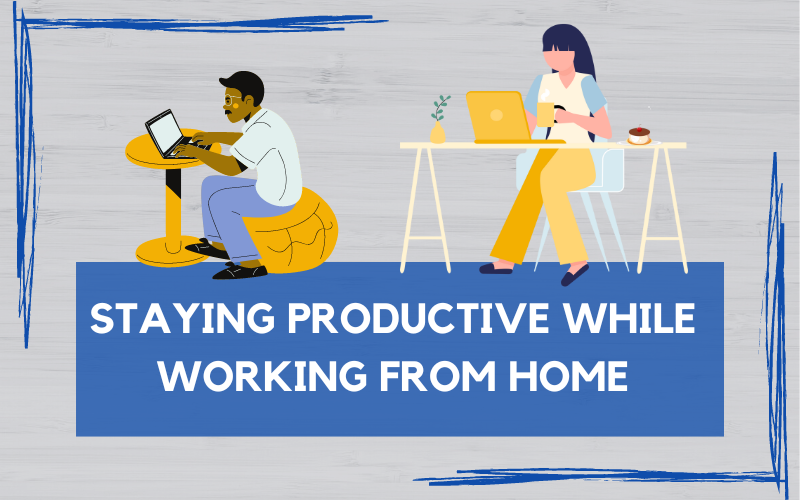 7 min read...
Working remotely for the past 2 years might have caused your motivation and productivity to sway with the seasons, especially with household distractions. With a few helpful tips and habit changes, being focused will become easier and you'll confidently tackle your work responsibilities.
The argument has been present for years about whether working from home is more productive than being in the office. There are plenty of facts to contribute to either side, but what it comes down to is the person.
Does the employee have the drive to stay focused and accomplish goals at home or do they thrive in the hustle and bustle of an office?
Since 2020, the pandemic has brought on its own challenges when working from home. Can you relate?
Year 1: Feeling empowered, free and energetic in your home environment workspace.
Year 2: Feeling a little isolated as the world opens back up but still hitting work goals. You are trying to balance self-care and work all in one home office.
Year 3: Starting to lack creativity, motivation, and drive? Mainly due to your environment not changing throughout the day and daily tasks becoming repetitive.
Not everyone has the same work-from-home experience and that is important to understand.
This article notes helpful tips and tricks to ensure your mental health and workspace cohabitate together effectively, creating a productive and focused environment.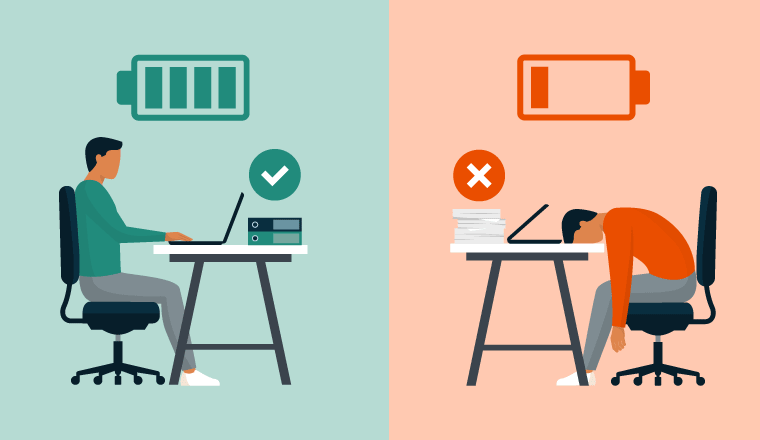 https://www.callcentrehelper.com/increase-work-from-home-productivity-168920.htm
Setting at home Standards
Before work begins, we need to take control of our surrounding environment as best as we can so we can kick off the work day strong.
1. Routine
As we all probably know at this point, it is easy to roll out of bed and onto your computer to start the day. The mental association you make between work and an office can make you more productive, and this applies to your at-home office as well.
Try having a 5-9 before your 9-5. Yes, we mean 5 am to 9 am. If you are a night owl, try having a 5-9 after your 9-5.
During this morning period is when you prepare for the day. Whether that is working out, showering, packing lunches, or even meditating - this is your time to get settled and ready to crank out work.
If a routine is new to you, start with 3 - 5 tasks to conquer before work. Something as simple as washing your face to going on a walk. You can do it!
2. Communication standards
Caring for kids during work hours can make the struggle to stay productive even more difficult. Consider how you might coordinate your schedules to accommodate the need for child care, such as alternating morning and afternoon shifts with your partner.
In addition to schedules, if you share space with another work-from-home adult, you may have to lay ground rules about meeting times, shared desks and chairs, and quiet times.
3. Declaring a workspace
Create a workspace for yourself in a separate room in your home, or if you have limited space, set up a spot somewhere where you can comfortably work without noise and distractions. No matter the space or location, have an area of the home to work and stay committed to throughout the day.
This will help you get into the right mindset every day by having a declared area to get going.
4. Meal Prep
When working in the office, packing your lunch ahead of time was a common practice to save time and money.
It can be tempting to spend time preparing a nice breakfast and lunch for yourself at home, chopping and cooking included.
Occasionally, this is a fun element of a work-from-home lifestyle. However, preparing food ahead of time ensures you can use your time wisely and less energy on non-work related tasks. This also helps to stick with a routine throughout the day!
5. Digital Devices
You probably don't check social media very much at work, but it is often fair game at home. One small peek can turn into an hour of scrolling.
There are 2 options to help with digital devices, TV included.
1. You can either set time limits on each social app to defer you from checking constantly.
2. You can keep your phone in another room or area other than your office.
Digital devices can be a reward if used properly so it's time to have some discipline.

https://blog.hubstaff.com/employee-productivity/
Productivity & Motivation
Let's lay some ground rules for work to keep you motivated and accountable.
1. Participate in training
If your company offers opportunities for professional development, consider participating.
With that being said, if you have a good amount of downtime, maybe it's time to seek online courses or certifications to help grow your resume and invest in yourself.
Learning new skills and increasing your industry knowledge can help you stay motivated to succeed.
2. Schedule a 1 on 1 meeting with colleagues
To feel human and not stir crazy, we need human interaction.
Tools like Slack, Google Hangouts, and Zoom can make it easy to check in with other remote employees and remind you how your work contributes to the big picture.
Try stepping out of your comfort zone and start by connecting with one team member a week outside of group meetings. Staying connected can help you feel closer to your team and even collaborate on projects.
The best part about working with others is learning new ways to tackle a task. Everyone has their own work-from-home technique, so maybe you can learn something from your peers.
3. Prioritize tasks and use Time management techniques
Take advantage of your smartphone technology and download a productivity app or two.
You can find several apps that help you set timers for priorities and track your performance so you can adjust your daily and weekly work goals.
You can also utilize The Pomodoro Technique. It is a time-management method developed and perfected by author and software developer Francesco Cirillo.
How it works: You work and take breaks in intervals. You take one five-minute break every 25 minutes and one longer break every 100 minutes. The concept that drives Pomodoro users is that you're more productive when you work in intervals and give your mind a chance to rest in between.
4. Determine a definitive schedule and take breaks
When working from home, it is tempting to be super flexible and offer your time at all hours. One of the most important and basic things you can do is to create a regular schedule for yourself.
We are in the age of employee flexibility. Meaning, you should work when you're most productive. However, it's a good idea to find out when your boss really needs you to be at work.
Finally, the most vital aspect of being productive is taking breaks. The best minds find time to relax and rejuvenate.
These breaks can be scheduled on your calendar or utilized during your lunch. Eating at your desk isn't always a bad thing when your actual lunch break is taking an hour-long walk outside in the sun.
There are many helpful tips and tricks on the web to get you through your day and regenerate your mindset if you are in a slump. Remember, it can and will get better with a little patience and discipline to want to succeed.
Quick Facts
What time management technique can I use to help me stay focused?
Try The Pomodoro Technique! You work for 25 minutes and are rewarded with a 5-minute break. Every 100 minutes, you are rewarded with a longer break.
How do I establish a routine?
Start by declaring 3-5 priorities that you want to tackle before or after work. This will help you knock out a to-do list and feel a sense of accomplishment before your work day even begins.
Have you been wanting to create a better website for your small business? Contact Blue Archer to get started.