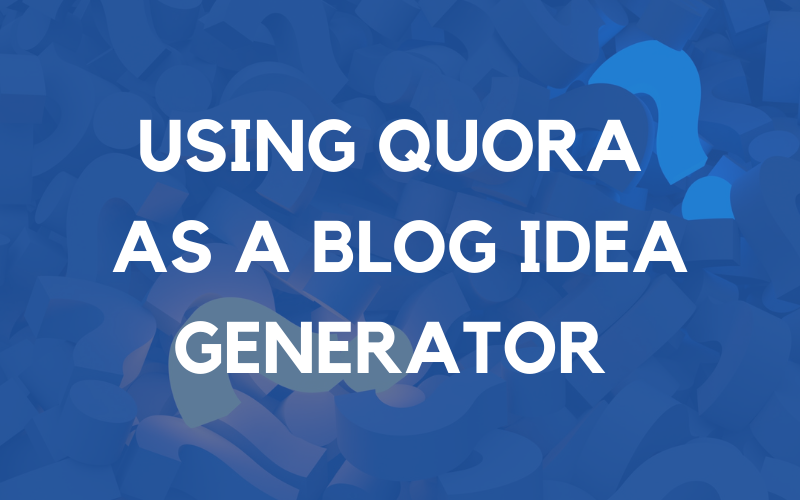 Quora is a hidden gem that needs more recognition. Other than asking and answering questions, Quora is an exceptional tool for generating successful blog post ideas. To start, begin with a basic search...
Quora is an American question-and-answer website where questions are asked, answered, followed, and edited by Internet users, either factually or in the form of opinions.
The company was founded in June 2009, and the website was made available to the public on June 21, 2010. Users can collaborate by editing questions and suggesting edits to answers that have been submitted by other users
In 2020, the website was visited by 590 million unique people a month.
How to use Quora to stay on-trend:
To start, you need to decide on a broader niche. Now, you may be thinking that these two words do not belong together, but to keep up with trends, you need to follow the right conversations.
For example, Blue Archer would following web design or small business design to stay on top of emerging trends and conversations about what's new and current events. More importantly, this would help to engage with what people are currently thinking and brainstorming.
To enhance the outcome of this market research, you can track posts with the most views and comments. Ask questions; Why are people interested? Can I provide additional information?
If users are involved in Quora and you transfer this interest to your site, then you are more likely to experience an increase in traffic. Especially, if you name the origin as well as provide additional insight.
Pay attention to "thought leaders", users who are known for valuable content and answers, typically the profiles who show up most often on the home pages with ample views.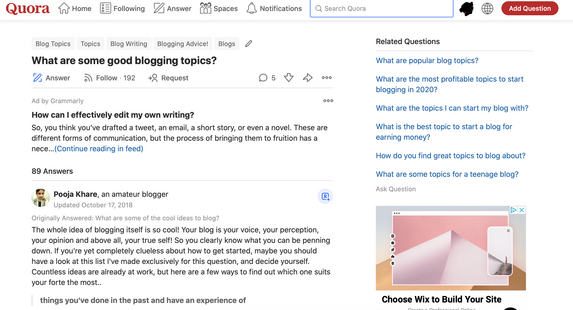 ---
A new approach to monotonous topics
Let's face it, some topics are null and dull, specifically ones that are talked about over and over again. Even though these topics are all still relevant, there seems to be a roadblock when it comes to describing a new approach. This is where Quora comes into play!
A few ways to approach a tired topic:
Share a personal story - The best way to get to know a situation or person is to share a bit of intimate information. Many people come to Quora to discuss a personal situation or event to get answers. Ones that spark feelings and emotion do the best, so try incorporating these ideas into your blog post to enhance the nature of the repetitive topic and revamp the ongoing process. Stories of struggle and perseverance, stories that are uplifting, and stories with an "a-ha" moment do best.

For example, web design is beginning to be a tired topic outside of creativity. What more can we add to the standard web design, user experience, and conversion practice to enhance it? More often than not, a new approach is conducted when a problem arises. By browsing such topics or issues on Quora, your team can begin to analyze a different approach to small aspects or larger UX specs.

New Interests - During the registration process, you indicate the topics for which you want to discuss and answer questions. These are your "Knows About". Here, you describe your area of expertise, so when you log in to your account, you see relevant content on your feed.

For example, imagine you have a food and cooking blog. Based on your preferences, you may find questions about cooking or how to cook certain things. In this case, we encourage you to start with adding 1-2 additional interests that are outside of your expertise. This will broaden your scope on topics and may even add to your market research to incorporate an additional way to approach a topic.
Based on the above scenario of cooking being your direct preference, you can throw in topics related to heat conduction, cooking science, or even bacteria growth. Who knows, these topics could lead to insight into WHY you should cook food a certain way or WHY you should use a certain tool with different food temperatures.
Using Quora as a blog topic generator
As a blogger, your goal is to find a topic that will stimulate the interest of your audience and will provide them value in one way or another. A common issue is a topic that might not be interesting to enough people.
An easy way is to generate high-value topics is to find questions with a lot of answers that relate to your blog. Start with your interests and find related questions with the most answers. See what these questions are about and choose a topic around the same theme.
The best part is that it will take you only a few minutes to do this preliminary research, which means that you can generate interesting and engaging blog topics for your blog in no time.
Reverse Engineering - Reverse engineering is the act of analyzing an existing system, process or structure (whether it be a marketing system, or the structure of a website) and using the knowledge gained from that analysis to recreate a duplicate or similar system.
All you need to do is search for some relevant questions on Quora. Start by putting one or two words in the search bar.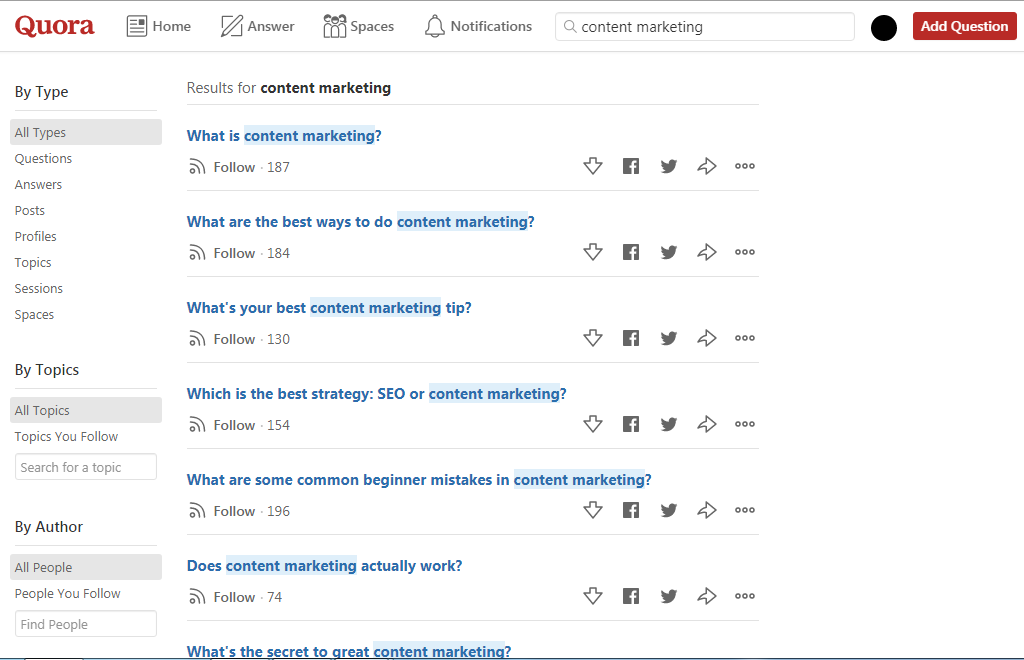 Provided by Inspire First, you can easily convert the questions into topics to create high-value content for your blog. For example, the above-mentioned questions can be transformed into the following titles:
Content Marketing 101 – All You Need to Know About Content Marketing
5 Best Content Marketing Strategies
Top 10 Tips for Effective Content Marketing
Quick Facts
Can you use Quora as a blog topic generator?
Yes! Quora is full of users looking for solutions and conversations. Either start a conversation or build off one in a blog post linking back to the highly engage post and watch your website traffic increase.
Do I have to post on Quora?
If you do not feel comfortable posting on Quora, then bring the users to you. Check out what is trending and be aware of what people want to know. Then, you can generate content on your own time and place to engage with your audience. Always, recognize where the topic came from to show your flexibility with conversations.
Looking for a website redesign? Contact Blue Archer today!