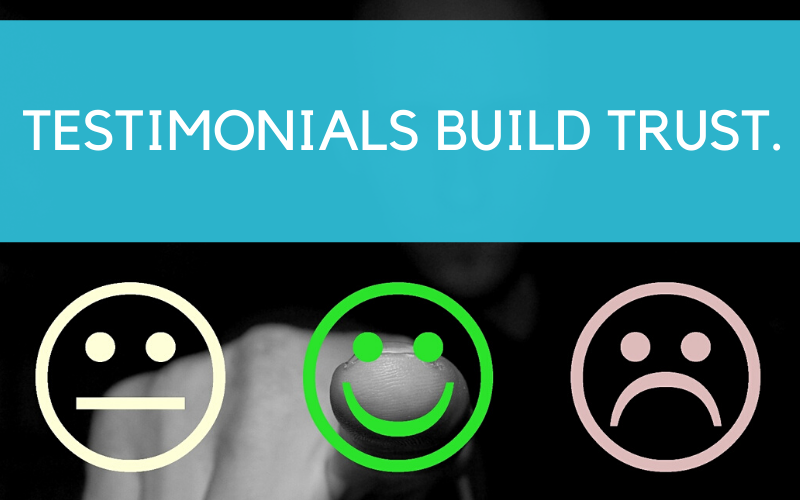 Testimonials should always be contextual in a website. Not a list or page of random testimonials with no surrounding context. Follow along as this blog post determines when, how, and why you should include evaluations on products and services from consumers.
Testimonial - A written recommendation from a satisfied customer affirming the performance, quality, and/or value of a product or service. Testimonials are one of the most potent tools of marketing. | BusinessDictionary
Testimonials V. Case Studies
Testimonials come in a variety of forms such as quotes that go directly on a site, through social media posts, and on third party sites. A case study is a detailed synopsis of a problem that customers faced and how a company was able to address that problem. However, these studies, more importantly, provide a statistic that the heads of companies are often looking for.
Examples:
Case studies and customer testimonials often act as the last bit of information a potential consumer needs to purchase a product or service, the difference lies in the level of detail and the origin of the information. Think about the last time you or your business purchased a product. The typical process is as follows: discover a need/desire, find a product, read reviews, purchase.
These two vital pieces of information can ultimately make or break a sale. They need to be readily available to your consumers for research. The difference is in the level of detail provided with each.
A case study will provide how much a product will cost, but also include potential return on investment. Therefore, creating a "what if" scenario while testimonials offer insights on what a product did for a customer. When it comes to the origin of the information, a testimonial comes from a happy customer that has voluntarily written a review to promote a company's product, while a case study comes from the company itself.
When to use testimonials vs. case studies
Case studies are often used in an exploratory approach. When you may be unsure about a product launch or idea and you want data to back up your answer.
The primary reason is testimonials build trust. They show that your business is good at what it does and that your product does what you say it will. When using testimonials, there are some legal things to consider:
Disclose Your Relationship with the Endorser - For example, employees who promote your product must disclose that they are your employees, and business owners must create a policy that states this. More often than not, you will have organic promotion through satisfied customers which will diminish the need for business inspired reviews.
Ensure That Testimonials Are Accurate - A primary rule of FTC is that endorsements must reflect the honest beliefs and experiences of the endorser and cannot be skewed. Another key aspect is that the endorsement must reflect typical experiences and if not then it must be noted. The most common example would be a drastic weight loss journey from a supplement, which not everyone will experience.
Written Permission from Your Customers - Keeping a record of agreements will protect you incase a customer later wants to retract their review. A written paper trail should always be logged, even if it is a small agreement, get it in writing.
Do not take testimonials from third party sites - Use links on your website to go to other sites with reviews. If you simply copy and paste, you are infringing on the intellectual property rights of the person who wrote the review, which is not the best way to treat people who love your product!

---
Asking for testimonials
Start with your super fans as these are your happiest clients and customers. They may have already offered to be a reference so they won't mind the request. They might really want to help you!
Here's an example of an email that asks for a testimonial:
Hi there, NAME!
I'm writing to ask if you wouldn't mind giving us a short testimonial for our website. We're updating a few pages, and I'm hoping to add something from you. It would link back to your site, so it's actually a good thing for your SEO.
Would this be ok with you? If this makes you even a little bit uncomfortable, no worries at all. But if you are ok with it, I can send you a very short blurb for you to review, or you can write a sentence or two and send it over. Whatever is easiest for you.
Thank you, NAME!
---
Where to incorporate testimonials
Putting them all together on one page takes them out of context. They need to be next to products/services in which they support.
Put the testimonial next to the product/service - Does the testimonial mention a product or service? Put it on that product or service page. Does it mention your speedy delivery times? Put it on the shipping page.
Put your best testimonials on your most popular pages - Just look at your Users Flow report in Google Analytics to see the top path through your website. This is where you want to showcase your happiest customers!
Put testimonials with keyphrases - All of these tips are to help you increase conversion rates. This little bonus tip can increase your traffic as well. If the testimonial includes a target keyphrase, it can increase the relevance of that page for that phrase.
Quick Facts
How many testimonials should I have on my website?
There is no right or wrong answer to this question, except do not overpower your page with them! Depending on how much content you have on your page, start with one and grow from there.
Should I include a Testimonial or Case Study?
If you're looking to promote use feedback and satisfaction, go with a testimonial. Follow the steps above to ensure you are FTC compliant!
Where should I put the testimonial?
Testimonials should be surrounded by relevant content, not isolated on its own page. Support the sale of a product by including testimonials near specific content.
If you want to incorporate testimonials on your website, contact Blue Archer today.