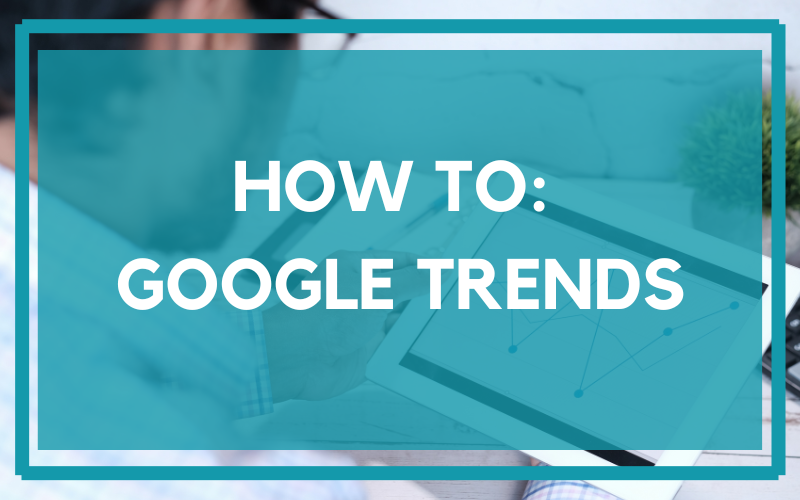 6 min read...
For small businesses with limited marketing budgets, using Google trends to discover new and emerging movements is the way to go. Use this Google-powered tool to analyze your customers and show trending topics on Google Search.
Google Trends provides access to a largely unfiltered sample of actual search requests made to Google.
It's anonymized (no one is personally identified), categorized (determining the topic for a search query) and aggregated (grouped together).
You can analyze search term popularity over time, explore similar keywords, and compare how popular a search term is in different regions of the world.
Sometimes new and popular search terms are triggered by live events. This tool can help you stay on top of daily action!
How is it normalized?
Check out the below from Google Support:
Google Trends normalizes search data to make comparisons between terms easier.
Each data point is divided by the total searches of the geography and time range it represents to compare relative popularity. Otherwise, places with the most search volume would always be ranked highest.
The resulting numbers are then scaled on a range of 0 to 100 based on a topic's proportion to all searches on all topics.
Different regions that show the same search interest for a term don't always have the same total search volumes.
Google Trends data reflects searches people make on Google every day, but it can also reflect irregular search activity, such as automated searches or queries that may be associated with attempts to spam our search results.
Did we mention this marketing tool is free?
Rhea Sawla explains how the platform works.
Essentially the data is a combination of knowledge graph topics, search interests, and Google news articles.
Suppose you're looking to produce content quickly.
In that case, Google's algorithm ranks news articles by volume and volume of interest to automatically keep up with daily trends emerging from real-time events.
They even suggest news articles that are gaining traction.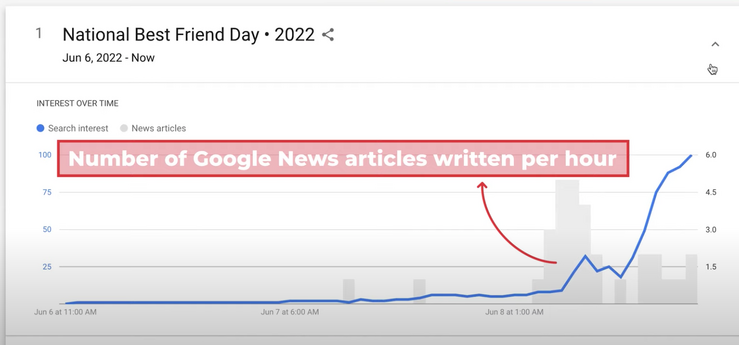 Keep in mind that Google Trends are not the same as Keyword traffic.
Even though paid SEO tools provide estimates of keyword traffic, the data presented by Google Trends is based on actual search queries.
Together with paid keyword tools, one can obtain a near-accurate idea of actual keyword search volume by Google Trends.
---
5 Ways to use GoogleTrends to Perform Market Research
Let's take a look at various ways you can work with Google Trends to boost your SEO strategy in 2023.
1. Competitor Research
Use Google trends for competitive research to decipher who is obtaining more search inquiries and why.
This strategy will only work if both parties have a significant volume of searches
If you decide to view what kind of search terms are popular for your competitor at this moment or which ones were trending a year ago, you can see what their seasonality looks like with search rankings. If you have similar product offerings, you can synchronize your SEO efforts with the competition.
For example, if you notice your web design competitor is ranking for customer retention or testimonials, then you can begin to highlight your loyal customers and feedback since you know this information is valuable to your target audience.
2. Find popular topics in your industry
Utilizing the platform to determine advertising and marketing trends based on the past 12 months, you can see which keywords and topics were trending the highest.
Obviously, if your blogs and SEO keywords do not fit within these results, you missed the mark.
Have no fear, you can adjust!
You might find completely unrelated things, especially within the Rising category. It's just showing what people interested in your chosen category are also searching for.
Did you know you can also see results based on geographic location?
By using the team maps, you can even determine geographically which area you rank higher in searches and popular topics.
This will help you to determine your target GEO area based on popularity and optimize your SEO strategy with these new findings.
3. Keywords
Keywords as we know them are a fundamental aspect of a strong SEO strategy.
By using Google Trends, you can see trending Keywords over time instead of one-off search inquiries that might show up on other tools.
A little trick you can do is take a quick look at "Related queries," which is on the right side of the "Related topics" section.
In this section, you can see related searches beyond "web design agency with cms". This will show you how other audiences arrived to your query or help you to explore another way of thinking.
Try to search the keyword you're thinking of first and take a look at the breakout keywords section.
Then you can test the popularity of different related phrases all at the same time to see how they compare (think tool vs power tool vs drill).
Give it a try!
4. Determine seasonal patterns
Knowing when the volume for a certain search term tends to increase or decrease can help you to anticipate results from your marketing activities. Especially seasonal ones!
​Check to see if a seasonal drop in website traffic is correlated to a drop in keyword searches or competitor awareness. This can determine user activity and result in uncovering wasted marketing efforts based on audience awareness.
To do this, Google Trends only allows you to analyze the past week with hourly data so you will have to perform this analysis over a period to solidify your findings.
However, you can analyze monthly or yearly to see decreases or increases in patterns over time.
5. Identify consumer demand
Use Google Trends to determine which brand or features have greater consumer demand.
For example, consumers can search "web design agency" or "web design agency with CMS".
These instances declare what's more important to the consumer and can help you make more sound business decisions.
You can also use this information to highlight to normal consumers what they may not know about your brand and why it is important.
Identifying related topics that are trending upwards is useful for learning how an audience or consumer demand is shifting.
Conclusion
Free tools are generally considered to be less useful than paid tools. That's not necessarily the case with Google Trends.
Beyond these 5 ways to utilize Google trends, there are ample pathways to discover new opportunities with this tool.
Are you ready to explore Google Trends?
Our team at Blue Archer can work with you to develop a new website for 2023. Using our industry knowledge and SEO development, we can build you a CMS to be independent and profitable.