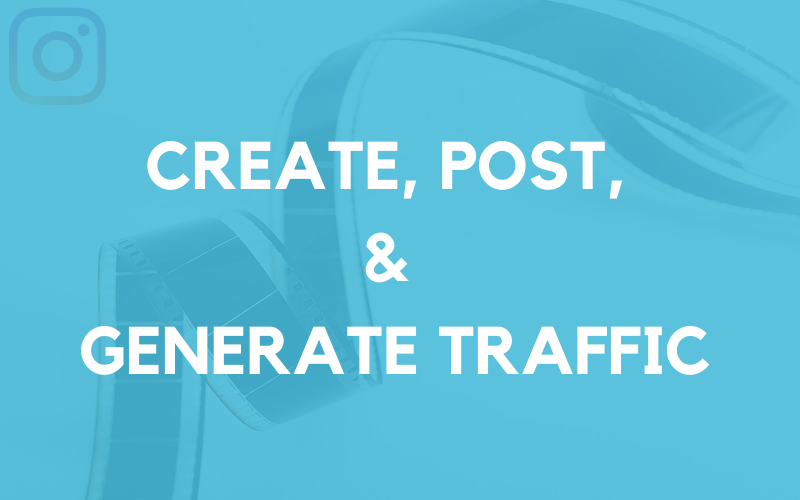 Reels is a new content format for Instagram that allows users to create and share short-form video content. This launch comes shortly after the uncertain future of Tiktok. Nevertheless, it is never to early to get ahead of the game. Check out these tips on how to incorporate Instagram Reels into your MS as well as a simple tutorial.
Although the path to a ban is not clear, TikTok's US users are already panicking and looking for alternatives to the platform in preparation.
What is Instagram Reels?
Instagram has said that the Reels video format will live inside of Stories, which users can create in the top-left corner of the Home feed. Similar to TikTok, Instagram users can record and edit together 15-second video clips set to music and share them to their Stories, Explore Feed, and the new Reels tab on a user's profile.
While the Reels algorithm hasn't been locked down yet, it feels similar to the TikTok For You page. It's likely influenced by who you already follow, what content you interact with, and where you're located.
TIP: Take a peek at the other videos using that audio and see what's out there. It never hurts to take inspiration and jump on a trend!
When creating a Reel, you can choose to film video clips on the spot or upload from your camera roll.
Why should you hop on this platform?
To Start, TikTok generated "the most downloads for any app ever in a quarter" in Q1 2020, according to Adweek.
That's a TREMENDOUS amount of potential exposure.
The platform's demographic is ever-evolving, but it started off with Gen-Z dominating the spectrum of users. Today, Millenials have hopped on board and have conquered the stop demographic spot, making the platform way more attractive for advertisers and brand awareness.
There are over 1 billion active users already on Instagram — and if the market has learned anything from the introduction of Instagram Stories, it's that Instagram knows how to replicate a tried-and-tested format with success.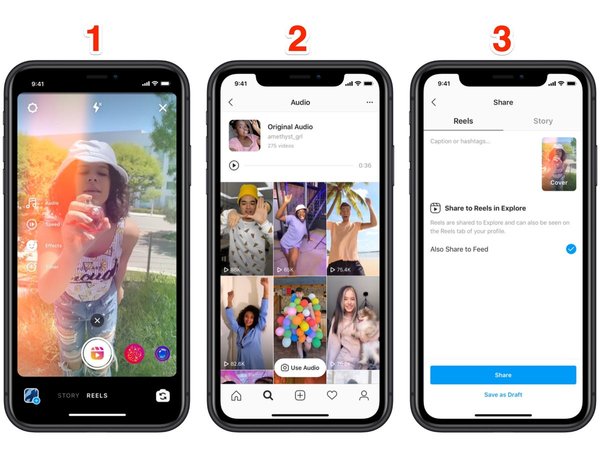 Incorporating Reels in Your Marketing Strategy (MS)
Engagement rates aside, it's important to note that people use these social apps differently – and for different purposes. Because of this, Reels feels more like an addition of tools to flesh out Instagram stories and video feed posts rather than an actual TikTok competitor.
4 Ways to Use Instagram Reels
Education content - Posting educational content is going to showcase your expertise in the Facebook ads space. Pair that content with lead magnets or an awesome newsletter and you'll be able to move Instagram Reel viewers to your website and get them to become subscribers.
Case Studies/reviews - For your case studies, you can grab a past case study published to your blog or used in your sales process, take the headers from each section, and use those as text on your own video where you explain how you got those results.
Behind The Scenes - If you own a marketing agency, your Instagram Reels can be used to show the day-to-day life of a marketer. This gives you the opportunity to showcase your expertise and working style so your customer avatar can feel like they know, like, and trust you.
Company Story - It's personable, it's relatable, and it builds relationships.
Some brands will struggle to incorporate music content into their Stories strategy, especially silly or amusing content. That's totally understandable … If something isn't true to your brand voice, skip it. It's not worth compromising your brand experience to hop on the latest bandwagon.
So, if Reels isn't for you, take a deep breath and don't worry. You have other ways to show up in the Explore tab.
Tutorial by Later
Instagram Reels is a new mode in the Instagram Stories camera menu, positioned either between the default Normal mode and Create mode or on the bottom menu next to "Story". To access it, simply open the Instagram Stories camera and find the Reels icon.
From this screen, you can select your audio by tapping the music icon.
Choose the speed of your video by pressing the play icon.
Choose how long your clips will be by selecting the stopwatch icon. When you set a timer, there's a countdown before the recording starts.
Similar to Boomerang mode, you can scroll across to apply effects or AR filters to your Instagram Reels video. You can choose to use any previously saved filters or you can scroll to the end and tap "Browse Effects".
Either hold down the record button to capture footage or upload video footage from your camera roll.
Much like on TikTok, you can start and stop recording multiple times during your 15-second video by pressing and holding the record button.
Once you're happy with the result, you can edit your video clips. You can use the draw and text tools and select from a number of Instagram Stickers.
When finished, you can edit the cover photo with a video thumbnail or add a cover from your camera roll.
Reels presents a unique opportunity for Instagram to compete with TikTok—and for Instagram users who prefer the platform to keep more of their content marketing efforts centralized there.
Most likely, Reels won't disrupt your overall strategy, and it likely won't be a major game-changer, but it's going to be fun along the way.
If you're looking to revamp your website, contact Blue Archer today.