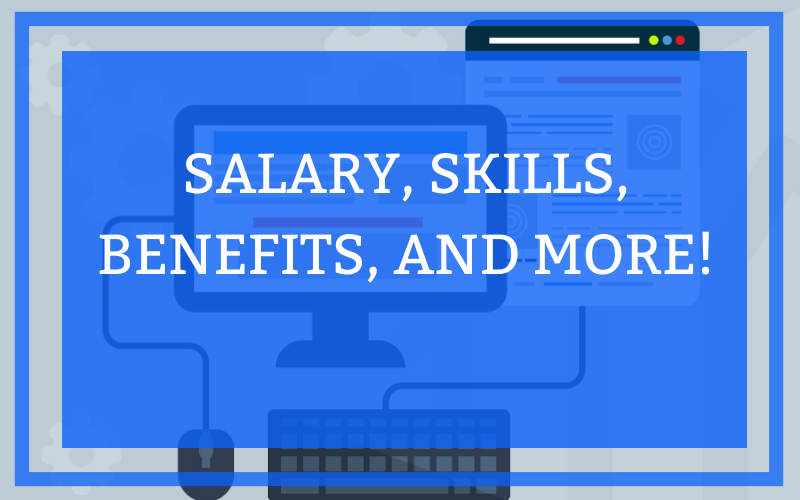 Web design has become crucial in today's market for all businesses. Web design impacts how your audience perceives your brand. The impression you make on them can either get them to remain on your page and learn about your business or leave your page and turn to a competitor. A good web design helps you keep your leads on your page, and a great web designer helps you achieve that. Let's discuss what a career in web design looks like...
Web Design Salary
| Quick Facts: | Web Design/Developers |
| --- | --- |
| 2018 Median Pay | $70k per year |
| Typical Entry-Level Education | Associate's degree |
| Work Experience in a Related Occupation | None |
| Number of Jobs, 2018 | 160,500 |
| Job Outlook, 2018-28 | 13% (Much faster than average) |
Your salary will range dependant on location, experience level, and certifications. We did some digging over at payscale.com and found out the following if you were living in New York City.
Let's say you were just starting out as a designer with only 5 years of experience, 1 or 2 certifications, and minimal detail to your resume. Your compensation would look something like this: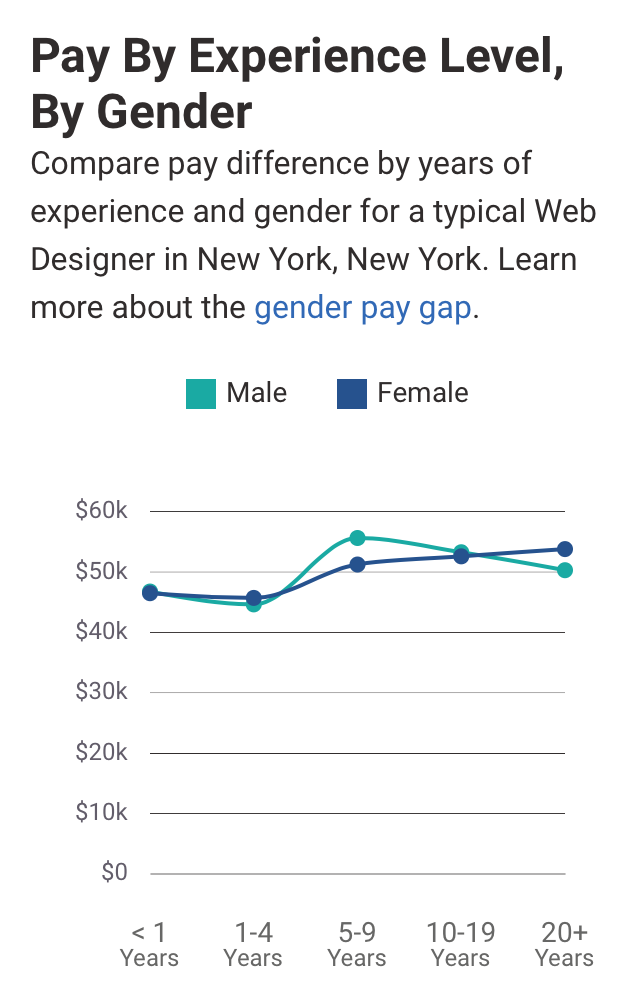 Now, we did the same exact qualifications for a designer who has been in the same field for 15 years and this increased their salary by 10k. Given, this information in based on minimal prerequisites, such as an associate's degree or HS diploma and not accounting for creative work. If you would like to explore how much you could make in your dream city, or even the next town over, go to payscale.com.
*This information is subject to a specific city and website. This information may not be 100% accurate and is constantly changing.
Working as a freelance web designer
Here are 4 major benefits when working freelance:
A better work-life balance: You can have breakfast with your partner again!
Being your own boss: Being a freelance Web Developer means you can work all morning, night, however you please…
Freedom to choose your working hours / clients / rate of pay: Gracefully say no to that miserable client and a polite pass to their absurd low budget too.
The chance to work on more interesting projects: No more continuity, each month bringing a variety of work, clients and opportunities.
As a freelancer, you have to be able to run your own business! Self-discipline requires hard work. You have to be strict with yourself.
5 Steps to Becoming a Freelance Web Developer
Step 1: Find your niche. What Industry ignites your creativity? What are you especially passionate about?
Step 2: Start building anything and everything. In the beginning, just create. The more you make, the better you'll become. Populating your web design portfolio is crucial in the early years.
Step 3: Create your personal brand. What sets you apart? Your logo, colors, and messaging should all support your differentiators.
Step 4: Get organized. Do you research and fine a tool that anables you to schedule, invoice, track leads, and more. A solid CRM system means you don't have to worry about missing a deadline or a lead.
Step 5: Grow your experience, design by design. Once you get your foot in the door and are creating good work, don't be afraid to ask for referrals to expand your reach.
Check out this supplementary 5-step guide to becoming a freelance web designer.
As freeing as freelance can be, we do have to chat about some downfalls with freelancing...
Freelancing can be extremely stressful, especially when you first start out. Clients can be unreliable, jobs fall through, payments don't come as quickly as you'd like them to. In the beginning, especially while you're building your portfolio and finding clients, you probably won't have a steady flow of cash coming in. Your day to day may be very emotionally taxing.
When you first start out, you may work weekends and nights instead of 10 a.m. to 6 p.m. as you planned. If that's when your clients are working, that's when you'll be working. Once you have an established client base and a quality referral network, you can be pickier, but certainly at first, you'll be taking what you can get.
Just like any other job, there are varying benefits and drawbacks to freelance work. If you can handle uncertainty and pressure, but know your worth and creativity, self-employment may be a good choice for your career.

Working as a web designer at an agency
Let's start with why a company would hire a web design agency over a freelancer.
1. A Design Firm Is More Stable
Clients in the past have encountered one of the most common issues that come with a solo web designer: the possibility of instant quitting. Though it won't happen every time, it's much easier for a solo web designer to end their business with a little warning than a web design agency.
2. Chain of Command
Part of hiring a web design agency means paying for a pre-existing structure to get things done. You're more likely to get lightning-fast email responses if someone's boss is applying external pressure to do so. This structure of accountability applies not only to deadlines and communication but all other aspects of the business.
3. Team of Experts
Most web design projects will involve multiple components, so the best work comes from multiple people working on the components they're most passionate about. By the power of its size, a digital agency will have many more skill sets under one roof than a solo web designer.
The important question is, how do you find the right fit at the right price?
If you found this article interesting and want to become a Web Designer, here are 5 skills you will need to kick-off 2020:
1. Visual Design
It might seems obvious that you need design knowledge to be a web designer, but visual design focuses on digital products, so it might be different than what you expect. In this case, design principles are what determine the look and feel of a site.
2. UX
UX stands for user experience, or how people feel when they use a website. Above all else, UX is about approaching your designs from a user-first perspective—how can you design a website that helps them get exactly what they need?
4. HTML
Nowadays coding is an expected skill for most design jobs. HTML stands for HyperText Markup Language, which is the coding language used to put content on a web page and give it structure.
5. CSS
And then there's HTML's partner, CSS or Cascading Style Sheets. CSS is the code that tells browsers how to format and style HTML for a web page. In other words, it's what makes all the text and other content look good.
Let us know if you have what it takes to become a web design or any tips for future web designers in the comments or contact Blue Archer today.