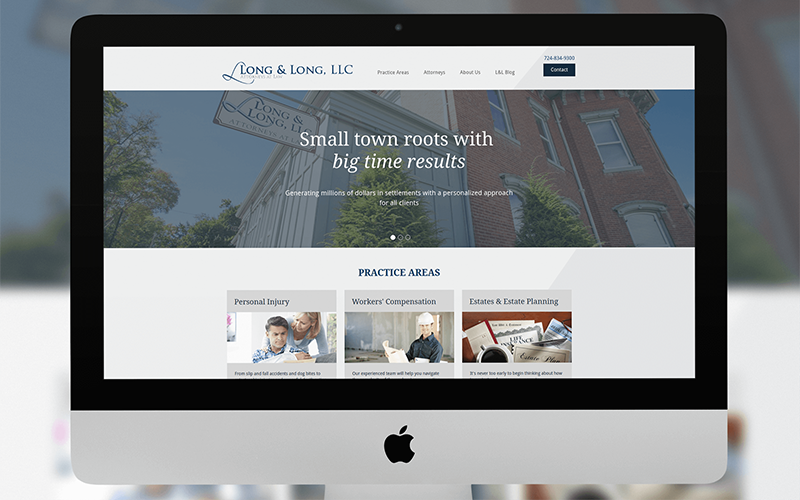 Our Blue Archer team recently launched a new website for local law firm, Long & Long, LLC. Our project team included a project manager, marketing consultant, developer, designer, and content writer. Learn more about this exciting project.
For over 50 years, Long & Long, LLC has helped clients with personal injury, workers' compensation, estate, real estate and business formation law. Their reputation to go the extra mile for their clients has helped them build a strong reputation throughout Westmoreland County. They have small town roots and deliver big time results. And they needed a website that portrayed just that.
We started with an in depth strategy to uncover Long and Long's goals. We narrowed them down to:
Create a site that is relevant, up to date, and easy to use
Highlight specific practice areas and work to attract clients looking for those specialties
Position Long and Long as their reputation precedes them – trusted, established, successful
Our content writers were brought in to help establish a site map. Once that was complete, they took on the task of overhauling all of the content. This consisted of paring down the existing content, and writing it so that the standard site user could understand it. The original website had a ton of content, and our job at Blue Archer was to rework, reorganize, and write from scratch where necessary.
We designed a site that used rich colors and sleek lines and new photography to capture the feeling of local blended with established. It turned out beautifully.
We added a blog so that Long and Long could add industry news, tips, and helpful information to their customers, as well as keep current and obtain valuable SEO rankings.
Visit the new site to learn more.