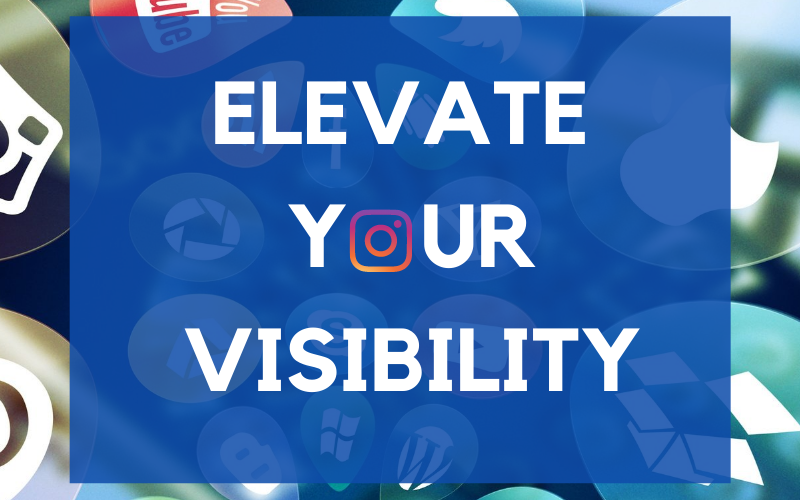 Your Instagram bio is your elevator pitch, business card, and the most prominent first impression. Although it is the smallest section of your profile, it set's the stage for the rest of your grid and stories. Most importantly, this section identifies where a user can contact your brand and more. It's time to take a deep dive into the world of social media tips and tricks... IG style!
Why does this section deserve special attention? Well, it is the first area a user sees. From details of who, what, where, and why, the brand is established within the first 4 seconds a user lands on your page.
During the natural life cycle of any audience member, they either will browse, leave, or request more information.
The Instagram bio section, specifically on a business profile account, provides contact details, website URL, and even a location for a brick and mortar store. All the information a user could potentially need to complete a transaction.
However! We need to elevate this section even further. Whether your Instagram bio already obtains these simple aspects or you need a quick touch-up, there are a few extra elements that can boost your visibility and notoriety on the platform. Ready to dive in?
"Two-thirds of profile visits to businesses come from people who aren't following that business." – Instagram data, Nov 2017
Instagram Business Account
This may be old news, but many brands somehow do not take advantage of using a business account through Instagram. Not only are a lot of the features free to use but the audience insights are an amazing tool to track simple story analytics and even grid post demographics.
The kicker is that anyone can create a business account. Your daughter/son or colleague can have a personal account set up as a business account to track their likes and story views. You can have one too!
Now, they have to pick a business category that typically ranges from the trending ice cream shop to a content creator. Whichever fit's the vibe of their profile that day.
Because of these trends, the goal is to be as professional as possible when operating a business account so users can weed out the fake wannabes from serious business moguls. It's not hard but it's important to be aware of the falsities of social media.
Insights
With new insights, businesses will now be able to see exactly how they're being discovered on Instagram. Whether through feed, location tags, hashtags or explore.
You can find out which posts perform the best and see what times your followers are online. With this information, you can start optimizing each and every post.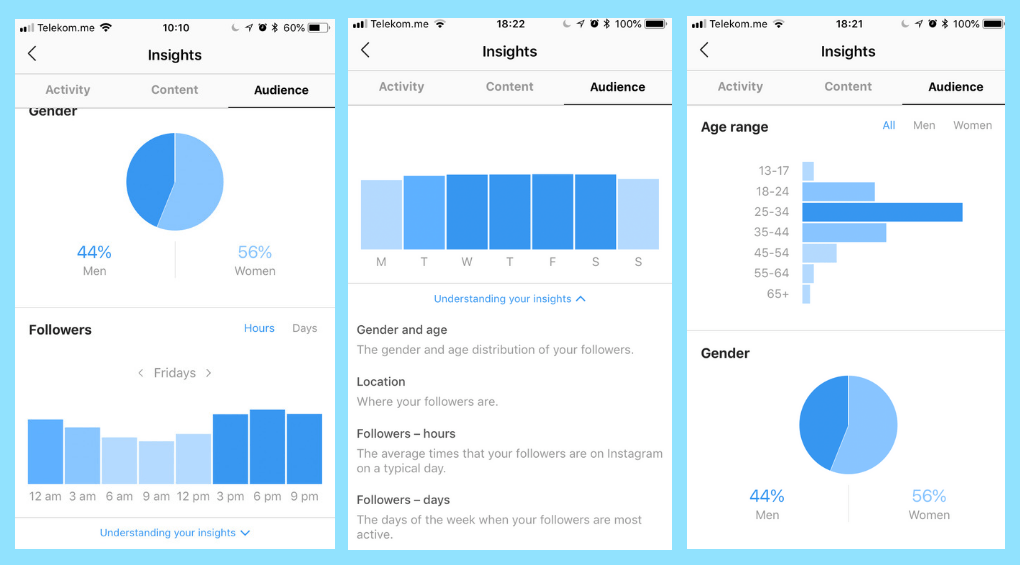 IMG: Quora
Another key element is Instagram business profiles are given a dedicated section to display their business hours and location. So, you don't have to waste valuable space in your bio.
This is key because it cleans up the layout, making it sharper as well as leaving room for an eye-catching CTA in your bio.
Lastly, the benefit of having a business profile allows you to take advantage of the contact feature. From here, a user can click contact and choose to message you through Instagram DMs, email, or even call.
Don't worry, switching is easy and will not interrupt your current profile!
Instagram Bio
A common misconception is that your Instagram bio should be about the brand. Your Instagram bio shouldn't be about your business. It should be about your customers.
Or more importantly, what you can do for them.
Whether it's a bulleted list or a few short lines, think about how you can use the 150 characters in your Instagram bio to write copy that attracts prospective clients and customers.
- This is what Starbucks has done: "Inspiring and nurturing the human spirit – one person, one cup, and one neighborhood at a time."
- Check out Slack's info below!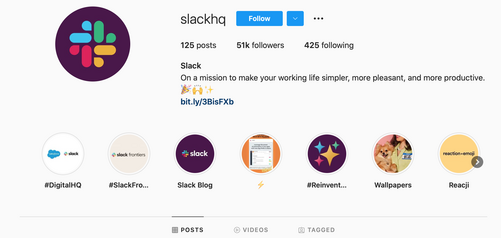 A recent update allows profile usernames or hashtags to be included in your Instagram bio to become clickable links.
This gives you the ability to promote sister brands, highlight your founder's Instagram account, or drive traffic to your branded hashtag.
Story Highlights
As you can see in the Slack example, they have Story highlights. Stories only stay up for 24 hours, even on a business account.
Having Story highlights creates a library of archived greatness. Creating a clean, cohesive highlight real will not only provide your customers with the information they may seek but also provide a place for new users to see what you are all about.
Make sure each highlight circle has a color or complementary picture to fit your brand and a name everyone can see/understand.
A unique example is Adobe. They have a creative tag line and each of their highlight reels focuses on their different campaigns. They keep the titles short and sweet and made sure the pictures were easily visible.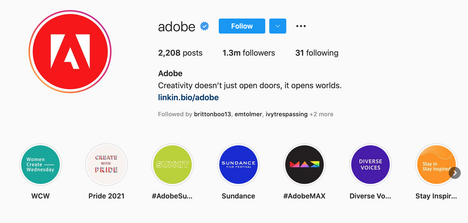 Instagram Bio Fonts & Links
Many profiles stop at the basics Instagram provides, which ultimately can be enough. However, if you want you really stand out then spice up the font and add links.
Using a tool like LingoJam, you can easily copy and paste different Instagram bio fonts for your profile. All you need to do is type in the words you'd like in a different font, like your name. Then pick a font that speaks to your brand and copy and paste it into your app.
You can also elevate your link game by adding a feature called Linktree. All you need to do is log into your Instagram, sign up for a free plan and add the links you want.
This link allows you to add in multiple links such as different products, FAQ pages, or even how-to videos. This aspect isn't for every business but it sure can be helpful.
A few ideas for your Business Profile...
We believe in helping people
Putting customers first since 2002
👇 FLASH SALE THIS WEEKEND ONLY – 50% 👇
🌎 Free international shipping
Click the link below to shop our Instagram
Official home of (brand name) on Instagram
The holidays are the busiest and most crucial time of year for small businesses everywhere. The next two months will make or break your vision for 2022. That's why we're sharing resources for small businesses with tips and tricks on how to use Instagram this holiday season.
Let us know how you transformed your account and what data assets were valuable to your team.
Looking to treat your team to a website redesign? Contact our team today.