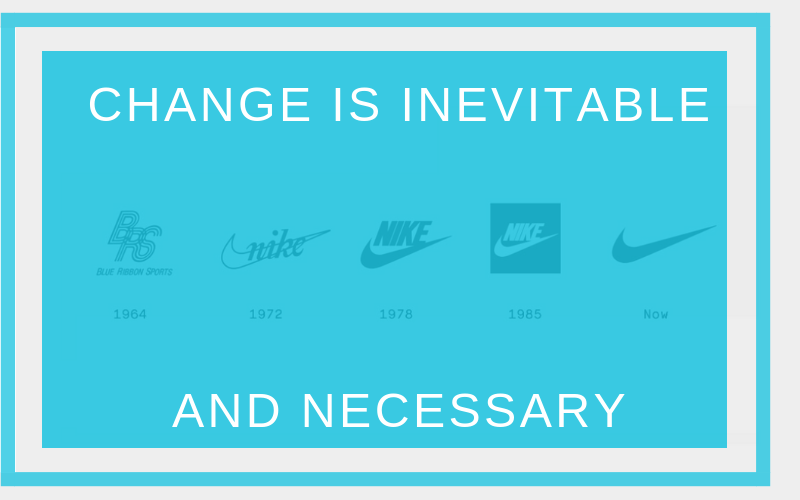 ​Changing your logo doesn't have to be a hassle. It can be fun, exhilarating, and much needed. These 5 reliable ways to refresh your tired logo will shock your creative adventure with their simplicity.
Logos represent your brand, but with any business, change is inevitable and necessary. It's rare for something to stand the test of time unless you are considered a historical landmark. So if you are, congrats!
You can identify a logo clearly out-of-date when it reflects the past and doesn't represent the current ideology of the brand. The temptation would be to start all over and forget the current logo. This doesn't necessarily need to happen.
When brands launch a whole new logo, it can cause an uproar. Some good and some bad.
Some people love change, but what about your loyal customers? Never neglect the people that have been there all along. So, let's find a happy medium.
Sometimes, the best approach can be to play it safe and simply refresh the tired logo.
Here are 5 ideas on how to refresh a tired, worn-out design without causing an uproar:
1. Change the COLOR PALETTE
Color can communicate a brands psychology and speaks directly to the target market. Color is an easy change, however, it's also easy to make a mistake. Do your research in terms of complementary colors and the color psychology to ensure your palette truly reflects your brands.
Colors that have worked in the past might not be relevant now. Look at other brands and analyze why they work and why they chose the palette.
For example, switching from bright colors that may be associated with the assumption of your brand to a more natural tone could reflect environmentally safe attributions. This is currently a huge trend and pays off for most brands.
2. Switch the FONT
The font is HUGE in the design world. Maybe even more important than color. Having the right font can truly reflect your brand's position as well as its goals in the market. From cursive to Sans Serif, your brand needs to be on top of their font game as well as reflect continuity.
Look up basic psychology of fonts and see the difference. Bubbly letters are playful and represent a fun environment. Straight lines with hard cut edges are more serious and represent a more authoritative and upright brand.
3. Reminiscence on the GOOD
Everyone has a backlog of logo designs that they have used in the past. If a brand has been around for years, the archives could provide a fresh look to the brand even if it was made 20 years ago. We call this "retro".
Reflect on your favorite sports teams and when they wear their throwback jerseys. What emotions do you go through? Whether good or bad, it reflects a period of time that it is important.
4. Say bye to TEXT
This calls for an instantly recognizable brand. Think of Twitter, Apple, and Spotify. These brands do not have text but are easily and INSTANTLY recognizable. They are clean, with simple colors that aren't distracting.
Typically, when your brand is well established, small changes like no text are unrecognizable. It is important to use your nostalgia to your advantage and doesn't take away the good aspect of your logo as the shape and maybe even the color if you were to neglect text.
5. S i m p l i f y
On the other hand, people can't resist tweaking their logos. To the point, it becomes overwhelming.
Logos need to look good on everything: banners, ads, pamphlets, social media, and even app icons. Older logos weren't designed for this large of use and need to be reconsidered.
When in a rut such as above, the best thing to do is go back to the basics. We hate clutter and so do users! Don't make them squint and zoom to see what your logo says. Give them something simple to identify with.

Blue Archer specializes in design specifically for your business. Contact us for a design consultation.