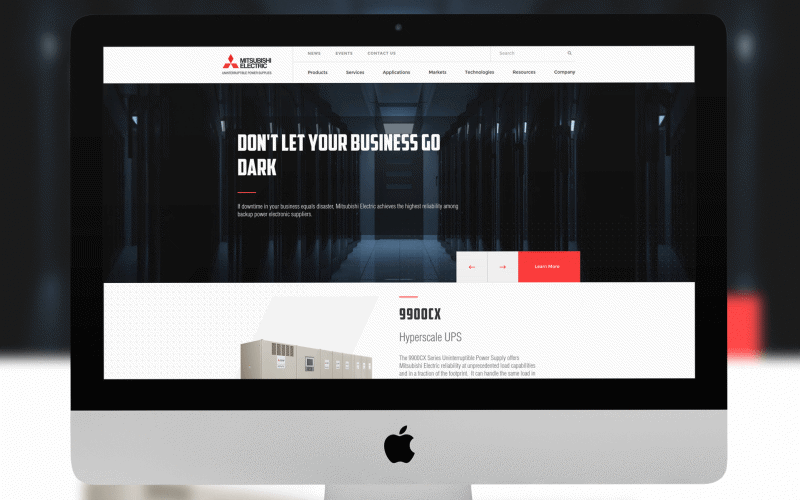 Our Blue Archer team recently launched a new website for a division of Mitsubishi Electric Power Products (MEPPI), Uninterruptable Power Supplies (UPS). This project was focused on strategy to build a strong foundation for the new website to clearly feature MEPPI's unique products & services.
Based in the Pittsburgh, PA region the UPS Division for Mitsubishi Electric US is a business unit of Mitsubishi Electric Power Products Incorporated (MEPPI). Mitsubishi Electric has been manufacturing precision engineered highly reliable Uninterruptible Power Supplies since 1964 and solving the challenges of American critical facilities since 1985. The goal of their new website was to increase brand awareness & engage site users by highlighting their unique products as well as their customer centric services.
During our in-depth strategy our team discussed MEPPI's business goals as well as their project goals. MEPPI had an aggressive timeline for the initial project launch so our project plan included creating two phased development & launch approach. Our strategy team assembled detailed personas to take a look at the intended site users and how they will interact with the website, and what questions the site should answer for that user.
Personas included:
Sales Reps
Consulting Engineers
Prospective New Customer, End-Users
Contractors
Current Customers
Prospective Employees
By reviewing these strategy & persona details, we were able to provide MEPPI with a guide for the content that should be presented on the new site. These strategy goals were reviewed by our designers to ensure the project goals were carried throughout design & implementation.
The initial site launch in February 2018 successfully concluded phase 1 of this project. Our team is very excited to get started on the 2nd phase of the project which includes adding new custom modules to further enhance user experience. Stay tuned for that updated release, coming soon!