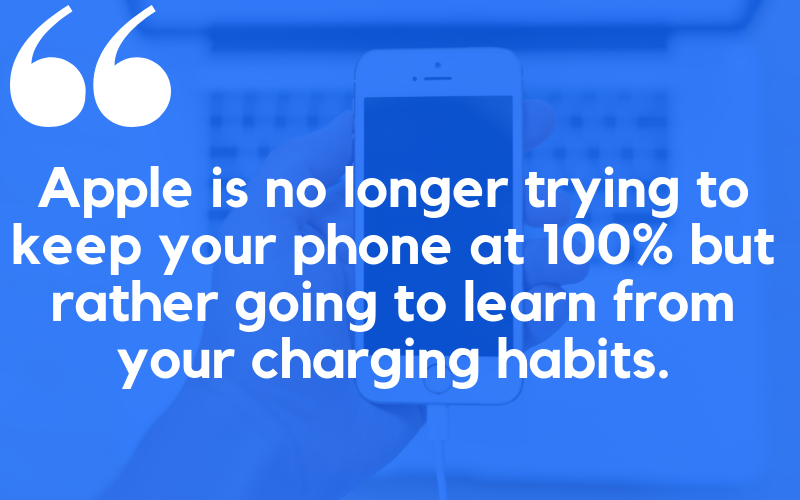 The new system brings two features that will grab anyone's attention. From batteries to spam calls, Apple is adapting to your needs.
The Battery
This feature is getting quite overlooked by some tech gurus. The new operating system systematical revolutionizes the process of charging. It now will keep your battery in the best possible condition, without letting you ruin it.
Optimizing the battery charging process will slow the rate of aging and reduce the time your phone spends fully charged.
Here is the breakdown…
Your phone is charging and continues to charge even when it hits 100%. Apple is no longer trying to keep your phone at 100% but rather going to learn from your charging habits. It will keep the phone charged at 80% until you are ready to use it.
The algorithm is programmed to understand that you only need your phone charge 100% occasionally. It will naturally let your battery drain instead of putting hard work in where it isn't needed. Therefore, creating a healthier battery life.
This feature can be disabled at any time, but with those that have a set schedule, this can be beneficial.
Block Spam Calls
Apples recent update, iOS13, obtains a lot of privacy features.
A few small ones include:
Sign in with Apple
Limited location tracking
Minimize spam calls
Now, you can filter out calls from numbers you don't recognize.
According to apple,
A new setting protects users from unknown and spam callers. When the setting is turned on, iOS uses Siri intelligence to allow calls to ring your phone from numbers in Contacts, Mail, and Messages. All other calls are automatically sent to voicemail.
Apple used to use third party systems to track spam calls as well as offer volunteered input.
The government is trying to implement a system to have robocalls automatically blocked, but this may take some time. Therefore, Apple is off to a good start for the time being.
Is your site iOS compatible? Contact Blue Archer for a consultation.