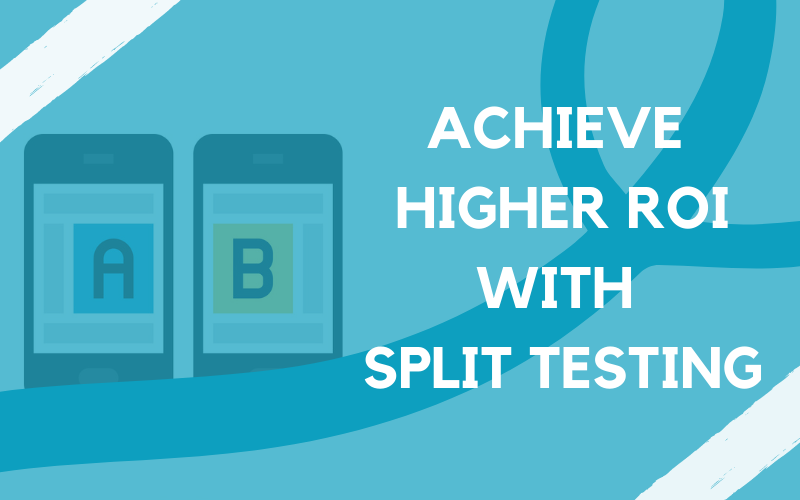 Determining what works for a brand takes time, investigative effort, and constant responsibility. Using these tools cross-functionally can narrow down your exact needs as a brand by split testing, resulting in a detailed hypothesis. Businesses depend completely on the results of these tests to deliver to their client's standards and everchanging expectations.
What is A/B testing?
As the video explains, A/B testing in web design is as simple as comparing two web pages and tracking conversions over time to analyze which source proves more successful.
Reminder, this is comparing ONE variable between the two pages.
For example, each page may have a Call-to-Action button but in various layouts to focus on which executes a conversion more often.
Using a Multivariate test compares separate variables and how they interact with one another to perform the most significant influence on conversions. This is much more advanced for brands looking to lock down key characteristics and conversion tactics.
In a multivariate test, a page/screen is treated as a combination of elements (headlines, images, buttons, text blocks, etc.).
However, let's just focus on one for now.
---
Using A/B Testing
According to AltexSoft, studies claim 75% of the internet's retailing top 500 use A/B testing platform.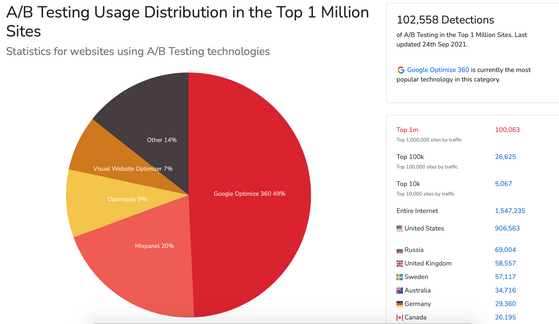 https://trends.builtwith.com/analytics/a-b-testing
With A/B testing, businesses can...
Achieve higher ROI from existing traffic
Recognize pain points in the conversion funnel
Enhance user experience
Common utilization areas of A/B testing are website, application, email marketing and chatbots.
It is vital to note that an A/B test conversion rate is an imperfect measure of success. Why? You can increase your conversion rate instantly by making everything in your store free or simply make a single page with only one action. We do not suggest doing this, but you can see how this may skew data.
The basic process for A/B testing:
Identifying hypotheses
Creating tests
Running tests
Evaluating results
Rolling out the new version
Sample size calculator: https://www.evanmiller.org/ab-testing/sample-size.html
Whether you're A/B testing UX or SEO split testing, your sample size should be calculated upfront. Even if it reaches satisfaction, you cannot stop it until the predetermined sample size is reached.
A solid run of a test could be 1 to 2 business days. However, it's also important to run tests for full-week increments. Based on the day of the week, your site traffic can change as well as the time of the day. Make sure to not take the easy way out and track every piece of data.

Challenges
There are a few challenges when it comes to A/B testing that needs to be considered when using these tools. Such as sample size, especially with low trafficked sites.
Be aware of biased samples as well when it comes to demographics and audience diversity. It becomes biased when data is collected mainly by larger audience populations due to intention which results in neglect to more independent/organic groups.
Why A/B test?
"Let's say you spend $100 on Facebook ads to send 10 people to your site. Your average order value is $25. Eight of those visitors leave without buying anything and the other two spend $25 each. The result? You lost $50.
Now let's say you spend $100 on Facebook ads to send 10 people to your site. Your average order value is still $25. This time, though, only five of those visitors leave without buying anything and the other five spend $25 each. The result? You made $25.
This is one of the more simple A/B testing examples, of course. But by increasing the conversion rate on-site, you made the same traffic more valuable." - Shopify
---
Top A/B Testing Tools
VMO - Starting $199/month
Mostly aimed at professionals on the business side of digital products, the interface is simple itself. In the tool, you will create your actual test which is quite simple. Once everything's ready in the tool, you only need to copy and paste a bit of code into the pages in your website that will be tested.
Qubit - Request a quote
Qubit is a testing platform focused primarily on personalization. It has some of the strongest segmentation capabilities of any tool with a 140% top customer annual growth rate. They also had $20 billion in online sales generated by their customers in 2020. This tool allows you to accurately assess the impact of your personalized experiences by tracking them against revenue per visitor and revenue per converter.
Evolv - Request a quote
Evolv Sentient is one of the new generation testing tools that utilize machine learning algorithms to speed multivariate testing. Evolutionary, or genetic algorithms do a better job of finding optimum combinations, isolating the richest local maximum for a solution set. Their clients benefit from the ability to evaluate millions of experiences to discover winners at an unprecedented scale and speed.
Need a quick explanation? https://www.youtube.com/watch?v=rGWfgMFOtuA&t=84s
Optimizely - Request a quote
Optimizely majorly focuses on offering web experimentation and personalization services. However, you can use its capabilities and services to run experiments on mobile apps and messaging platforms, as well as optimize the entire customer experience across all touchpoints.
A/B Tasty - Request a quote
Great for small to medium companies! Putting the client first is the only way things are done over there, and sometimes A/B testing tools need a human touch. Papa Johns, ALDO, and Walmart are just a few clients!
Five Second Test - Free
With this tool, you can test any website element, such as a logo, graphic design, wireframe, app design, prototype, or a copy, and get insightful quantitative and qualitative visitor feedback. You can further use this data to optimize your page design and move your business metrics in the direction as planned.
Participants are given five seconds to view a design, after which they answer some simple questions. Before the test starts participants are given a primer on the format and reminded to pay close attention. Depending on the goal of the test, they may also be given some context for what to look out for.
Instapage - $199 billed annually
Providing tools for A/B testing and the ability to analyze heat maps can make this software the best yet for your goals. According to a source, Instapage asks users to do something that differs slightly from the rest of the industry tools. With their growing clientele, they ask that users with a naked domain create a 301 redirect. This is because the tool needs to be testing webpages to point to their own servers – it avoids broken pages when Instapage adds more servers to their network. Check out the article here.
A/B testing can shed light on any problem areas or even iterate your powerful features. Take the time to explore and let us know what you find.
Looking for a website redesign and want to try out A/B testing? Contact our team today.