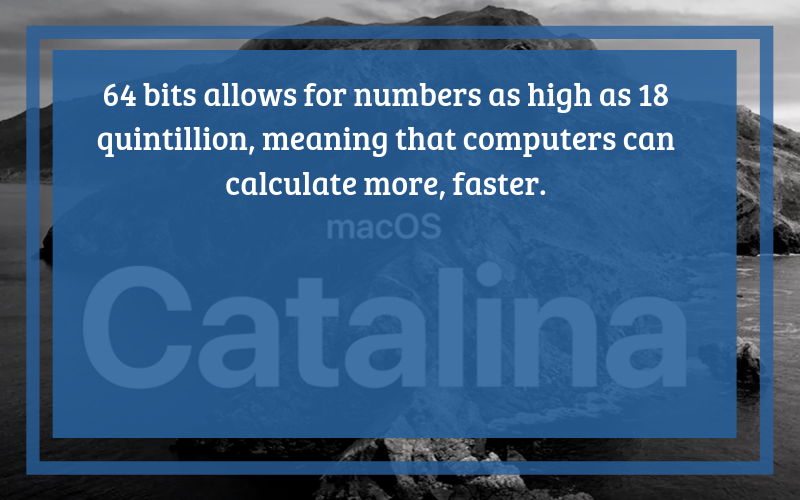 Apple has officially broken up with the ancient title and replaced it with new consumer-orientated entertainment apps to complement the new system. Developers and designers need to be aware of the new changes.
32-Bit App

Apple has been gradually pushing developers to move their software to 64-bit since mid-2017, and as part of its agenda, in recent months, you may have seen a popup message that reflects an error when opening certain apps.

Bits are calculated as powers: one bit is 1, two bits is 2, four bits is 8, and so on. Essentially, 64 bits allows for numbers as high as 18 quintillion, meaning that a computer can calculate more, faster. That's a simplistic way of explaining this, but another way of looking at this is that with 64-bit computer, a processor can use—hold on to your hats—16 exabytes of memory. (An exabyte is 1,000 petabytes, a petabyte is 1,000 terabytes, and a terabyte is 1,000 gigabytes.) When we get down to that scale, most people understand the numbers; in fact, your Mac probably has at least 8 gigabytes of RAM, perhaps more, but nowhere near those numbers. (Intego)

The Catalina update is the first macOS release that drops support for 32-bit apps. Therefore, during the setup process, you'll be given a list of installed apps that will no longer open after the update. If you want to keep using that tool, it's time to hit up the developer for a long-overdue update… or stay on Mojave for a while longer yet.

Cross-Platform Incentive

Mojave, the current iOS, contained apps such as News, Voice Memos and Home apps to macOS. In the new update, developers are given open reigns to enable these ports and customize their work.

There is no direct effect, however, it makes the development platform more attractive which can influence future staging choices. For now, this is only available to iPad application developers but is presumed to broaden very soon.

Screen Time

Mindless entertainment is a tremendous distraction and negatively affects our productivity. On the other hand, everyone is becoming a workaholic making it even harder to shut off at the end of the day. Where's the balance?

Screen Time for macOS provides you with visual analytics that help you understand the way you're spending time on your device, which can often lead to some unexpected epiphanies. It also lets you schedule downtime, forcing you off the computer and into the real world at the right time.

Similarly, you can set time limits on certain apps to truly limit engagement and focus on the task at hand.

Voice Control

Those struggling with visual and sight impairment will relish with the advancements in voice control. All in all, developers should ALWAYS make sure their apps work as well as they can with this tool because it is morally right to do and benefits all aspects of the community.

Although still a work in progress, the beauty of keyboard shortcuts complements this design to create custom commands by determined lifehackers. Enhancing the term multitasking with little movements. Stay tuned for more, from both Apple and the community.

Sidecar

Sidecar is probably the most interesting aspect of Catalina for developers and designers. You can now turn your iPad into a secondary display for your Mac and it's really easy to enable.

The main reason to pick this form over a standard connect is the ability to se Apple Pencil. Instead of switching back and forth, keep it all in one place. You can even mirror your Macs screen!
Let us know what you think of the new update!
Check out some of our recent work here.
Need a website redesign? Contact Blue Archer.