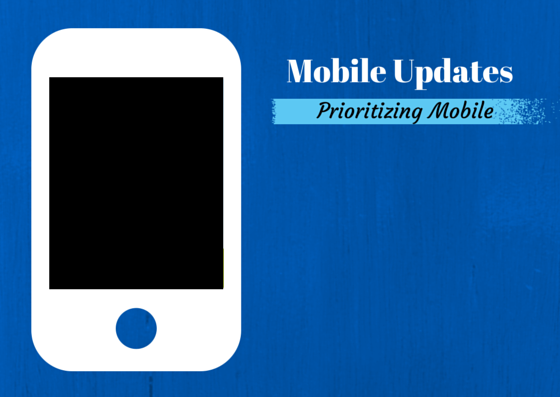 When my Grandmother received her first cell phone, and I received my first friend request from my friend's Grandmother, I knew there was a massive shift regarding how we view technology. However, it really is not all that new. I had friends that had them in the early 2000s.
What is new, though, is how rapid the technology is evolving. In high school, they were emergency phones. Now, we use our phones to shop, browser the internet, watch movies, play games, track our fitness, track our skills, do homework, and pretty much everything else you can think of.
This is why I was shocked after finding research that said only a third of more than 300 digital marketers interviewed made mobile a priority. As a digital marketer and a millennial, I sometimes forget that I am the demographic I occasionally target.
When I buy off of Amazon using my phone or decide to never go back to a website because they auto play videos and use all of my data, I need to keep in mind that I am not the only one doing that. Most of my demographic also closes the slow loading mobile window without giving it a chance.
Some marketers tend to forget that if they hate it, so does their audience. And if they do not use a smartphone, they are now the exception to the rule.
Why Make Mobile a Priority
It is growing, and it is growing fast. Here's the thing, you need a great brand and digital precense to survive in the pool of constant SEO updates. If your brand and company are the house you painstakingly spent all of your days building, mobile is how you actually get there.
If there are no roads and your house guests need to climb a mountain, take a donkey, and then construct their own floating device to sail down a river to finally get to your beautiful house, most people are going to call it quits and visit someone else. Simple as that.
So, are there really that many people using mobile? Despite all those desktop sales?
Okay we get it, this point has been made. But, have you actually taken any action to improve your site users' mobile experience?
What's New With Mobile
We are not the only ones that hold responsive design and mobile functionality close to our hearts.
Twitter
Mobile is at the core of Twitter's DNA: more than 80% of our active users engage on the platform from their mobile device.
Twitter acknowledged the fact that the majority of their users are using their smartphones to access Twitter. This became great news for digital marketers when they took action regarding that knowledge. Advertisers on Twitter can now target their audience by mobile carrier and new cell phones.
What does this mean for marketers?
For mobile carrier, this means that you can either target your audience based on their mobile carrier, or exclude certain mobile carriers.
Tailoring based on owning a new device means that app creators can encourage those that just received their new toy to download new apps.
If you and a carrier have a similar demographic, you can easily reach your audience by targeting that carrier.
Google
Rumor has it that Google has been testing its search results for mobile to display image icons. This has not been confirmed, but there are a few screenshots.
The image icons may not be the best idea, but they are also testing the mobile search results with text icons.
Google has been testing a new mobile design interface using principles from "material design".
Google is testing so actively due to the importance of mobile.
Going out to dinner with your friend only to have them play on their phone the whole time can be annoying, we get it, mobile isn't always right. However, it is here and we need to make the best of it. We can admit, we love our smartphones.