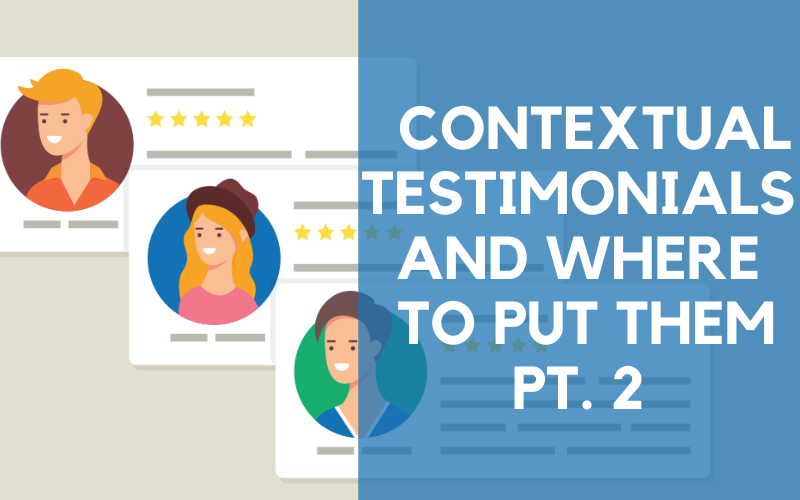 In Part 1, we discussed how to acquire detailed testimonials. For Part 2, this article will focus on how to incorporate reviews on various pages of your website within the content and asking permission. Admiring the best approach, which is contextual testimonials, compared to a long and drawn-out list.
Customer Testimonials on Your Website, Part 1: https://www.bluearcher.com/blog-item-customer-testimonials-on-your-website-part-1
Contextual Testimonials are testimonials found within relevant content on a webpage. Ultimately serving a purpose while making it more credible and engaging.
Quick Review...
5 reasons why testimonials are needed on a website:
They can help you create an emotional connection
Customer testimonials help build trust
They can explain how your products or services work
Customer testimonials work like referrals
They can explain the benefits of your products or services
---
Best Practices
Everyone agrees that more relevant marketing generates better results. But what does "more relevant marketing" mean in practice? It means delivering the right content through the right channel at the right time.
Customers are seeking help/advice/products anywhere their heads turn. Whether it be through organic search, WOM, sales rep, or even your own website.
Your challenge is to meet your customers/prospects where they are, with content that recognizes what channel they are in and where they are in the buying cycle.
There are two ways:
Understanding the customer

New personalization technology does a great job of interpreting data to drive more relevant content to customers. However, marketers still need to know what content to create to drive these relevant experiences. When the content is implemented and then optimizes a review, apply the testimonial relevant to the info to make it feel personalized.

Appropriate content

Behavior models such as customer buying cycles help provide a framework to contextualize customer activities, so marketers can create better content for personalization engines to deliver.
For example, there could be different types of customers (1st-time buyers, repeat buyers, and loyal customers) who might exhibit similar behaviors (e.g., adding a product to a shopping cart). The type of content you would share with a first-time customer is likely different than a repeat or loyal customer based on prior purchase knowledge. The same goes for the type of reviews provided in the text.
It is essential to know your customers and the context in which you engage with them so well that you are always there when they need you.
Let's take a look at Unbounce's feature Page.
This is an amazing example of how every feature description has a corresponding quote from a customer vouching how great that feature has been to them.
---
How to add Customer Testimonials to Your Website
When adding in contextual testimonials, it's important to include some graphics and concrete numbers.
When first trying this technique out, experiment with different formats of testimonials to see which convert the best.
There are several different types of testimonials:
Customer quotes
Short videos
Customer interviews
Social media posts
High profile reviews
To start, start finding your most trafficked pages or even your pages with the least amount of conversions.
Then, figure out where a customer, new or old, could decide to turn away. Or when they would start to ask questions.
Find gaps in content to throw in a testimonial specific to that product page or feature.
If you are a full-service web design agency then maybe you'll throw in a positive testimonial referring to a custom CMS and the continued support from the team. This displays/answers the thought of loyalty and support beyond the initial service requested.
Another way to approach contextual testimonials is specifically calling out features of your product/service. If you gathered detailed feedback about a certain step in the process then add it in to show that other customers go through the same steps and are still successful.
As you can tell, there are many ways to go about adding in testimonials throughout a website.
The key takeaway is that doing this is PROACTIVE in being there for your customers and driving those conversions. Remember, It is essential to know your customers and the context in which you engage with them so well that you are always there when they need you.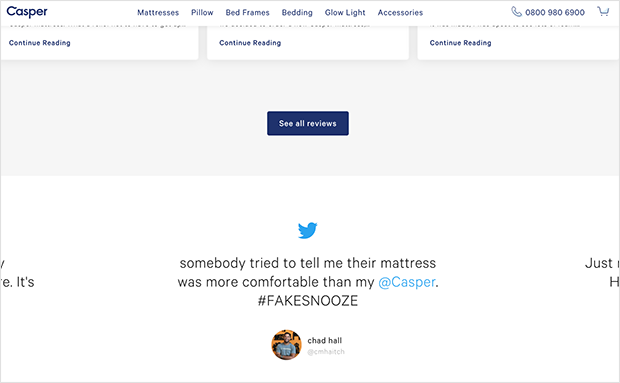 Permission and Review Details
Should I ask permission to use a testimonial?
According to Boast, asking permission to include the person's name is not only a legal requirement, but it will also make your customers more comfortable. Never include your customers' email address, phone number, or other contact information.
Also, yes, making up testimonials is illegal.
What identification information should I include (ie: first/last name, small photo, company name, location?)
Including photographs and other visuals makes your testimonials more credible. Photos of your customers, as well as videos that show your customers using the product, are particularly powerful.
You can incentivize customers to give testimonials, however, the testimonial must still be true and made by a real customer.
The FTC, other government branches, consumer protection groups, and other organizations make strict laws about testimonials, however, this shouldn't be cause for alarm. Ask respectfully for your customer's honest opinion, and tell them where and how you plan to use the testimonial.
Looking for a website redesign to include your customer testimonials? Contact Blue Archer today.