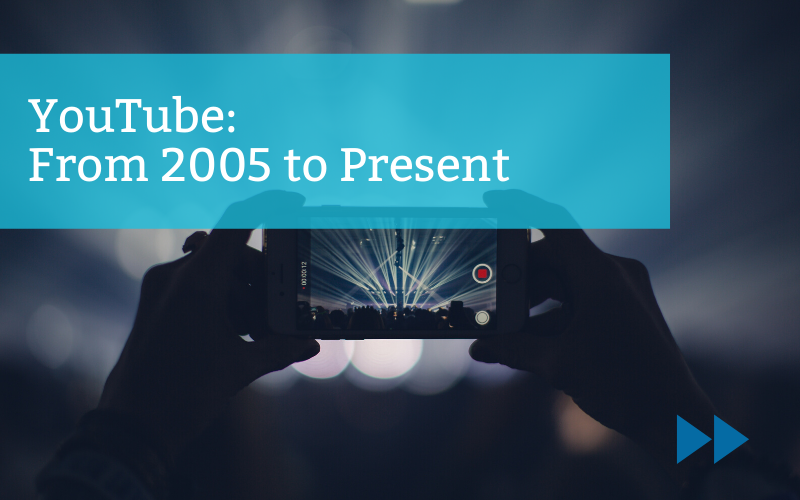 There is a lot to learn from entertainment websites, especially YouTube. From short informational videos to long entertainment series, YouTube has certainly evolved in the world of media. YouTube is a prime example of a brand that listens to their audience as well as their content creators.
Let's go back in time for a minute and review YouTube's humble beginning...

"Ancient" YouTube: The Early Years
YouTube was founded in February of 2005, exactly 14 years ago. This is where we're at now... 2005 is officially ancient times. Sigh...
YouTube's first video ever uploaded was titled "Me at the Zoo" and was uploaded by none other than one of the co-founders Jawed Karim. Take a look…
Things escelated for YouTube pretty quickly, though. By September of their launch year, YouTube had a video reach 1 million views. It was a Nike ad, and it's no suprise then that Nike was one of the first brands to really acknowledge YouTube as a potential marketing platform.
In the beginning, though, most videos uploaded to YouTube were short amateur vidoes made from content creators all over the world. The barrier to entry was pretty nonexistent (yeah, this hasn't changed much). What has changed is the overall quality of videos. Since Google acquired YouTube less than a year and a half after it launched (for a cool $1.65 Billion), its made many strategic changes to the platform.
Strategic Changes
One of the most important changes was the Partner Program that launched in 2007. By implementing a way for engaging content creators to get paid for their work, YouTube leveraged the most important concept in the web space: high quality content. That same year, YouTube began including ads. Fastforward to 2009, and suddenly we can watch HD vidoes on YouTube, marking a huge quality upgrade for content potential.
In 2010, YouTube moved away from the previously required Adobe Flash Player that was necessary to view videos on browsers (by 2015, they announced that HTML5 was the default playback for most browsers). That wasn't the only huge change YouTube made in 2010. Though they had experimented with live streaming in 2009, 2010 saw the introduction of native live streaming infrastructure. Barrack Obama did a question and answer session using this technology in early 2010 and less than 2 years later folks could live stream the 2012 Olympics.
Where Are We Now?
Like all businesses, YouTube is always looking for new ways to grow. With every change YouTube makes, Youtue content creators adjust and develop strategies to leverage the new opportunities and solve new challenges. There is a risk evolving around letting fickle advertising money control YouTubers creative strategies. Long form videos driving revenue from advertisements may disappear next week if monetization takes a curve.
To receive ad revenue, YouTube has recently changed the requirement to have at least 1,000 subscribers and at least 4,000 watch-hours per year. It used to be that you only needed 10,000 views over the lifetime of your channel.
Ultimately, YouTube is banking on its strategy to take the platform from an online social platform to a glamorous entertainment network.
Here to Help
Leverage YouTube's platform to educate, entertain, and ultimately sell your audience. Aside from seriously impoving the site user experience, adding vidoes to your website can improve your SEO efforts. If you are wondering how you can integrate your business' vidoes in your website, we're here to help.