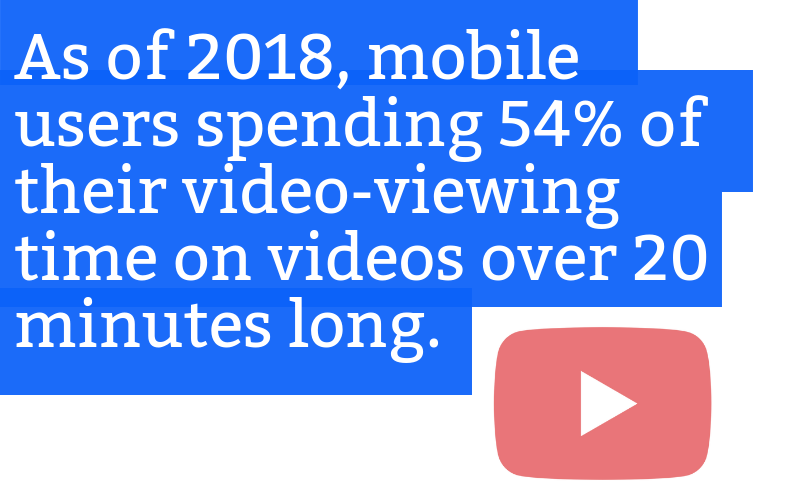 There is a lot to learn from entertainment websites, especially YouTube. From short informational videos to long entertainment series, YouTube had evolved in the world of media and changing the way people view their platform. Representing a prime example of listening to their audience as well as their creators.

Ancient YouTube
YouTube was founded in February of 2005, exactly 14 years ago. This American video sharing allows users to upload, view, rate, and comment on videos. It offers a wide variety of user-generated content and professional videos.
YouTube's first video ever uploaded was titled "Me at the Zoo" and was uploaded by none other than one of the co-founders Jawed Karim. Take a look…
This content website used to resemble long form vines with videos never going above 25 minutes. However, as more people watched the videos, especially on mobile devices, the lines between highly produced television shows and YouTube vlogs have blurred.
As of 2018, mobile users spending 54% of their video-viewing time on videos over 20 minutes long. That is almost 30% more than at the beginning of 2016.
Why Longer videos?
YouTube is pushing for more money, which is leading creators to veer away from the industry norms. This is creating a shift in content creation.
This development will change the way people view YouTube. Videos on this platform will now be longer and series like, such as the infamous Netflix. However, anyone can create a video and upload it to YouTube.
There is a risk evolving around letting fickle advertising money control YouTubers creative strategies. These hour-long videos driving more revenue from advertisements may disappear next week if monetization takes a curve.
To receive ad revenue, YouTube has recently changed the requirement to have at least 1,000 subscribers and at least 4,000 watch-hours per year. It used to be that you only needed 10,000 views over the lifetime of your channel.
Ultimately, YouTube is banking on its strategy to take the platform from an online social platform to a glamorous entertainment network.
From a business perspective, in 14 years YouTube has generated billions in revenue as well as continual growth. They are transforming their platform not only for their audience but content generators as well. High recognized media outlets utilize this site as well as new entrepreneurs who now earn a living from their subscribers.
Media will constantly be upgraded, therefore making your site compatible with changing technology is vital to your interfaces success.
If you need assistance making your site compatible to all platforms, contact Blue Archer.