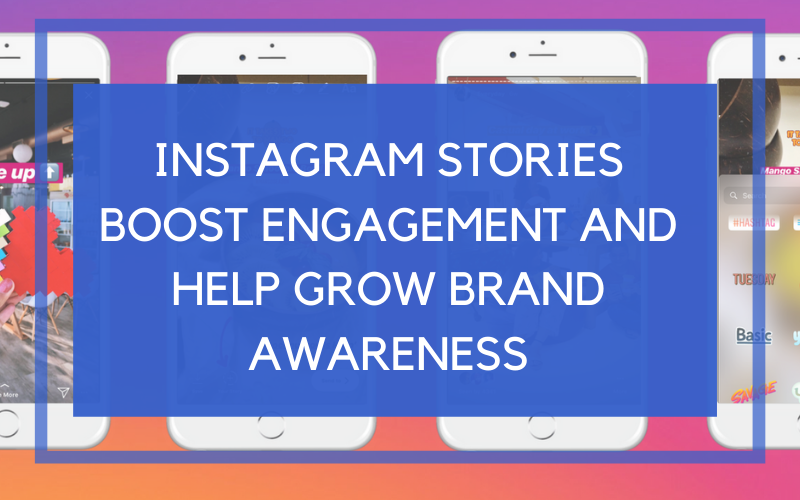 An incredible 500 million people around the world use Instagram Stories on a daily basis. It's clear that Instagram Stories should be a part of every account's marketing in 2020 and onward. Check out tips to maneuver through the algorithm as well as ideas on making content that benefits your brand based on research.
How the Instagram Algorithm Works for Instagram Stories

Typically, the Instagram Stories that appear closest to the beginning of the row on your home feed are from accounts that you engage with the most. This shown through Instagram stories and feed posts. The stories algorithm also puts a lot of focus on timeliness as it wants to make sure it's always showing you the latest stories from your favorite accounts. That why some accounts that post regularly enough, will always appear at the top of your feed if you watch and engage with them!
The team from Buffer analyzed more than 15,000 Instagram Stories from 200 of the world's top brands in one of the largest Instagram Stories research studies to date.
Spoiler alert: Instagram Stories content is incredibly engaging
Key findings from analyzing 15,000 Instagram Stories
One to seven Stories is the optimal posting length
The best time to post to Instagram Stories is outside of work hours
More content leads to greater median reach and impressions
Best practices for posting to Instagram Stories
Post your best Stories content first
Post consistently to Stories
Calculate your own data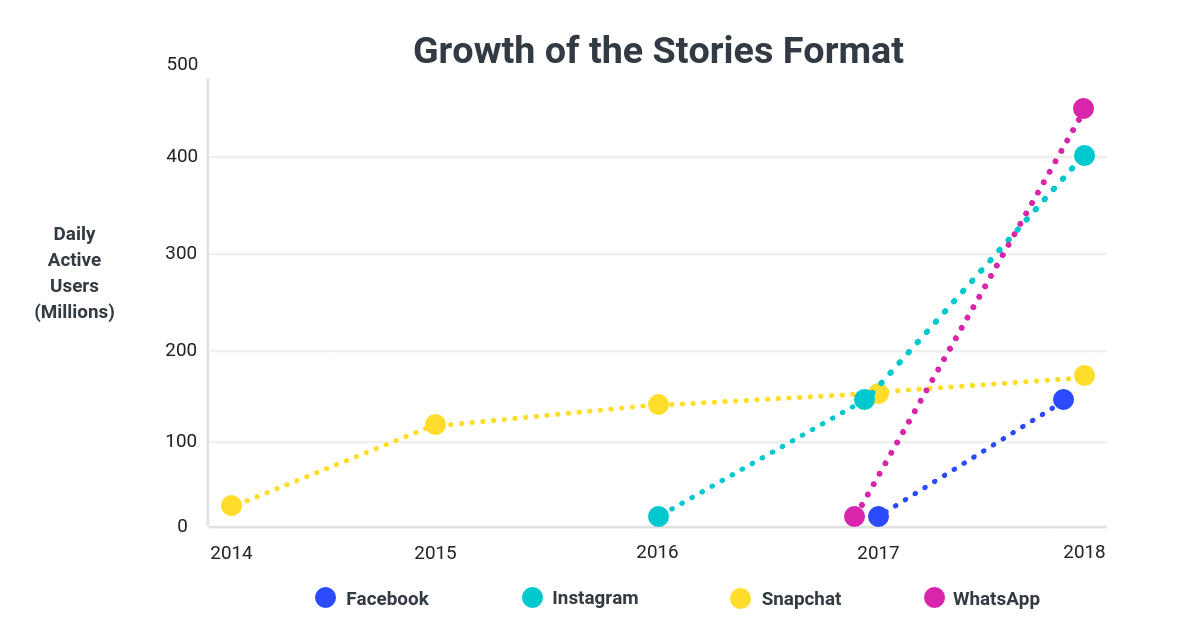 Completion rate is determined by calculating the number of times your Stories were watched from the first Story frame all the way to the last Story frame within the given 24-hour time period. However, it's important to note here that this is more of a guide than a hard limit on the best time to post to Instagram Stories. It's crucial to experiment with various story lengths and use your own data to determine what works for you.
In this episode, Michael Stelzner interviews Tyler J. McCall. Tyler is an Instagram marketing expert who's focused on Instagram strategy. His membership community is the Follower to Fan Society. He also co-hosts The Recurrent Revenue podcast. Tyler shares timesaving tips for repurposing content for Instagram Stories while also explaining how to boost follower engagement by creating Instagram stories with a beginning, middle, and end.
---
Instagram Story Design Templates
Location

Using location markers in your Stories is huge. Combine that with relevant hashtags and you'll be scooping in two times more views to your Stories.

Ask a Question

Doing polls isn't that new anymore, but it's still an awesome way to get your audience to do something. Who doesn't want to be heard? Getting someone to do something for you makes them like you more and increases the chance of them doing something more for you in the future.

Teasers

Doing teasers for your upcoming launch is a great way to warm up your audience. You can use both video and photo posts.

Do Shoutouts

It's a great way to build meaningful relationships with people you like and who share similar content with you.

Use Graphics for Simple Messages

Every time you want to say something to your audience, it doesn't need to be a video. A photo with text does the job just as well. Also, you don't need to go crazy with the editing. Instagram now offers backgrounds for Stories so it makes it even easier to write an update.
These templates will make your stories look new and fresh!
Talking Instagram Stories for Businesses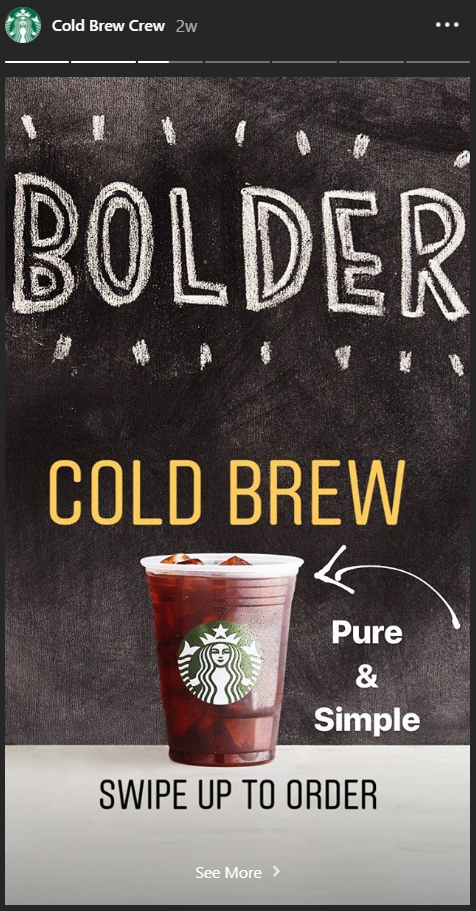 Let's take a look at Harvard Business Review and Starbuck's Instagram Story tactics.
Starbucks
Starbucks uses Stories to share customer testimonies, new product launches, and other interactive content. These aspects of promotional content are not only interesting for viewers and prospective customers -- but additionally -- they don't require sound.
In one example, Starbucks asks viewers to guess which drink is coming back. In the Story's next page, the brand shares the best text-based answers and reveals the new drink.
Harvard Business Publishing
The Harvard Business Review often centers Stories around management, professionalism, and career-life tips. While HBR has published videos and content with sound on its Instagram Story, they often adapt long-form article content into abridged Stories.
In these adapted Stories, you'll often see a blurb of text, poll, or quiz on each page, rather than having to listen to a soundbite or video to understand the content.
Closed Captioning for Instagram Stories
Sometimes viewers browse Instagram with no sound on... It's important to still provide the option to read subtitles of your videos to communicate effectively.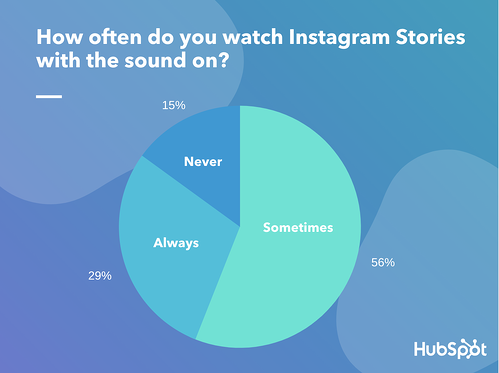 Instagram stories are one of the most popular features of Instagram, but most aren't accessible to deaf and hard of hearing people. When videos are posted on Instagram, there isn't an automatic option to add in captions, but there still is a way to make Instagram stories accessible. Instagram story captions have become a trending topic as more celebrities are using them and deaf activists advocate for implementing them.
Snapchat's claim that two-thirds of its videos are watched with sound counters Facebook's efforts to convince brands mobile video isn't audio-friendly.
Facebook might be hosting upwards of 8 billion views per day on its platform, but a wide majority of that viewership is happening in silence.
As much as 85 percent of video views happen with the sound off, according to multiple publishers. Take, for instance, feel-good site LittleThings, which is averaging 150 million monthly views on Facebook so far this year. Eighty-five percent of its viewership is occurring without users turning the sound on. Similarly, millennial news site Mic, which is also averaging 150 million monthly Facebook views, said 85 percent of its 30-second views are without sound. PopSugar said its silent video views range between 50 and 80 percent.
---
This app can do just that: Clipomatic
Clipomatic is a smart video editor that turns all you say into live captions. All you have to do is hit the magical record button, speak clearly and your words will appear in a form of a stylish caption right on your recording.
You can record in Square or Full mode to fit in any social media post type, choose from a variety of caption styles to match your vibe, and select the right filter for your video to give it an awesome look. Users can also record captions in
different languages & customize them on the go.
Kapwing: Collective platform for all your needs
Kapwing is a collaborative platform for creating images, videos, and GIFs. Upload, edit, and share files with a team in a single place. Secure, backed up, and cross-device - now, work can happen from anywhere.
Transcribe the text you want and space your captions on the video timeline using the Kapwing editor.
---

Quick Facts
How do you add an Instagram Story?
Tap the plus button on the top-left side of your home screen or swipe left in your Feed. You can also quickly launch Stories by swiping right from the main screen.
Tap the circle button at the bottom of the screen to take photos or tap and hold to record a video and then edit the photos or videos with text or add a drawing as you normally would.
Should businesses use instagram stories?
Instagram Stories gives you the freedom to post a variety of content. From promotional photos and videos to more fun, lighthearted content, consistently posting a wide variety of original content will help keep your Instagram Story and brand fresh. One of Instagram's strengths to consider is that it helps businesses increase brand awareness.
How do you get the swipe up feature in instagram stories?
Step 1: Choose your image, and select the link button at the top.
Step 2: Enter the URL where you want users to land.
Step 3: That's it! Also, it doesn't hurt to add text to your Story, encouraging users to "swipe up for more.
You do need 10,000 followers and a business account in order to access the swipe up feature at this time. There is a small work-around that involves linking to your IGTV video that you can do under 10,000 followers, but you will only be able to link to the video - not an external URL. You can learn more about that here.
Looking for a website redesign? Contact Blue Archer today.