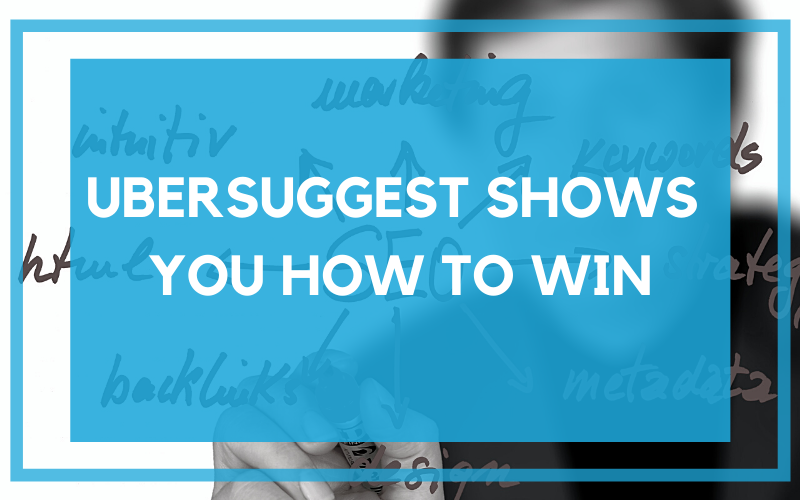 Ubersuggest will make your life easier. From search seasonality to spikes in clicks, this tool embodies many extensions all in one. This will decrease the number of tools you have to keep track of and did we mention it is free?
Ubersuggest shows you how to win the game of SEO.
New Feature: Type in a competitor's domain to get better keyword ideas
"Keyword Ideas" is the feature that put the original Ubersuggest on the map. However, Neil Patel has revamped Ubersuggest to encompass way more than imagined.
To use Ubersuggest:
Type In a keyword.

Ubersuggest will get to work to find long tail versions of the term that you typed in.

You also get key data in each keyword, including monthly search volume, average CPC, PPC competition and SEO competition.
Different types of keywords generated
Related - These are keywords that are related to your core keyword, but not necessarily on the same exact topic.

For example, when you type in "cedar wood" then a related term would show up as "best place to get cedar wood"

Questions - Keywords that are in the form of a question.

For example, if you search for "HTML" then another suggestion would be "is HTML preferred?"

Prepositions - Preposition keywords are terms that have two related concepts in one.

For example, if you search "web design" then another term could pop up such as "web design for beginners" or "web design for manufacturer's business.

Comparisons - This feature adds in suggestions for "vs" "or" and "and" terms.

For example, this could be "web design vs web development" or "web design vs coding".
---
​Once you install the extension, all you have to do is go to Google and perform a search. That is where you'll see data.
The changes have made keyword research much better and a lot easier.
Did you know that YouTube is the second most popular search engine and has been popping off?
Who says keyword research should be limited to Google? On top of that, Amazon is the largest e-commerce site in the world and SEOs are doing Amazon SEO and Amazon ads.
Why not have a keyword search on both of these booming internet moguls?
---
To Use Ubersuggest on Youtube:
Now, when you go to YouTube and perform a search you'll see data on suggested keywords as you perform a search.
Search a word in the search bar and if you want more details on any given keyword you searched for, just click "view all" next to the search bar.
It breaks down search volume over the last 12 months as well as shows you if a keyword has any seasonal trends.
You can also see how competitive a keyword is to rank for, its cost per click data, how many people even click on any of the listings, and even the age range of the people who search for that term.
A special thing to note is that you can see data on whether a keyword is searched more on mobile or desktop devices and the breakdown. Keep track of mobile searches as they tend to not convert as heavy as desktop searches.
All of this info is on the right side.
Now to use Ubersuggest for Amazon, they didn't want to impact the user experience. So, when you search a word in the toolbar you will see all the data pertaining to that keyword right next to it in the dropdown.
Download here!
Want to increase your appearance on search results? Contact Blue Archer today for a creative meeting.