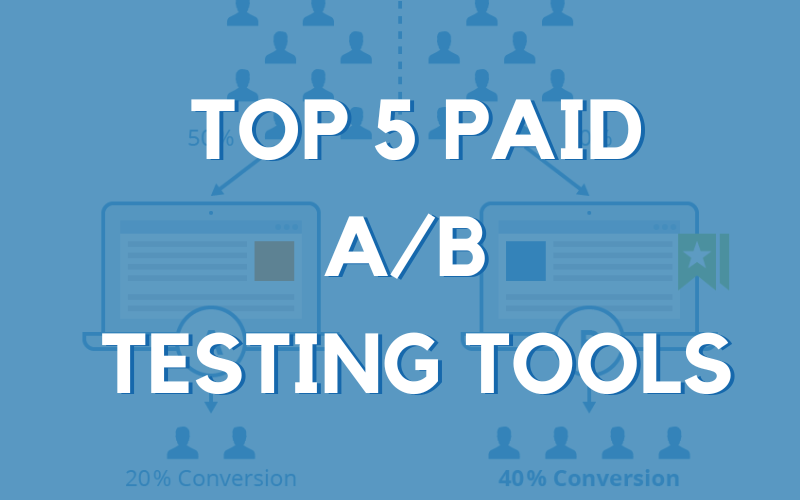 6 min read...
A/B testing is the backbone of any website update and improvement. With the ability to incorporate split testing, designers can display two different web pages to various audiences and compare aspects such as clicks, conversions, and traffic. Check out the top 5 A/B testing tools on the market right now!
Microsoft Bing increased its revenue by 12% (which translates to over $100 million in the U.S. alone) with simple experiments to test different variations of its headline notifications.
There is no better time than now to inculcate a culture of experimentation and invest in a good A/B testing tool that helps move your key business metrics forward.
3 Factors
3 factors should go into deciding which AB tool to pick; budget, the degree of experimentation, and impact on web speed.
Every company's budget is different when it comes to experimentation, especially in Q4. Looking to plan ahead for Q4?
When it comes to the nitty gritty of testing, services can involve more than a typical A/B test. Tools, which include high-performing features, are an important factor to consider when paying for a service because they can severely increase the price.
Utilizing tools, such as A/B testing sites, can impact your page speed and load time. A slow-loading page can increase bounce rate and frustrate users, resulting in decreased conversions.
This factor will negatively impact results causing a disruption in the flow of data. Your team would not be able to get a true read on the data if the user experience is unreliable in both variables.
Top 5 Paid A/B Testing Tools
Oracle Maxymiser Testing and Optimization provides advanced website testing, real-time behavioral targeting, in-session personalization, and product recommendations across websites and mobile apps. The solution also offers real-time personalization for B2C and B2B marketing campaigns to increase speed to market and improve customer experiences.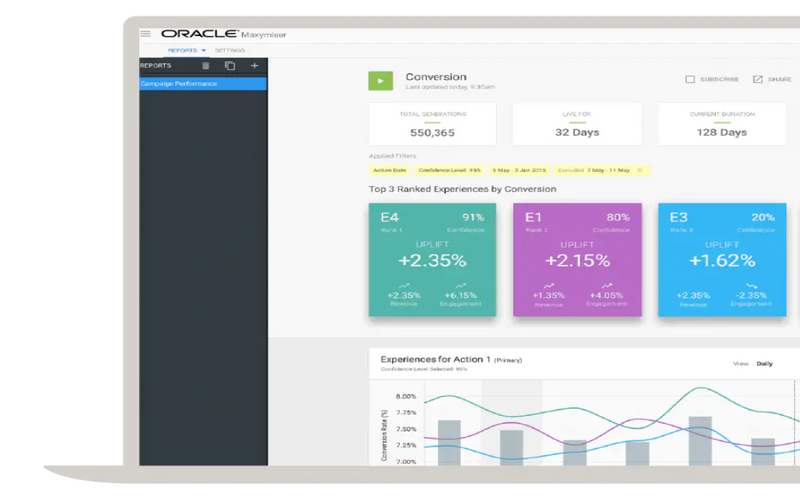 Oracle Maxymiser is an A/B testing platform more suited for customers that use the entire Oracle marketing cloud due to the seamless connectivity it offers within its suite of products.
Spotlight: Mobile app optimization and personalization
Build and deliver tests with an intuitive visual editor that works across apps, websites, and mobile. No app store submissions or approvals are required, so you can launch tests in record time to quickly see what resonates with customers.
This tool is most suitable for small to medium businesses but it does come with a heftier price tag.
Request a demo and discuss pricing here.
Optimizely has a laundry list of features to fully understand your gathered insights. You can create and manage your CMS system, build your website and run controlled A/B tests, and is ideal for big companies with high traffic volumes to test and optimize their website.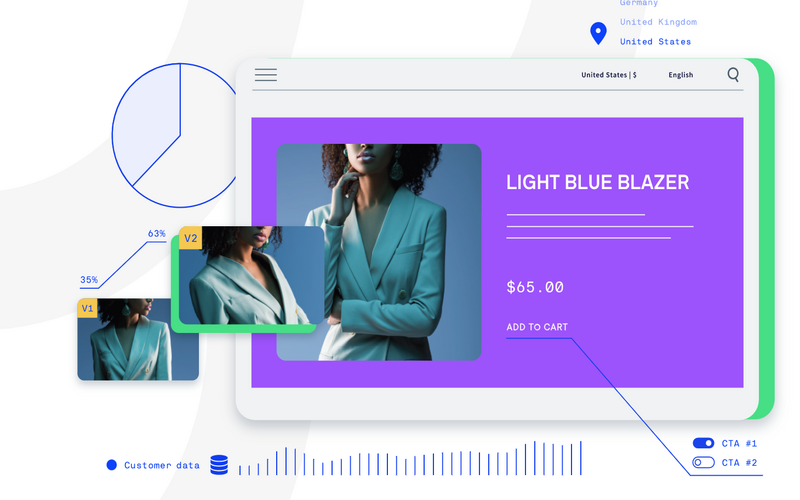 The tool also allows you to use industry-first features like exclusion groups that allow your team to safely run multiple experiments on the same page.
Spotlight: Unified Customer Profile
Drill down into individual customer records, with harmonized data across browsers, devices, and channels. Data core service collects and harmonizes customer data from across the DXP in real-time to create a 360-degree view of your customers.
This tool is most suited for bigger budgets. Optimizely also has two different product levels: Optimizely Web, and Optimizely Full Stack.
Prices are kept disclosed on the site but according to Splitbase, plans start at $36,000/year.
Microsoft and several other leading companies—including Amazon, Booking.com, Facebook, and Google—each conduct more than 10,000 online controlled experiments annually, with many tests engaging millions of users. Start-ups and companies without digital roots, such as Walmart, Hertz, and Singapore Airlines, also run them regularly, though on a smaller scale.
With VWO you can import and aggregate all metrics you care about and measure how they get impacted by your experiments. Track both leading and lagging indicators for your experiment's impact and keep an eye on guardrail metrics to stop bad experiments early on.
For marketing teams, you can launch new experiments in minutes by using the intuitive, point-and-click visual editor for conducting website A/B testing.
Spotlight: SmartStats feature
SmartStats uses Bayesian statistics and assists you to run tests faster. This capability gives you more control of your experiments and helps you arrive at accurate conclusions sooner
VWO, due to its versatility in feature set, reporting capabilities, security, compliance, and scalability, is well suited for organizations from mid-size to very large enterprises.
Pricing starts at $199/month for A/B Testing plans.
HubSpot is a complete CRM platform with all the tools you need to grow better — whether you want to increase leads, accelerate sales, streamline customer service, or build a powerful website.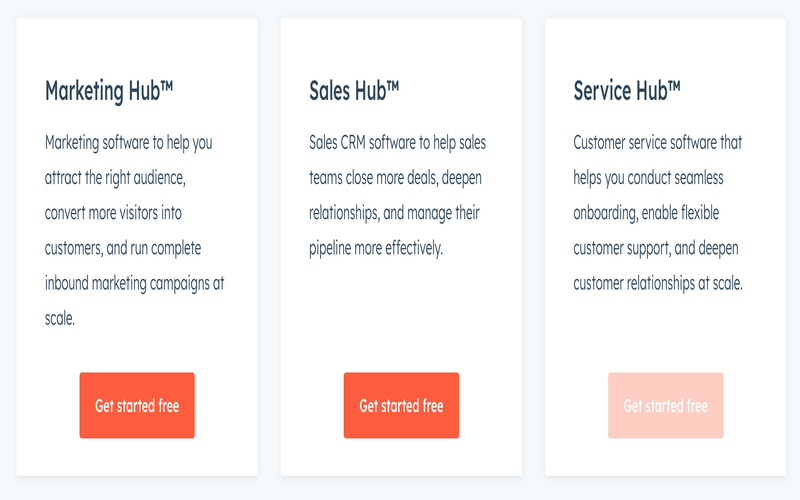 HubSpot isn't the platform for you if you simply want an A/B testing tool. This is a full suite of marketing software divided into four key products.
Spotlight: Sales Hub
Sales Hub offers a range of specialist tools for improving and automating your sales processes. The Service Hub also helps your team provide a higher quality of customer service.
With Hubspot, you can create multi-language variations of the pages with a click to run multiple tests simultaneously. You can choose the test duration, traffic distribution, and winning metrics while testing the marketing emails.
Pricing: The Starter Package is available at $45 per month, Professional at $800 per month, and Enterprise at $3,200 per month if billed annually. The Starter plan does not support A/B testing.
Measure your key website metrics, understand your visitors' online behavior, and give them a personalized website experience to boost conversions.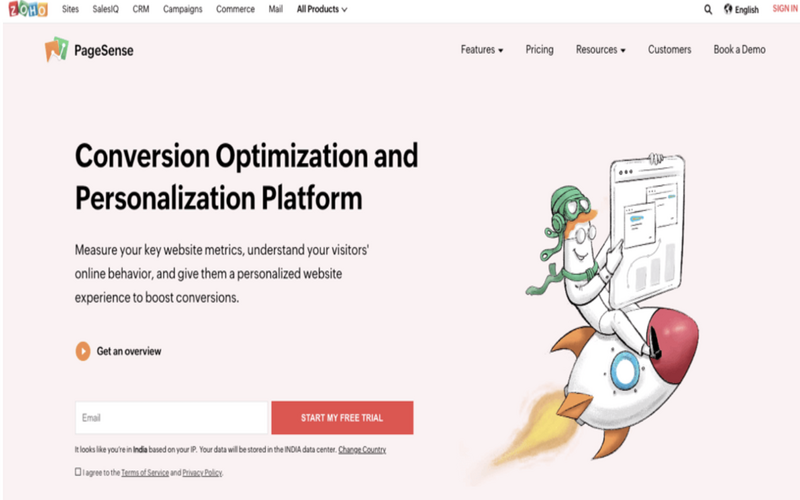 Zoho provides advanced segmentation options to target specific audiences for your variations based on device, browser, new or old visitor, traffic source, etc.
Spotlight: Analyze your visitor's behavior
With heatmaps, identify the parts of your website that instantly grab your visitors' attention. Use session recordings to get video playback of visitor interaction with your website in real-time.

Zoho doesn't restrict prices on its plans so you get access to everything the platform has to offer and your fee depends on how many monthly visitors you have. For smaller businesses, there aren't many options at this price point offering the same set of features that Zoho packs into PageSense.
Pricing: Starts from $17/mo
---
Each of these tools will provide insights ranked to the human eye. Let us know in the comments which tool works best for you.
Looking to redesign your website based on your findings? Contact Blue Archer today.
Quick Facts
1. Are all A/B tools the same?
Each tool offers a different variety of features. Depending on your budget and the scope of the experimentation, you can see which tool will work best for you in our blog post.
2. Do you need a lot of visitors to undergo A/B testing?
You can implement A/B experimentation by setting the duration and clicks to ensure you hit your target testing group in time. Tools like Zoho PageSense are suited for smaller businesses with less traffic.