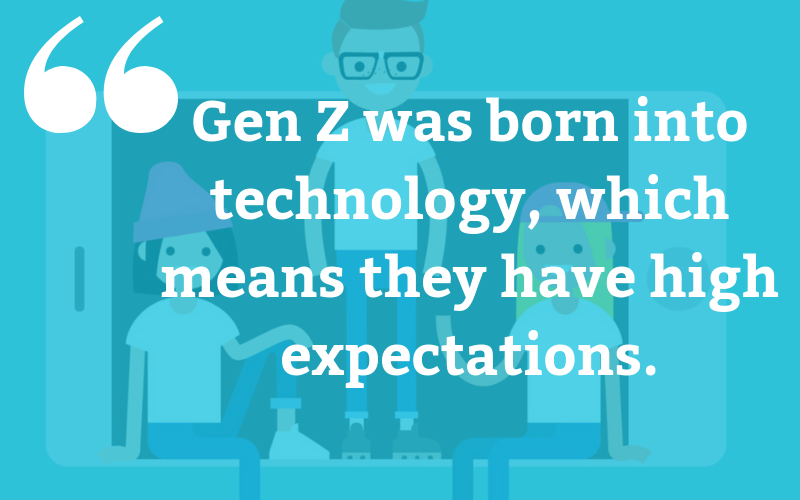 Each generation possesses its own characteristics when it comes to design and spending. It's time to create for those how to spend the most and is easy to track in terms of purchasing trends.
Gen Z
Millennials used to be most designers focus, but times have changed. The situational gap between millennials and the newer generations is changing the way designers think.
As Gen Z gets older, their spending habits become more obvious and easier to track.
Gen Z was born into technology, which means they have high expectations.
As mentioned before, Gen Z cannot live without the internet. However, when it comes to shopping online, many of them prefer a website layout rather than mobile design. It's easier to see the images and read details. Let's be honest, most mobile platforms are faulty and sometimes have loading errors causing users to get frustrated.
Entertain
Gen Z loves to be entertained and will seek thrill. So, before you design your site think about how you can entertain them.
Everyone still seeks information, so do not overdo it with games and popups. Instead, keep them on their toes with subtle unexpected surprises.
For example, if your company sells specific products in an industry then you can change it up by having a commercial popup on your site about the product. This is especially unique toward mobile designs because they are created for broadcasting video. To test this theory out, go on a few different mobile sites such as a fast food chain, office supply store, and retail website. Let us know what you find.
From humor to solemn, you can showcase any aspect of your company like the product, workers, and the environment. Change it up!
Changing times
Times are changing to where society is more conscious about what they put and use on their bodies. Especially food and products with chemicals. If this is the case for your business, showcase why you are different or what makes you stand out from the competitions. Possibly show what you are doing to make a change in the environment and who it is affecting.
Don't forget to personalize your design as well. Gen Z is very willing to give up their information if it involves perks. Use this information to your advantage and create a personalized experience for your users to leave them wanting more.

Blue Archer can assist you in assuring your website is mobile compatible.