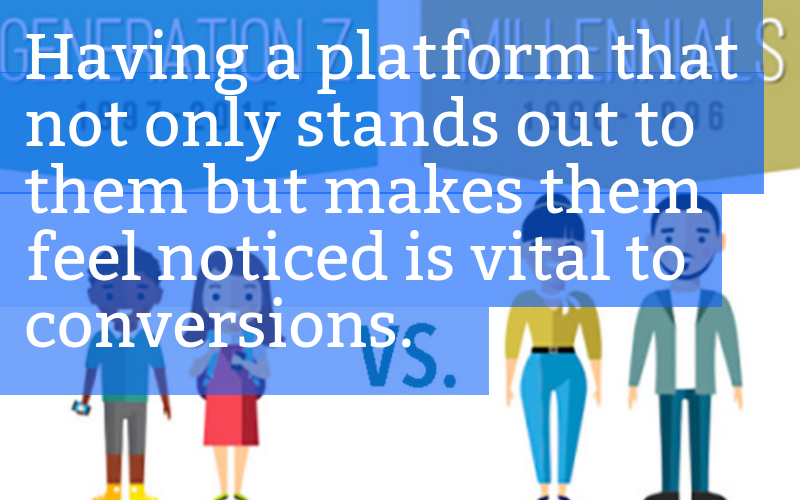 We are expanding on the design process needed to collaborate effectively with Gen Z. Part 2 elaborates on key elements beyond personalization and entertainment and emphasizes emotion and reality.
Make Them Feel Special
As mentioned in our previous blog, it's important to personalize the experience for the newer generation. However, there is a difference between adding personal touches and adding an aspect that truly makes them feel special.
The goal Is to make them feel that their spending habits are more important than anyone else's. This generation is used to technology and having brands influence their daily lives. Therefore, having a platform that not only stands out to them but makes them feel noticed is vital to conversions.
To figure out how to make them feel special, consider their ideas. Gen Z has been around technology for years and knows what they like as well as what should be improved. Many of them are willing to give their opinion since most of the social media is made up of their contributions.
Mobile sites are catching onto the trend of asking user feedback when opening their mobile platform. They want to make the user experience exactly what the user imagines and nothing less.
Also, when you do make a change let it be known! Users enjoy knowing that platforms are listening to their feedback and constant improvement. Don't be afraid to throw in an award as well.
Real is Better
Unfortunately, Generation Z has a strong sense of realism when it comes to content and products. They are more likely to research risky businesses or aspects that do not seem legit.
Respect is driven when companies minimize Photoshop, put real customers in their ads, as well as those who give charitable donations. They want to know that they are genuinely engaging with good companies and honest people. Nothing is worst to this generation then when companies are involved in scandals.
Companies that prioritize profit always fall to those who pride themselves in giving back. Whether that be environmentally friendly products or partnerships.
Also, consumers love to feel special in ways that they are getting a product not many people have and one that has a story. The best part about a compliment on say jewelry, for example, is the story behind it.
Generation Z will always be powered by technology so it's important to keep up with their standards.
If your website needs to be redesigned to be mobile compatible, contact Blue Archer.