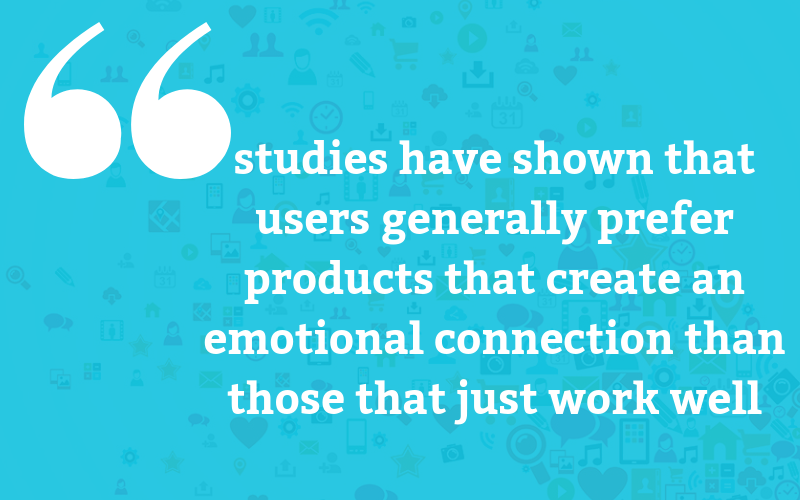 1. Design for emotional connections
If everyone behaved according to plan, then there would be no mistakes or mishaps. However, this is never the case. The design world only knows a life full of risk and user interface.
According to multiple survey sources online, studies have shown that users generally prefer products that create emotional connect and those that just work well.
Our emotions have evolved overtime to adapt to quick, on-the-spot thinking. For example, users determine almost immediately whether a site is trustworthy or not. Based on looks, users can determine whether they are pleased with a product and its usability.
Designers can accomplish this through aesthetics and feedback to make their experience more memorable.
2. Focus on the right idea
Although digital art takes tremendous creativity, the practice of design is artistic and serves a greater purpose to be business-related.
Learn from the most successful interfaces. Play off what already works and produces success while putting in your own little twist.
Never forget your creative insights, but believe in what already works and how it can be improved.
3. Interface Feedback
The goal of interaction design is to create the most lifelike and human interaction as possible. Design is not an easy task, so take advantage of every resourceful tool available.
Feedback is the systems side of normal conversation, or two-way dialogue. Any bit of feedback, account information and pop-up boxes, are great opportunities for conveying compassion.
The only thing that really matters is that your tone suits the personality of your product—it is, after all, the product's voice. Think about whom you're talking to! Would a casual tone put them at ease, or would they prefer more formal language that promotes professionalism?
We know that what makes an effective designer can't be listed in 3 simple steps.
If you would like to explore more skills and techniques to follow for 2019, contact Blue Archer.