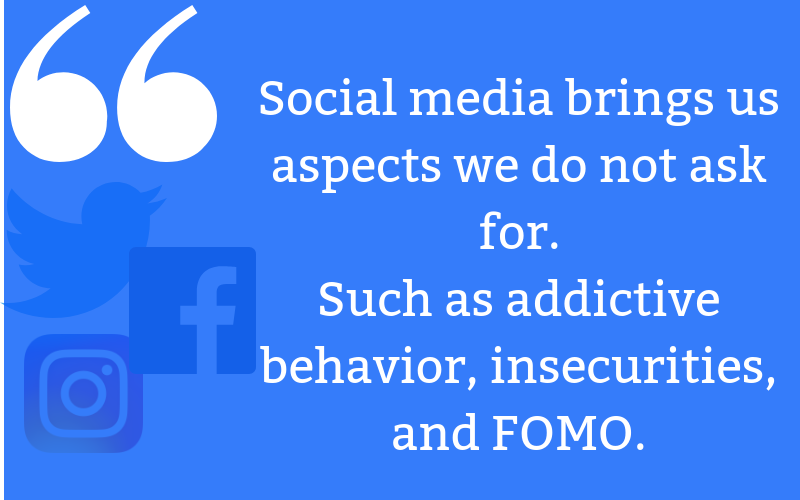 2019 is all about minimalism. There are things we take advantage of in our daily routine that may distract us and cause us ultimate harm. Just like a wardrobe capsule, 2019 is the time to minimize daily distractions to help us focus on more important tasks.
What is a capsule wardrobe?
A capsule wardrobe is a term coined by Susie Faux, the owner of a London boutique called "Wardrobe" in the 1970s. According to Faux, a capsule wardrobe is a collection of a few essential items of clothing that don't go out of fashion, such as skirts, trousers, and coats, which can then be augmented with seasonal pieces.
What does this have to do with social media?
When we think of social media some of us think of friends, activities, and likes. However, social media brings us aspects we do not ask for. Such as addictive behavior, insecurities, and FOMO. Unfortunately, these things come naturally when exposed to too much outside influence.
Apple has recently updated their software to inform users of how much screen time they are exposed too. Sometimes these numbers are upward of 3-5 hours a day. That is on top of work and computer exposure.
Now, although the numbers seem high you may be thinking to yourself that it doesn't seem like you are on your smartphone to that extent.
Think about the last time you sat down to have a cup of coffee, either in your home or at a café, and you didn't have a phone or laptop in front of you. It is rare that you see anyone without tech in front of them at any moment.
It would be challenging, if not painful, for some users to sit there in silence with their own thoughts… Scary!
Here's the challenge

It's time to capsule your social platforms!
Think about what these sites do for you besides maintain boredom. Sure, they help you check up on friends and family but you don't need to do that every second of the day.
Our challenge for you is to pick one or two social media platforms that you feel you need. Then limit yourself to only opening those apps one time a day.
Once you manage one time a day, then only go on these platforms once every few days until you can hold off until once a week.
It will be hard, but it will truly show you how much time there is to do things you want. Things that aren't influenced by likes and comments.
Let us know if you decide to try this challenge and how it went for you!
Contact https://www.bluearcher.com/contacthttps://www.bluearcher.com/contact today for a consultation.