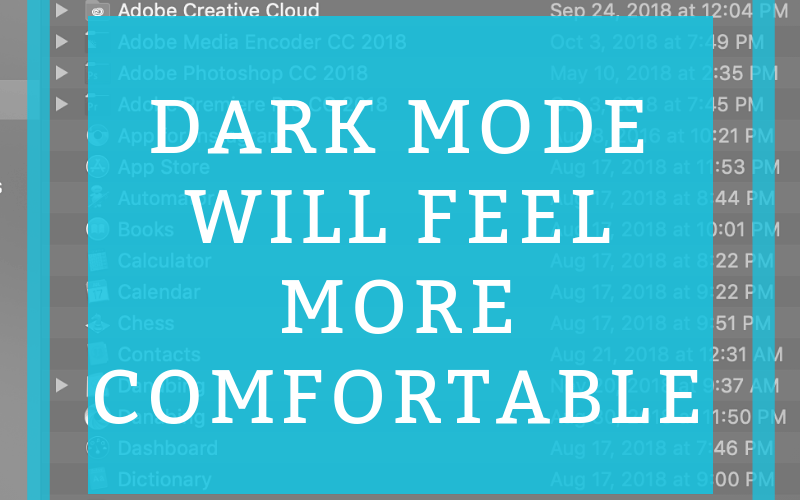 The latest version of macOS, called Mojave, is now available for public use and it is what you need. It's not a major change to previous versions, but a few features will help you be more productive on your mac. Isn't that what we all want?
With new versions coming out constantly, most users are hesitant to update. If what you are using now works fine, why change it? If you're on the fence, here are a few benefits to this update that may sway your choice.
Dark Mode
We are constantly staring at our laptop and phones, which can cause tremendous strain on the eyes. Apple created dark mode as a solution.
Dark mode uses darker colors on the user interface elements, like the toolbar and menu. Why is this significant? If you think about it, your computer screen is a light source. A light source that you stare at every day. We won't get into the long-term damages to the eyes from blue light and other energies, but this constant exposure to the light source can cause tremendous eye fatigue.
To some, the dark mode will feel a lot more comfortable. With the update, you have the option to change back to the normal interface in system preferences.
We can see more apps adopting this technique in the future.
Continuity Camera
Getting a photo on your laptop used to be a difficult task. With continuity camera, the process is a lot more efficient.
In apps that support the feature, like notes, you can scan photos right into the app. Just click in the area where you want to place/scan a photo, and there you have it folks, your imported photo right next to the descriptive text.
Unfortunately, you cannot pick a photo that is already on your device. Hopefully, they will change this in future updates.
Apps that utilize this feature: Notes, Mail, Messages, Finder, Apple Numbers, Pages, and Keynote.
Quick Image Edits
Mojave now allows for a bigger, quick look that provides simple editing tools so you can stay on the app. Forget the hassle of having to preview all the images and then switching apps to edit. Now, it's all in one.
This feature is perfect for quick edits, like cropping and markups, and great for simple crops and trims to audio and videos.
It's a huge time saver.
Group Facetime
Look for this soon!
Is your site compatible with all devices? Contact Blue Archer for assistance.