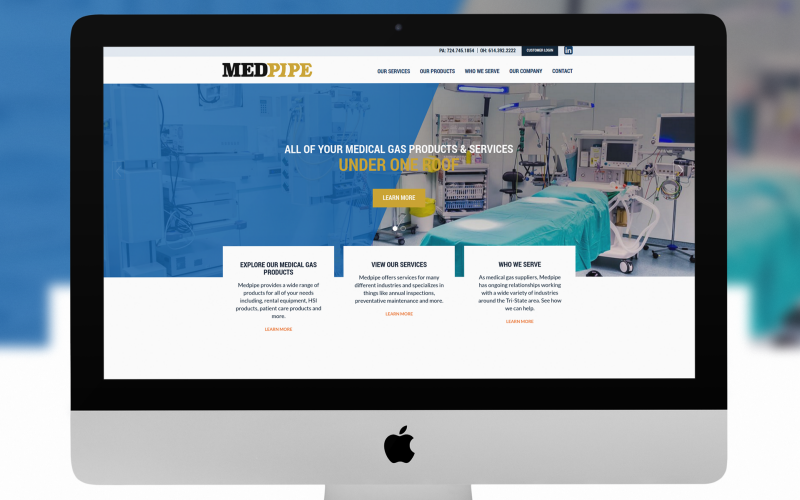 Medpipe was founded in 1996 and is a provider of medical gas equipment and services in Pittsburgh, PA and Columbus, OH. Over the years, Medpipe has become the leading resource in assisting clients in the sales, design, construction, certification, and maintenance of the complete medical gas system. Medpipe works with most medical facilities including hospitals, surgery centers, dental facilities, veterinary clinics and more.
Medpipe's Website Design & Development Project
As a previous client of ours, Medpipe returned to Blue Archer looking for a site redesign. The client was hoping to have a more modern looking site that gives an accurate representation of Medpipe's product and service offerings and also convey that the company is knowledgeable, trustworthy and capable.
The site was designed using clean, modern lines with crisp blues and pops of gold to mimic the feel of the medical industry without feeling sterile. During our comprehensive strategy phase, we determined that the site navigation must be organized in an easy to understand manner that draws attention to their most important features, the services they provide, the products they offer and the comprehensive list of the types of clients they work with.
CMS
The site was built on our easy to use content management system (AccuCMS) so that Medpipe is able to easily edit and update the site at any time. Also included in the project was a custom built Extranet Module which allows for Medpipe to set up user logins for their clients so that they can log in and easily download important medical gas documentation freely. And lastly, Medpipe utilized our Search Engine Optimization services so that their site is fully optimized for search engines. This included keyword research, meta data, content and image optimization, 301 redirects, and more for better search rankings and visibility online.
Learn More
Check out the new website, here: www.medpipe.com
For more information on this project or how our team can leverage similar digital services for your website, contact us.