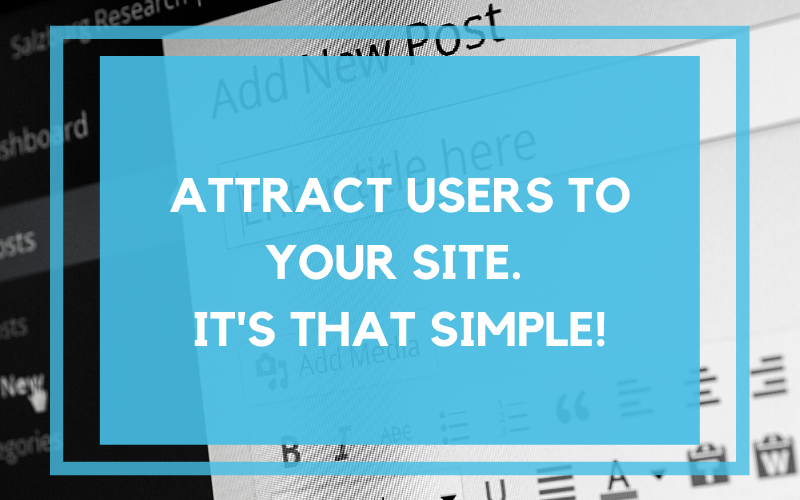 More and more businesses are relying on blogging to communicate the internal achievements of the company. Blogging is a marvelous tool that allows you to target your audience and reach an additional demographic by attracting visitors to your site through your blog content. New and more widespread ideas can help generate new users, so let's get started.
The purpose of a blog is to attract users to your site. It's that simple!
The more visitors you have read your content, the more likely you are to convert these interested users into qualified leads and boost sales. However, let's be transparent by saying coming up with new ideas for each blog post can be a bit tricky.
Blogging generates the following:
Visitors
Credibility
conversions
Businesses that blog regularly receive 55% more visitors AND 67% more inbound links than businesses that don't have a blog at all. -Hubspot
Every time you publish a blog post, which in result creates a new webpage, you also have the ability to create the following:
Many opportunities for your website to appear for the inquiries people are entering into search engines
The opportunity for another website to link to your blog post, giving you more SEO juice
One more opportunity for someone to share that new post on social media platforms like Facebook, Instagram, Twitter, and LinkedIn
---
Before we get started on generating ideas, we invite you to take a look at our past blog post's that will aid in the blog creation and how to boost conversions within the blog.
Blogging: 2 Key strategies - To build a business around a blog, there are a couple of things you need to accomplish. However, these two key strategies will not only turn your blog into a business but they are the fundamentals to allow your business to take off.
5 Tips for Doubling Your Blog Traffic - We all have struggled with providing detailed content with no acknowledgment. How do we go from thinking we are doing everything right to seeing an increase in readers? These 5 tips will optimize your platform and help it to perform better than ever before.
How to Write a Quick and Easy Blog - We always stress the importance of content whether it is to build a relation, increase SEO, or position your business a credible resource. One of the easiest and quickest ways to achieve this is by blogging. We can help you get started by giving some guidelines to write a quick and easy blog for your audience.
---
Content Generation
There are many different tools you can use to generate creative content based on keyword searches, random generators and more!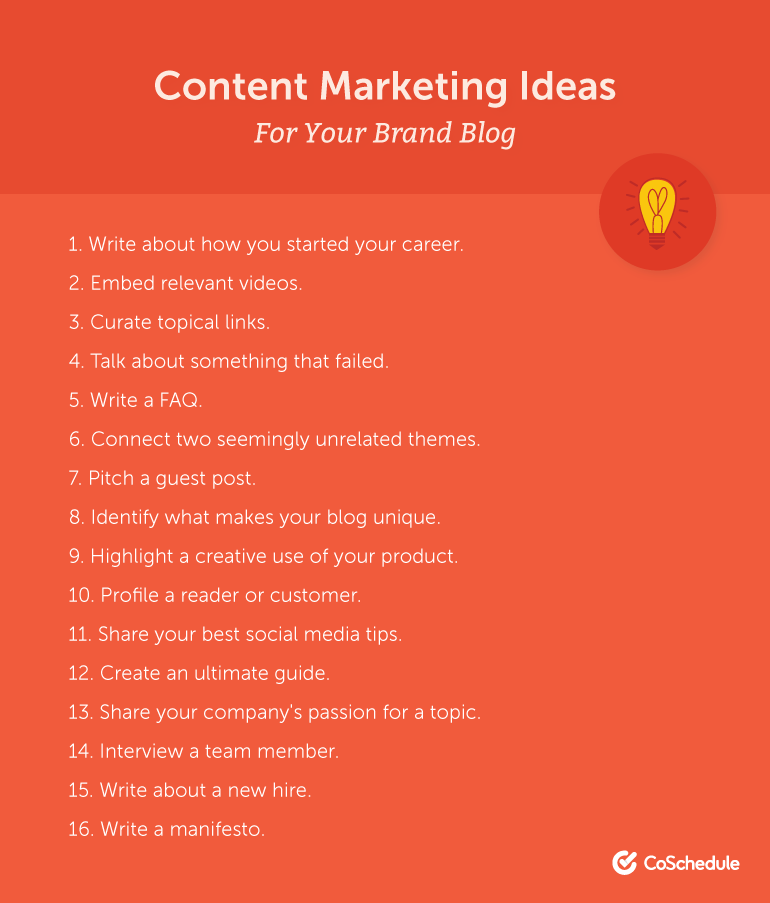 https://coschedule.com/blog/creative-blog-post-ideas-and-topics/
Blog post based on the FAQ section
This is a great starting place when it comes to figuring out how to please new and existing users. It is in best practice to include a FAQ section in every blog post, even if it is small, to include a roundup of answers that are easily found on the web. Gathering creative ideas for posts can be time-consuming and ultimately repetitive. The best way to break up the posts is to speak to your audience directly and answers the questions they have all been asking in more detail. This also allows for more interaction to occur with follow-up questions/discussions.
The best business blogs answer common questions their leads and customers have. If you're consistently creating content that's helpful for your target customer, it'll help establish you as an authority in their eyes.
Imagine the impact of sending an educational blog post you wrote to clear things up for a confused customer. Or visualize how many more deals a salesperson could close if their leads discovered blog content written by their salesperson.
Blog Post Generator
Blog topic generators will help kick start your inspiration, ensuring that you continue to generate fresh, enticing, clickable content.
Good topics generally follow some basic rules, including:
Your posts should answer common/valuable questions.
They should focus on your target buyer's search intent.
They should tap into sufficient organic traffic to make them worth blogging about.
Check out this article from MOZ that emphasizes generating blog topics shouldn't be a burden: https://moz.com/blog/generate-100-blog-topic-ideas-in-seconds
Keyword Search
Keyword research helps you find betters content ideas that will help you grow traffic and create highly engaging content that users will love. You can then use those words and phrases into your website to get more search traffic.
Check out our blog: Free SEO Keyword Tool Spotlight: Ubbersuggest
Ubersuggest is an innovative free approach to new long-tail keywords in a few minutes. It not only aggregates data from Google Suggest, which provides keyword ideas similar and related to your searches on Google, but Neil Patel has united many more features to make this tool one of a kind. Check out the latest progressions of Ubbersuggest right here.
One of the best parts of the keyword ideas report because you can easily see the estimated visit count based on rankings of each word. This metric looks at whether a keyword has seasonality and if there are any rich snippets or paid listings for the term. In addition to showing you the estimated visits based on rank, you'll also see how many social shares each URL has and its domain score.
Creating A Blog Series
Some bloggers feel writing a series of posts is more daunting than writing individual posts. But it's often easier to come up with ideas for a ten-post series than for ten standalone posts.
Writing a series of posts, even a short one, can be useful. In particular, it gives you the opportunity to:
Dig deep into a particular topic
Encourage readers to keep coming back for more.
Create plenty of internal links between your posts (good for both SEO)
Build a comprehensive piece of content readers can bookmark, share, and keep coming back to
It will need a beginning and, if it isn't an ongoing series, an end. For instance, you might write a post to introduce the series and explain what's coming. You can then update this post with links to the different parts of the series.
Quick Facts
Should my small business have a blog?
Of course! Whether it's 1 or 5 posts a month, every business should have a form of communication where consumers can search and land on your site. This generates traffic and answers questions beyond the products you are selling.
Should I outsource my blog?
Having a uniquely generated blog created by an in-house member will go much further for a small business. For example, if a consumer is unsure about your product/service and sees one of your own sales reps answering questions in a blog, then they will automatically feel more comfortable and compelled to engage in a conversation.
Is keyword research important?
Keywords are the backbone to any traffic driven to your blog. You can write the most engaging content, but if no one can find the blog, it turns into a loss of creativity. Keyword research is vital to SEO and blog exposure and should be done throughout the process.
Looking to revamp your blog? Contact Blue Archer today for a website redesign.